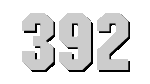 U.S.S. PATTERSON
(DD-392)


Click to view crew list
DD-392 USS Patterson
USS Patterson was built at Puget Sound in Bremerton, Washington and commissioned in September 1937. Her first voyage was a shakedown to San Francisco and Pearl Harbor. She participated in fleet maneuvers off the West Coast, in the Caribbean, and in Hawaii during the next three years before being based at Pearl Harbor. She was moored at the harbor on December 7, 1941 when the Japanese attacked and started the great Pacific War. USS Patterson performed escort and screening services during the first four months of the war before being overhauled in early 1942.
In May 1942, Patterson was sent to the South pacific and took part in various campaigns and operations. She engaged warships in the Battle of Savo Island, which caused her to lose 10 crew members and receive damage to two guns on her ship. After this, she was used as an escort vessel for various efforts in the South pacific, before being sent back to the U.S. for repairs due to heavy damages. In 1944, she was again back in the war zone helping with various campaigns. She remained there until September 1945 when she was sent back to New York. Decommissioned in November, she was sold for scrap in August 1947.
DD-392 Deployments - Major Events
DD-392 General Specifications
Class: Bagley-class destroyer
Named for: Daniel Todd Patterson
Complement: 158 Officers and Enlisted
Displacement: 2325 tons
Length: 341 feet 8 inches
Beam: 35 feet 6 inches
Flank Speed: 38 Knots
Range: 6500 Nautical Miles
Final Disposition:Sold 18 August 1947 and broken up for scrap.