For RATING SHIRTS - Click on your Rating Abbreviation below: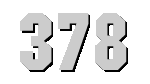 U.S.S. DRAYTON
(DD-378)


Click to view crew list
DD-378 USS Drayton *Correction: According to Navy, DD-378 is USS Smith. Drayton is DD-366*
DD-378 USS Smith
USS Smith, a Mahan class destroyer that was built at Mare Island Navy Yard, was commissioned in September 1936. She served with the U.S. fleet into the early 1940s, and operated in the West Coast and Hawaii waters doing mostly escort duties once the war broke out. Smith was sent to the South Pacific in 1942, where she helped in the Guadalcanal campaign and then the Battle of the Santa Cruz Islands. She took enemy fire due to a torpedo bomber crash, losing nearly 60 men and facing extensive damages. Nonetheless, she put out the fires and continued her defense.
Finally, Smith was sent for repairs and then back to the South Pacific in early 1943. She became part of the Seventh Fleet in June, and helped with actions in the waters and islands of New Guinea. USS Smith was present during the attack that caused the USS Henley to sink, but she made it out without harm. Mid-1944 called for another overhaul for Smith, who then went back to training, escort, and patrol work in the Central Pacific. She continued her war efforts through the end of the war, and then carried prisoners to Okinawa before returning home. She was decommissioned at Pearl Harbor in June 1946 and sold for scrapping in August.
DD-378 Deployments - Major Events
DD-378 General Specifications