For RATING SHIRTS - Click on your Rating Abbreviation below: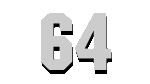 U.S.S. TRIPOLI
(CVU-64)


Click to view crew list
Tripoli was a Casablanca-class escort carrier launched and commissioned in 1943 in Vancouver, Washington.
Service History
Tripoli had a rough start to her service career. After training she headed for repairs in San Diego where she incurred significant damage when gasoline spilled into the water and lit on fire accidently. After repairs, she joined the Atlantic Fleet where she patrolled the Cape Verde Islands. She provided air cover, launchings, and recoveries of air craft in the Allied sea lanes, guarding against German U-boats.
She participated in the following operations:

Intercepting U-boats near the Madeira Islands
Pilot qualifications
Destruction of U-boats as part of hunter-killer group
With Mission Bay helped destroy two enemy boats

She relocated to the Pacific Fleet in 1945, delivering cargo to the Marshall Islands. She conducted training operations in Pearl Harbor then participated in Operation Magic Carpet to bring the servicemen home. She was soon after decommissioned and placed in the Pacific Reserve Fleet.
She was reactivated during the Korean War and served as an aircraft ferry between the US and various ports in Europe and the Mediterranean. She also transported damaged aircraft from the Pacific to the West Coast of the US. She was decommissioned in 1959 and scrapped in 1960.
CVU-64 Deployments - Major Events
CVU-64 General Specifications