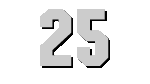 U.S.S. CROATAN
(CVU-25)


Click to view crew list
Croatan is an escort carrier launched in 1942 and commissioned in the spring of 1943 in Seattle, Washington.
Career Highlights
Though she was built on the West Coast, Croatan's home base is on the East Coast in Norfolk, Virginia. She served as the center of a hunter-killer group of antisubmarine missions. In the summer of 1943, she worked with others in the Atlantic Fleet to cover convoy movement. At the end of 1943, she deployed to North Africa to transport aircraft and servicemen and conduct antisubmarine patrols. She participated in a patrol in which she and her escorts sunk sever U-boats.
After an overhaul, she sailed for the Caribbean to participate in antisubmarine training missions. As a result, when she returned to battle, she helped sink several more U-boats, and participating in Operation Teardrop.
After an impressive battle career, she helped qualify aviators and completed multiple transatlantic trips to ferry troops home from Europe after the war.
She was placed on reserve, in the Atlantic Reserve Fleet, when the Navy saw no immediate use for her. In 1963, she ferried airplanes to Norway and in 1964, NASA used her as an experimental ship. In 1970, she suffered the fate of many other ships and was sold for scrap.
CVU-25 Deployments - Major Events
CVU-25 General Specifications