For RATING SHIRTS - Click on your Rating Abbreviation below: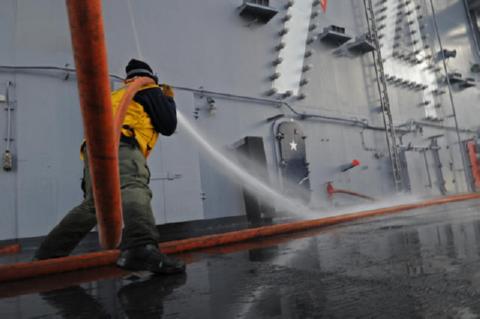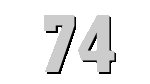 U.S.S. JOHN C. STENNIS
(CVN-74)

LOOK AHEAD
Click to view crew list
The USS John C. Stennis (CVN-74) keel was laid at Newport News Ship Building and Dry Dock Co., in Newport News, Virginia on 13 March 1991. Three years and eight months later, to the day, on 13 November 1993, she was launched. Mrs. Margaret Stennis-Womble was the CVN-74s sponsor. On 9 December 1995, CVN-74 was commissioned USS John C. Stennis, the seventh of ten Nimitz class nuclear aircraft carriers.
USS John C. Stennis was named for John C. Stennis (1901 - 1995), a senator from Mississippi for more than 41 years. Senator Stennis, as Armed Services committee (1969 - 1980) became know as "Father of Americas Modern Navy".
After two years of shake down, training and flight deck certifications, USS John C. Stennis sailed from Norfolk, Virgina in February, 1998, bound for the Persian gulf, by way of the Suez Canal. After five months of operations in support of Operation Southern Watch, Stennis steamed for the United States and her new home port of San Diego, California. As she made her way eastward, she crossed the Equator south of the Island of Ceylon. After liberty call in Perth, Western Australia, Stennis sailed south of the continent of Australia calling on Hobart, Tasmania. The USS John C. Stennis (CVN-74) arrived in San Diego on 26 August 1998.
After a six month planned post-deployment maintance period, USS Stennis returned to the cycle of shakedown, training and maintenance in anticipation of her next "watch" in the Indian Ocean. During this period she ran aground in November 1999 in the San Diego harbor turning basin. With her sea water inter-coolers fouled, she was forced to shut down both her nuclear reactors. The post grounding cleanup costs were estimated at $2,000,000.
USS John C. Stennis deployed in January 2000, traveling across the Pacific and Indian Oceans once again, entering the Persian Gulf on February 28. Ending her support of Operation Southern Watch on 24 May, USS John C. Stennis repeated her path of 1998, southeast across the Indian Ocean, King Neptune purged the ship of pollywogs on May 29, then port calls in Perth and Hobart, Australia, before arriving home in San Diego on 3 July 2000.
On September 10, 2001, USS Stennis heard the sound of "THIS IS NOT A DRILL, MAN OVER BOARD". Fortunately the sailor was recovered by helicopter and flown to the Naval Medical Center in San Diego. The next day, the World Trade Center bombing took place and Stennis provided continuous air patrols over Southern California until the threat was ascertained.
Later in September 2001, Stennis was informed that her next deployment was being expedited by two months. Instead of getting underway after the 2001 Holidays, she departed again for the Persian Gulf on November 12. After five months in support of Operation Enduring Freedom, she returned by the familiar track of the Equator, Perth, Hobarth, an addition port call in Melbourne, Australia, then on to Pearl Harbor and San Diego on 28 May 2002.
USS John C. Stennis sailed 24 May 2004 for her first deployment that did not include combat operations in the Persian Gulf. Steaming northward to Alaska, then to Hawaii, she participated RIMPAC, a joint exercise by the Pacific Rim Allies to coordinate Air, Land and Sea forces. Stennis next crossed the Pacific, conducted operations with the forward deployed USS Kitty Hawk (CV-63), and then a series of port visits in the Far East, before returning to San Diego on 1 November 2004.
The new year had Stennis steaming north along the West Coast to her new home port of Bremerton, Washington, arriving on 19 January 2005. Stennis then spent the balance of 2005 in the shipyard, including her first dry docking.
The post ship yard work up and training cycle consumed 2006. In January 2007, USS Stennis departed for her fifth extended deployment. Returning to the Persian Gulf area, Stennis and her Strike Group of USS Antietam (CG 54), USS O Kane (DDG 77), USS Preble (DDG 88) and the group's underway replenishment ship USNS Bridge (T-AOE 10), joined the USS Dwight D. Eisenhower Strike Group for combined operations. After an eight month deployment USS Stennis returned to Bremerton, WA in August 2007.
USS John C. Stennis was again dry docked from September 2007 to February 2008. April 2008 had her employed with the underway training and sorting required to "square away" after a yard period and prepare for up an upcoming deployment. Flight operations recommenced in May and on June 6th, Senator and Astronaut John Glenn visited Stennis.
January 2009 brought her sixth major deployment. She crossed the Pacific, and as the deployment progressed, put into Singapore on April 24. That day, an Aviation Boatswain's Mate 3rd Class was killed while working on the ship's catapults. USS Stennis continued on with her duties, operating in the Persian Gulf, then working her way towards home with operations in the East China Sea and the Gulf of Alaska before returning to Bremerton on 29 June 2009.
The USS John C. Stennis (CVN-74) operational history and significant events of her service career follow:
CVN-74 Deployments - Major Events
Add a CVN-74 Shellback Initiation
Add a CVN-74 Deployment - Major Event
Month
Year
to
Month
Year
Deployment / Event
MAR
1991
-
Keel Date: 13 March 1991
at Newport News Ship Building and Dry Dock
NOV
1993
-
Launched: 13 November 1993
Sponsored by Mrs. Margaret Stennis Womble
NOV
1995
-
Commisioned: 9 November 1995
JUN
1997
-
SEP
1997
MAIDEN CRUISE/ PERSIAN GOLF
JAN
1998
-
JAN
1999
Mediterranean-Indian Ocean-Persian Gulf
FEB
1998
-
AUG
1998
Circumnavigation
AUG
1998
-
Shellback Initiation - 3 AUG 1998 - Indian Ocean
AUG
1998
-
Shellback Initiation - 3 AUG 1998 - Indian Ocean
OCT
1998
-
APR
1999
Regular Overhaul
NOV
1999
-
Grounding - 30 November 1999
JAN
2000
-
JUL
2000
West Pac-Indian Ocean-Persian Gulf
MAY
2000
-
Shellback Initiation - 28 MAY 2000 - Indian Ocean
NOV
2001
-
MAY
2002
West Pac-Indian Ocean-Persian Gulf
APR
2002
-
Shellback Initiation - 21 APR 2002 - Indian Ocean
JUN
2002
-
JAN
2003
Regular Overhaul
MAY
2004
-
NOV
2004
RIMPAC - Alaska - Japan - Malaysia - Australia
JAN
2005
-
DEC
2005
Dry Dock and Overhaul
JAN
2005
-
Homeport - Bremerton Washington
JAN
2007
-
AUG
2007
West Pac-Indian Ocean-Persian Gulf
JUL
2007
-
Shellback Initiation - 12 JUL 2007 - Pacific Ocean
SEP
2007
-
Shellback Initiation - 7 SEP 2007 - Indian Ocean
NOV
2011
-
Shellback Initiation - 13 NOV 2011 - Indian Ocean
JAN
2012
-
Shellback Initiation - 21 JAN 2012 - Indian Ocean
APR
2013
-
Shellback Initiation - 8 APR 2013 - Pacific Ocean
CVN-74 General Specifications
Class: Nimitz-class aircraft carrier
Displacement: 103300 tons
Length: 1092 feet
Beam: 252 ft max.; 134 ft at waterlne
Draft: 37 ft
Power Plant: Two (2) nuclear reactors / four (4) sets of turbines / four (4) shafts
Propellers: Four (4) - Each 25 ft dia.
Flank Speed: over 30 knots
Range: Unlimited - Refueled at approx. 25 years of service
Ships Company: approx 3200 Officers and Enlisted
Carrier Air Wing:
- 7 Fixed Wing Squadrons
- 1 Helicoper Squadron
- approx. 2400 Officers and Enlisted