For RATING SHIRTS - Click on your Rating Abbreviation below: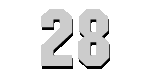 U.S.S. CABOT
(CVL-28)

MOHAWK- UP AND AT EM!
Click to view crew list
USS Cabot (CVL-28) the second ship in the fleet to carry the name, is an independence-class aircraft carrier, launched and commissioned in 1943.
World War II Operations
Cabot participated in many operations during WWII, beginning with the invasion of the Marshall Islands, where her planes struck Roi, Namur, and Truk. After receiving some repairs in Hawaii, she was ready to see more action, including raids on the Palaus, Yap, Ulithi, and Woleai.
She assisted in the following operations:
Air cover for Jayapura operation
Air cover at Truk, Satawan, and Ponape
Air strikes in the Marianas
Launching sorties in the Battle of the Philippine Sea
Marianas Turkey shoot
Air cover in Iwo Jima, Pagan Rota, Guam, Yap, and Ulithi
Air strikes on Mindanao, Visayas, and Luzon
Air cover over Formosa and Okinawa
Participation in the Battle of Leyte Gulf
Patrolling Luzon and fighting kamikaze attacks
In fact, during one kamikaze attack, the flight deck sustained serious damage, killing or wounding 62 men. Men on the ship managed to repair the damages temporarily until it could arrive in Ulithi for repairs.
She returned to battle and continued to play an important role. She returned the U.S. for a complete overhaul and training in Pearl Harbor. After her face-lift, she returned to the Pacific to carry out strikes on Wake Island and participate in training. Her service during the war earned her a Presidential Unit Citation and nine battle stars.
After the War
After the war she returned East and was decommissioned in Philadelphia. In 1948, she was recommissioned and participated in training programs. After four years, she was decommissioned again and reclassified.
In 1967, she was loaned to the Spanish Navy and renamed Dedalo. She served the Spanish until 1989, when she earned a place as a museum ship. Declared a national monument in 1990, she made a new home in New Orleans until fundraisers were unable to pay for her upkeep. She was sold for scrap in 2001, her designation withdrawn.
CVL-28 Deployments - Major Events
CVL-28 General Specifications
Class: Independence-class aircraft carrier
Complement: 1569 Officers and Enlisted
Displacement: 11000 tons
Length: 622.5 feet
Beam: 71.5 feet
Draft: 26 feet
Final Disposition: Scrapped 2002