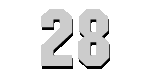 U.S.S. CHENANGO
(CVHE-28)


Click to view crew list
USS Chenango (CVHE-28)
USS Chenango was commissioned in June of 1941 and assigned to the Naval Transportation Service on tanker duty throughout the Atlantic, Caribbean, and Pacific. She was decommissioned in March of 1942 and re-classified as an aircraft carrier, undergoing conversion to become an escort vessel.
In September of 1942, the ship was recommissioned and sailed ferry cruises to North Africa and Casablanca. In November, she was returned to Norfolk and underwent much damage due to a hurricane while en route. In December, the Chenango was back on the water, headed for the Pacific.
She continued her escort patrols and air cover operations through 1944, and then headed for Seattle to overhaul, where she remained until February of 1945. Chenango then conducted training in the Solomons in March and helped with support in the invasion of Okinawa and the final offensive against Japanese forces.
She helped in rescuing Allied POWs after the ceasefire was issued and then underwent another brief overhaul to help in the Magic Carpet operation, bringing home veterans from overseas. The vessel was decommissioned in August 1946, reclassified as CVHE-28, and then stricken from the Navy Register in 1959. She was sold and removed from Navy custody in 1960, but received 11 battle stars and a Navy Unit Commendation for service in World War II.
CVHE-28 Deployments - Major Events
CVHE-28 General Specifications