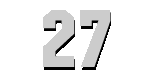 U.S.S. SUWANNEE
(CVHE-27)


Click to view crew list
USS Suwannee (CVHE-27)
USS Suwannee was commissioned in July of 1941 as an AO-33. The ship worked as an oiler for 6 months with the Atlantic Fleet and was then reclassified as an AVG-27 in February of 1942. The vessel decommissioned shortly thereafter in Newport News to be converted to an escort carrier.
In August, she became ACV-27 and recommissioned, headed for North Africa. She made many combat missions and support tours during her time in the Atlantic Fleet, including involvement in ASW missions of all types. She headed for the South Pacific in December of 1942. Through the next year, she made many more trips for support and combat before returning to the U.S. in December of 1943.
Suwannee headed for the Hawaiian Islands in the latter part of January 1944, heading for the Marshall Islands. She was involved in many more combat missions and air support tours through September of 1945, going all over the South Pacific to help with various battles and coming back for repairs on one occasion.
She was put on the inactive fleet, and placed out of commission in 1947. She sat in mothballs for 12 years, redesignating as CVHE-27 in 1955. The vessel was stricken from the Naval Register in 1959 and she was scrapped in Spain in 1962, but received 13 battle stars for her service in World War II.
CVHE-27 Deployments - Major Events
CVHE-27 General Specifications