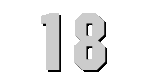 U.S.S. ALTAMAHA
(CVHE-18)


Click to view crew list
USS Altamaha (CVHE-18)
USS Altamaha was commissioned in September of 1942. She first did sea trials in the Pacific and then headed for San Diego to embark on a convoy transport journey to the Southwest Pacific, which was her first real mission. She participated in training exercises and more transport duties as well as further operational training in between operations.
The carrier was used for replenishment in the early part of 1943, and finally came back to the U.S. for 3 ½ months of flight training operations off the coast of California. She then headed for a transport tour to Australia in July, and then to India and back to Australia.
Finally, on Oct. 8, 1943, the vessel made her way into Vallejo California for overhaul. In November, Altamaha was back on duty and doing more replacement missions and carrier qualifications.
The ship carried out more missions and operations through October of 1945, when she was assigned to Magic Carpet duty, bringing veterans home from overseas. She made multiple trips during this operation, and then was decommissioned in September of 1946.
She was redesignated CVHE-18, stricken from the Navy register, and then sold for scrapping in April 1961. USS Altamaha was given one battle star for her service in World War II.
CVHE-18 Deployments - Major Events
CVHE-18 General Specifications