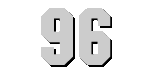 U.S.S. SALAMAUA
(CVE-96)

NOTHING LICKS THE 96!!
Click to view crew list
USS Salamaua (CVE-96)
USS Salamaua was originally known as the USS Anguilla Bay prior to Nov. 6, 1943. After being re-classified and renamed, the ship was responsible for transporting planes and cargo between San Diego and Pearl Harbor. After that, she was responsible for similar trips to New Guinea.
On the first of September 1944 the vessel went in for some major changed and training exercises, and was then sent to Ulithi in October of that same year. Salamaua continued on to Palaus and the Philippines, and offered air cover for the Leyte Gulf area.
After the Leyte assistance, the vessel was sent to the Admiralties to help with the invasion of Luzon. In December of 1944, the ship sailed north, arriving at Lingayen Gulf, taking out enemies and providing air cover for Allied ships that were incoming. The vessel's support in this attack lasted until the 13th of January 1945.
Salamaua was attacked on that day, and repaired temporarily to return to California. After repairs were completed, the ship was sent to help with Okinawa and then to Tokyo Bay, before being decommissioned in 1946. She was quickly struck from the list of Navy ships and sold for scrapping by November of that year.
CVE-96 Deployments - Major Events
CVE-96 General Specifications