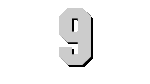 U.S.S. BOGUE
(CVE-9)


Click to view crew list
Named for a sound off the coast of North Carolina, Bogue was commissioned on Sept. 26, 1942. She joined Atlantic Fleet operations in February 1943. She became part of a hunter/killer group assigned to track down German submarines. She made three crossing with no luck. On her fourth voyage, in April 1943, she got luckier. She sunk U-569.
On her fifth voyage in June, her planes got two more targets: U-217 and U-527. Another one was taken by one of her escort ships. She continued making crossings through the rest of the year. Her eighth voyage saw three German submarines sunk: U-86, U-172 and U-850, all by airplane fire.
In early 1944, Bogue undertook a cargo run of Army fighters to Scotland. She then went back to submarine patrol. She, along with three British planes, sunk the German submarine U-575. In May 1944, Bogue went back on the hunt and got two more submarines. The next voyage in August 1944, another submarine was found and sunk.
In September 1944, the ship went on training duty in the north Atlantic. This lasted until February when she made a run to England. In April, she was back out on submarine patrol, getting her last submarine on April 24. She then reported to the Pacific in July 1945. She helped return sailors to the west coast and was decommissioned Nov. 30, 1946.
CVE-9 Deployments - Major Events
CVE-9 General Specifications
Complement: 890 officers and men
Displacement: 9800 tons
Length: 495.7 feet
Beam: 111.5 feet
Draft: 26 feet
Flank Speed: 18 knots