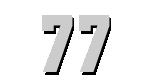 U.S.S. MARCUS ISLAND
(CVE-77)

THE GALLOPING GHOST
Click to view crew list
USS Marcus Island (CVE-77) was an Casablanca-class aircraft carrier built and active in World War II, for which she received four battle stars. She was part of the Pacific Fleet and played a role in the historical Battle for Leyte Gulf, specifically in the Battle off Samar, in which the US victory contributed to Japanese surrender.
Below are highlights from Marcus Island's service:

September, 1944: The carrier's planes flew strikes against Japanese forces in the Palau Islands.
October, 1944: Marcus Island joined "Taffy 2," a task force unit near the Leyte Gulf in the Philippines. She launched hundreds of air strikes from this location.
October 25, 1944: During the Battle off Samar, her planes flew in support of Taffy 3, which was greatly outnumbered in a surprise move by the Japanese Central Force. One of her torpedo bomber planes scored a hit on a Japanese heavy cruiser; several other bombs and a torpedo met their mark while her planes shot down Japanese planes. In the aftermath, her planes helped to sink two more Japanese ships.
November, 1944: During the Mindoro Invasion, Marcus Island came under attack by kamikazes as her planes battled Japanese aircraft; the carrier sustained minor damage.
December 1944-January 1945: She joined the Luzon Attack Force near the Philippines, supporting amphibious missions.
March, 1945: She supported the invasion of the Ryukyu Islands, including Okinawa.
After the war ended, she transported veterans home as part of "Operation Magic Carpet." She was decommissioned in 1946.
CVE-77 Deployments - Major Events
Add a CVE-77 Shellback Initiation
Add a CVE-77 Deployment - Major Event
Month
Year
to
Month
Year
Deployment / Event
FEB
1942
-
DEC
1945
Orville Hoover was the torpedo bomber the took out the heavy cru
MAY
1944
-
Shellback Initiation - 27 MAY 1944 - Pacific Ocean
MAY
1944
-
Shellback Initiation - 27 MAY 1944 - Pacific Ocean
MAY
1944
-
Shellback Initiation - 27 MAY 1944 - Pacific Ocean
CVE-77 General Specifications