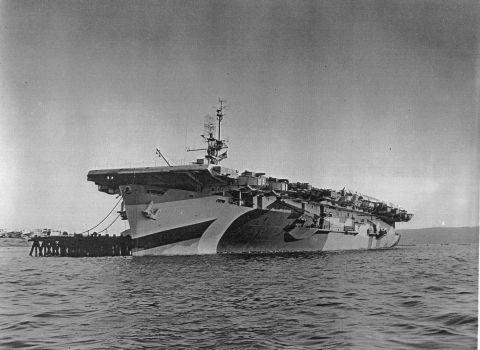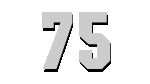 U.S.S. HOGGATT BAY
(CVE-75)

QUEEN OF THE CVE'S
Click to view crew list
USS Hoggatt Bay (CVE-75)
Named for a southeastern bay in Baranof Island, Alaska, the USS Hoggatt Bay was a Casablanca-class escort carrier that was first launched in Vancouver, Washington in December 1943. Prior to being classified as CVE-75 in 1943, the USS Hoggatt Bay started out as AVG-75 and, in 1942, was reclassified as ACV-75. Upon her second reclassification, the USS Hoggatt Bay was ordered to Astoria, Oregon where it was assigned to operate under the command of Captain W. V. Saunders.
Service Record
After undergoing extensive training off the west coast of the U.S., the USS Hoggatt Bay made two trips to Pearl Harbor (during spring of 1944) to deliver aircraft and crew. She then joined a group of destroyers and successfully performed antisubmarine patrols in Japanese waters.
Between August and November 1944, the USS Hoggatt Bay was supporting air strikes for the operation in the Marianas, Peleliu, Ulithi and the Philippines. In her next mission, she was commissioned to work with a task force that was heading to Lingayen Gulf to destroy enemy strongholds. En route, the USS Hoggatt Bay and her fellow vessels were hit with a kamikaze attack. While the USS Ommaney Bay was lost entirely, all of the other ships – including the USS Hoggatt Bay – were significantly damaged. As a result, after completing her duties in Lingayen Gulf, the USS Hoggatt Bay headed back to San Diego to undergo badly needed repairs.
Following two months of repair, in April 1945, the USS Hoggatt Bay sailed back to the Far East, this time headed for Okinawa to support the upcoming invasion. In the subsequent months, the USS Hoggatt Bay would support invasions and attacks in Hokkaido, Honshuū and Amomori. During these missions, her planes would locate a few Japanese prison camps and, in turn, have the honor of rescuing Lieutenant Colonel James Devreux, who had been captured during battles at Wake Island.
Her Final Years & Decommission
At the end of WWII, the USS Hoggatt Bay briefly served in the operation known as "Magic Carpet," in which various vessels brought equipment and troops from the Far East back to the U.S. By July 1946, she was decommissioned and assigned to the Atlantic Reserve Fleet in Boston. Although she would be reclassified as CVHE-75 in June 1955 (and AKV-25 in May 1959), by March 1960, the USS Hoggatt Bay had been struck from the Naval Register and sold from scrap.
For her bravery, dedication and successes in WWII, the USS Hoggatt Bay was awarded 5 battle stars.
CVE-75 Deployments - Major Events
CVE-75 General Specifications