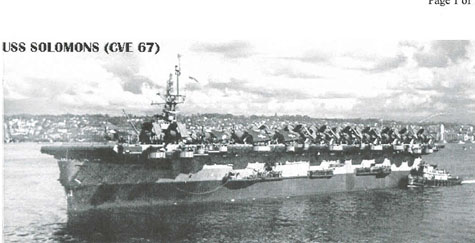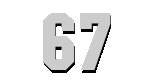 U.S.S. SOLOMONS
(CVE-67)

HAVE THE WILL TO WIN
Click to view crew list
USS Solomons was built at Vancouver, Washington, and commissioned on Nov. 21, 1943. Named for an island in the mouth of a river in Maryland, the ship was designated an escort carrier, CVE-67. After an initial ferrying and transport run to Hawaii, the ship was then sent to the Atlantic.
Her next assignment was to help with anti-submarine patrols in the South Atlantic off of the South American coast. On her third patrol, the ship engaged and sank a German submarine in June 1944. During these operations, the ship lost two aircraft, but captured dozens of German prisoners. She conducted other submarine patrols before going back to transport a few months later.
Later in 1944, the ship went to Staten Island and then transported a group of airmen and their planes to Casablanca in French Morocco. For the rest of the war, the ship was used for qualification runs. Both the Navy and Marine Corps used the ship to get their pilots ready for combat duty. She started this off the coast of Rhode Island and later near Port Everglades in Florida. She continued operations until the end of the war.
The ship was decommissioned on May 15, 1946.
CVE-67 Deployments - Major Events
CVE-67 General Specifications