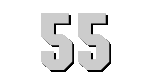 U.S.S. CASABLANCA
(CVE-55)


Click to view crew list
USS Casablanca began with the name Ameer. The name was then changed to Alazon Bay and finally she became Casablanca in April 1943. The Navy acquired her in July 1943 and she was designated CVE-55. The name Casablanca came from the port in French Morocco where American troops were based for the North African campaigns.
The ship operated as a training ship in both the Straits of Juan de Fuca and Puget Sound. The only interruption to her training duty was a supply transport mission from San Francisco to Manus in August 1944. In March 1945, the ship brought passengers and aircraft to Guam.
After arriving in Guam, Casablanca began transport duty between Samar, Manus and Palau for two months. In May she was sent back to the west coast for an overhaul. In June she returned to Pearl Harbor with passengers. In the next couple of months, she continued to ferry passengers from the west coast to Hawaii and Guam.
After the war formally ended, she began moving troops home. During the last part of 1945, the ship made trips to Pearl Harbor, Noumea and Espiritu Santo. Her last voyage was from San Francisco to Yokohama, Japan. In January 1945, the ship was sent to Norfolk. She was decommissioned in June of 1946.
CVE-55 Deployments - Major Events
CVE-55 General Specifications