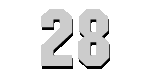 U.S.S. CHENANGO
(CVE-28)

FIGHTING BULL
Click to view crew list
CVE-28 USS CHENANGO
USS Chenango was the second by that name. The name comes from a river, county and town in the state of New York. The ship was built and launched as the Esso New Orleans in 1939. The Navy acquired the ship and redesignated her as AO-31 Chenango in June 1941. She did tanker duty in the Atlantic, Caribbean and Pacific.
Decommission
Her first decommission happened in March 1942 when she underwent a conversion to an escort carrier. She came back into service as ACV-28 in September 1942. She transported an assault force to Morocco before beginning a return voyage in late November. En route she was heavily damaged in a hurricane. After being repaired, the ship was sent to the Pacific.
In January 1943, Chenango provided air cover for supply convoys going to the Solomons. She also stood guard duty off of Guadalcanal. In July 1943, she was redesignated CVE-28. In August 1943, she underwent an overhaul.
Her Role in Pacific Operations
Over the next couple of years, this ship was a part of many vital Pacific operations. She was involved with the invasions of Tarawa, Roi, Kwajalein, Eniwetok, Aitape, Hollandia, Pagan Island, Guam, Morotai, Leyte, and Okinawa. She also provided support during the final offensive against Japan. She transported men and equipment home after the war. She was put into reserve Aug. 14, 1946. In 1959, she was removed from the Navy list.
CVE-28 Deployments - Major Events
CVE-28 General Specifications
Class: Sangamon-class escort carrier
Complement: 1080 Officers and Enlisted
Displacement: 11400 tons
Length: 553 feet
Beam: 75 feet
Draft: 32 feet
Final Disposition: Purchased by the US Navy