For RATING SHIRTS - Click on your Rating Abbreviation below: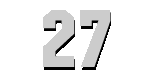 U.S.S. SUWANNEE
(CVE-27)

HELL
Click to view crew list
CVE-27 USS SUWANNEE
USS Suwannee was originally an oiler before its conversion to an aircraft carrier. She was commissioned on Sept. 24, 1942. Her first voyage was to the waters off of North Africa. She carried troops and aircraft for the invasion. Beginning in early November, she began sending air flights on bombing missions and combat air patrols. One of her flights was the first to score against an enemy submarine.
The ship went back to Norfolk and was then sent to the Pacific. During the first seven months of 1943, the ship provided escort for transports and supply ships to the Solomon Islands. In November of that year, she went on to help with the Gilbert Islands invasion. Her aircraft were used in bombing Tarawa.
After a brief return to San Diego in January 1944, the ship returned to combat in the Marshall Islands. She was used in operations against Roi, Namur and Kwajalein. In April, she supported the landings at Hollandia. June and July found her supporting the invasions of Saipan and Guam.
In September, she supported the landing at Morotai. In October, a kamikaze attack created major damage. After repairs and overhaul, she returned in time for Okinawa in April. With hostilities ending in August 1945, the ship was sent back to the US and taken out of commission on Jan. 8, 1947.
CVE-27 Deployments - Major Events
CVE-27 General Specifications
Class: Sangamon-class escort carrier
Complement: 1080 Officers and Enlisted
Displacement: 22400 tons
Length: 553 feet
Beam: 114 feet 3 inches
Draft: 32 feet 4 in
Final Disposition: Purchased by the US Navy