For RATING SHIRTS - Click on your Rating Abbreviation below: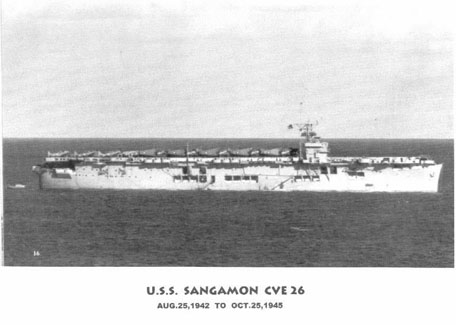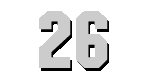 U.S.S. SANGAMON
(CVE-26)


Click to view crew list
CVE-26 USS SANGAMON
USS Sangamon was named for a river in central Illinois. She was built as an oil tanker in 1939, originally named the Esso Trenton. In October 1940, she was acquired by the Navy and designated a fleet oiler, AO-28. She served first on the Pacific coast and later on the Atlantic side. In 1942, after the war broke out, the ship was overhauled into an escort carrier. She came out of overhaul in August of that year and re-designated ACV-26. After shakedown, she was sent in October to participate in the invasion of North Africa. During that time, she provided air support and antisubmarine patrol. She returned to Norfolk in mid-November and was then deployed to the Pacific.
By early 1943, Sangamon was providing protection for re-supply convoys and assault troops going to the Russells. On July 15, 1943, she was re-designated CVE-26. After a brief modernization on Mare Island, the ship was back underway and arrived in the Gilberts. She supplied support to the assault on Tarawa.
She continued providing air support through early December. After a training run in San Diego, she returned to combat at Kwajalein. Despite heavy damage after a fighter crash, the ship continued support operations. After being repaired, the ship continued service through the end of the war. She was decommissioned on Oct. 24, 1945.
CVE-26 Deployments - Major Events
CVE-26 General Specifications
Class: Sangamon-class escort carrier
Complement: 830 Officers and Enlisted
Displacement: 11400 tons
Length: 553 feet
Beam: 114 feet 3 inches
Draft: 32 feet 4 in
Final Disposition: Purchased by the US Navy