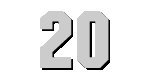 U.S.S. BARNES
(CVE-20)


Click to view crew list
USS Barnes, named for a sound located in Florida, was brought into service on Feb20, 1943. The ship's first three voyages were to provide ferrying service for aircraft and service personnel. Afterwards, she was re-designated CVE-20 in July 1943 as an escort aircraft carrier. After a brief refitting, the ship was put into combat operations in October with the attack on the Gilbert Islands. Her group's target was Tarawa.
By the end of November, the ship was put back to doing ferrying duties all around the Pacific area. She made deliveries to Espiritu Santo, the New Hebrides, and the Marshalls on different voyages. She made several round trips from the west coast to Hawaii, delivering aircraft and men as needed.
Barnes' next combat mission came in September of 1944 with the operations in the Western Carolines. She provided additional planes and men for the operations. As aircraft became disabled, the ship would provide new planes and aircrews. She spent the fall of 1944 replenishing the forward line of aircraft carriers. During 1945, the ship was sent on four more ferrying and transport runs in the Pacific. After the war ended, she did a few more passenger runs before being decommissioned on Aug. 29, 1946.
CVE-20 Deployments - Major Events
Add a CVE-20 Shellback Initiation
Add a CVE-20 Deployment - Major Event
Month
Year
to
Month
Year
Deployment / Event
JAN
1942
-
Keel Date: 19 JAN 1942
at Seattle-Tacoma Shipbuilding
JAN
1942
-
JAN
1943
Middle Pacific
MAY
1942
-
Launch Date: 2 MAY 1942
FEB
1943
-
Commissioned: 20 FEB 1943
MAY
1943
-
Shellback Initiation - 27 MAY 1943 - Pacific Ocean
MAY
1943
-
Shellback Initiation - 2 MAY 1943 - Pacific Ocean
NOV
1943
-
DEC
1943
Raids on Tarawa
JUN
1944
-
Shellback Initiation - 6 JUN 1944 - Pacific Ocean
JAN
1945
-
Shellback Initiation - 28 JAN 1945 - Pacific Ocean
AUG
1945
-
Shellback Initiation - 24 AUG 1945 - Pacific Ocean
AUG
1946
-
Decommissioned: 29 AUG 1946
JUN
1955
-
JUN
1955
Designated CVHE-20 while in reserve
CVE-20 General Specifications
Complement: 890 officers and men
Displacement: 7800 tons
Length: 495.66 feet
Beam: 111.5 feet
Draft: 26 feet
Flank Speed: 17 Knots