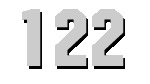 U.S.S. PALAU
(CVE-122)


Click to view crew list
USS Palau was commissioned in January of 1946 as a part of the post-war demobilization. She trained in California and Boston, and was sent to Norfolk where she sat until May of 1947. When the ship was again mobilized, she was sent to Cuba for updated training and then back to Norfolk and onto New York.
After that, she headed for Recife and West Africa, returning to the East Coast in August. She was immobilized again at Norfolk from December of 1947 to March of 1948. After this, she trained off the East Coast and departed for the Mediterranean to help the Turkish Aid Program with the delivery of planes.
Palau remained in the Western Atlantic after that, traveling in all areas from the Maritime Provinces to the West Indies. This went on until 1952, when she returned to the Mediterranean to help the 6th fleet through late June. The ship was designated for decommissioning in 1953 but remained active for one last ferry cruise to Yokosuka with planes in tow.
She arrived at Philadelphia in 1954, decommissioning and being put into the Atlantic Reserve Fleet. In 1960, she was stricken from the Navy list and then sold for scrap.
CVE-122 Deployments - Major Events
Add a CVE-122 Shellback Initiation
Add a CVE-122 Deployment - Major Event
Month
Year
to
Month
Year
Deployment / Event
FEB
1945
-
Keel Date: 19 FEB 1945
at Todd Pacific Shipyards
AUG
1945
-
Launch Date: 6 AUG 1945
JAN
1946
-
Commissioned: 15 JAN 1946
JAN
1947
-
JUL
1947
North Atlantic
JUL
1947
-
Shellback Initiation - 15 JUL 1947 - Atlantic Ocean
JUL
1947
-
Shellback Initiation - 17 JUL 1947 - Atlantic Ocean
JUN
1948
-
AUG
1958
hafia palitine
JUL
1948
-
SEP
1948
haifa palestine
JUN
1949
-
JUL
1949
Mediterranean
APR
1952
-
JUN
1952
Mediterranean
JUN
1954
-
Decommissioned: 15 JUN 1954
CVE-122 General Specifications
Class: Commencement Bay-class escort carrier
Complement: 1066 Officers and Enlisted
Displacement: 10900 tons
Length: 557 feet
Beam: 75 feet
Draft: 32 feet
Final Disposition: Sold for scrapping 13 July 1960