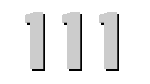 U.S.S. VELLA GULF
(CVE-111)

THE THREE ACES
Click to view crew list
USS Vella Gulf was commissioned in April of 1945 and involved in local operations off Puget Sound for her first month. She then headed to San Diego and was involved in transport and replenishment missions across the Pacific. She eventually was sent to Pearl Harbor, where she underwent 11 days of training and then headed out to help with the South Pacific efforts.
She was sent to Guam and then on to the Marianas Islands, where she conducted strikes against the islands of Rota and Pagan. She then headed back to Guam for a brief rest before getting sent to Okinawa to help with the Japanese attacks, but was only there for one night because surrender negotiations had succeeded.
On August 15, 1945, Vella Gulf was back in Guam and heard that Japan had, in fact, surrendered. At this time, she was involved in occupation efforts in the Japanese home islands. Vella Gulf was then used to transport servicemen home to the United States from Okinawa.
After this, she was sent to Tacoma to be decommissioned in August 1946. She was put in reserve, reclassified, and was stricken from the Navy list without return to duty in 1960. She was sold for scrap in 1971. Vella Gulf earned one battle star for WWII efforts.
CVE-111 Deployments - Major Events
CVE-111 General Specifications
Class: Commencement Bay-class escort carrier
Complement: 1066 Officers and Enlisted
Displacement: 10900 tons
Length: 557 feet
Beam: 75 feet
Draft: 32 feet
Final Disposition: Sold for scrap 22 October 1971