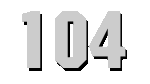 U.S.S. MUNDA
(CVE-104)


Click to view crew list
USS Munda (CVE-104)
USS Munda was a 7,800-ton Casablanca class aircraft carrier that was laid down in March of 1944 to help with the World War II efforts near the end of the war. The ship was designated an ACV-104, redesignated as CVE-104, initially named Tonowek Bay, and then finally renamed the Munda in November of 1943. She was initially assigned to work with Carrier Transport Squadron in the Pacific Fleet.
Her first voyage took her to Espiritu Santo in September of 1944, and then to New Guinea and the Manus. Through mid-1945, the ship was responsible for many transport and support cruises to the Pacific.
In July, Munda joined the TG 30.8, and supplied various personnel and planes to the fast carries of Task Force 38. After a few trips back and forth between this operation and Guam, where she went for replenishment, she was informed of the Japanese surrender. She remained in the area until October, when she was assigned to bring service members back to the United States for the next few months.
The ship was decommissioned in September 1946, joining the Pacific Reserve Fleet. Then, she was redesignated, moved to Bremerton, and eventually stricken from the naval list in 1958. She was sold for scrap in June of 1960. She earned one battle star for service in WWII.
CVE-104 Deployments - Major Events
CVE-104 General Specifications