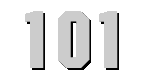 U.S.S. MATANIKAU
(CVE-101)


Click to view crew list
Like many other aircraft carriers built and used in the later half of World War II, the USS Matanikau (CVE-101), originally Dolomi Bay, was named after a geographical location crucial to the success of early war efforts. She was a Casablanca-class aircraft carrier built by Kaiser Shipyards that boasted a 7,800-ton displacement, 19-knot speed, and 10,240 nautical-mile range. Armament included a 5"/38 caliber dual-purpose gun, Bofors 40 mm guns, and Oerlikon 20-mm cannons. She carried 28 aircraft.
Matanikau was launched under Maritime Commission on March 10, 1944, and spent the next two years supporting operations in the West Pacific, either directly, by transporting planes and passengers, or indirectly, by supporting the training of hundreds of pilots during thousands of landings and takeoffs from her decks.
Service during WWII
With Captain W.L. Erdmann in command, she departed San Diego on August 1, 1944 for a shakedown voyage and to transport planes and passengers to Manus in the Admiralty Islands. Her closest contact with war was during trips to the Admiralties, where she transported military passengers and planes.
Off the coast of Southern California, she qualified over 1,300 aviators during pilot training landings for eight months in early 1945.
Next, she left San Diego, bound for the Marshall Islands and Hawaii, to transport planes and passengers. In August and September 1945, she supported operations for the occupation of Japan.
After the War
Toward the end of her service, Matanikau participated in Operation "Magic-Carpet," bringing thousands of returning servicemen home from the war. Her final support of combat operations was to transport troops supporting Chinese Nationalists against Mao Tse Tung's Communist forces in January 1946. She was finally decommissioned October 11, 1946, struck from the Navy list April 1, 1960, and sold later that year for scrap.
Hull classifications include:
CVE-101 Deployments - Major Events
CVE-101 General Specifications