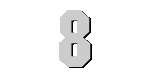 U.S.S. HORNET
(CV-8)

THE HAPPY HORNET
Click to view crew list
USS Hornet (CV-8) was a highly decorated aircraft carrier built in 1940 and active in World War II, most notably in three important operations: a surprise bombing raid on Japan; the Battle of Midway, a less famous, but just as important event; and the Battle of Santa Cruz Island, where she met her fate in 1942.
World War II Highlights

Surprise bombing raid on Japan, April 1942. Still 600 miles off the coast, Hornet was closing in to launch an air raid when she was sighted by the Japanese. She was not as close to the coast as was intended, but began the air raid immediately to cut Japan's ability to prepare. Sixteen American fighter planes bombed major Japanese cities, then returned safely to Hornet's decks; the mission was kept a secret for a year.
The Battle of Midway, June 4-7, 1942. American forces sustained great loss and casualties in this victory; 6 of Hornet's 41 torpedo planes returned after one tragic strike. Later, she assisted in damaging and destroying several cruisers.
The Battle of Santa Cruz Island, October 1942. Her planes damaged and destroyed several Japanese ships. Hornet was damaged beyond repair.
After fateful dive bombs and torpedo plane attacks, Hornet was abandoned and sank Oct. 27, 1942. She received four battle stars.
CV-8 Deployments - Major Events
CV-8 General Specifications