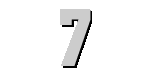 U.S.S. WASP
(CV-7)


Click to view crew list
USS Wasp was an aircraft carrier built prior to World War II, which later served in that war. Her role in World War II was extensive; below are highlights from her service and battles, for which she was awarded two battle stars.
USS Wasp's Highlights

Wasp participates in the US occupation of Iceland in order to fill in for British troops needed in mainland Europe. After brief journeys back to the US, she was dispatched to Iceland a second time.
Wasp provides support to British forces on the island of Malta, a strategic point in the center of the Mediterranean. Wasp enters the Mediterranean Sea and discharges several Spitfire planes toward Malta. All of the planes are shot down by German air raids.
A second run to Malta is made with a British ship in company. Both ships discharge Spitfires, which, despite some mishaps, were able to complete the operation successfully.
Wasp is dispatched to the Pacific after carriers there are lost and her presence is needed to replace them.
As part of a secret, urgent mission, Wasp steams to a launch position 84 miles from Tulagi, in the Solomon Islands. Fifteen Japanese boats and seven fighters were taken in this highly successful operation over the islands. None of Wasp's planes were lost. After nearly a month of operations near Guadalcanal, fuel was running low, and the order to withdraw was given.
On Sept. 15, 1942, Wasp is launching planes from her decks 150 miles from San Cristobal Island when three Japanese torpedoes hit her starboard side. Explosions and fire caused extensive damage, and the captain gave the order to abandon ship.
The ship sank several hours later. She was awarded two battle stars for her service.
CV-7 Deployments - Major Events
CV-7 General Specifications
Named for: Wasp
Complement: 1800 Officers and Enlisted
Length: 688 feet
Beam: 80 feet 9 inches
Draft: 20 feet
Flank Speed: 29 Knots
Final Disposition: Sunk by IJN I-19 15 September 1942