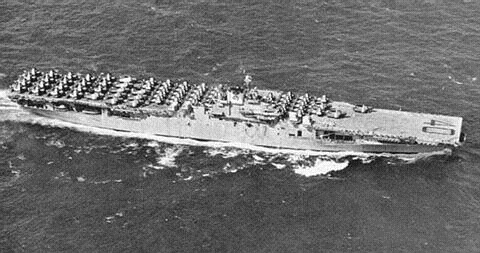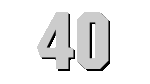 U.S.S. TARAWA
(CV-40)


Click to view crew list
Named for the Second World War battle of Tarawa, the aircraft carrier USS Tarawa was built at Norfolk, Virginia. After being commissioned in December of 1945, she joined the Pacific Fleet in July of the next year. For the next year, she served in the Pacific, then went back to secure the US west coast. She returned to the east coast after a world cruise beginning in late 1948. The ship was taken out of commission in June of 1949.
She was recalled in February 1951. During the Korean War, she had duty in the Atlantic and Mediterranean. In October 1952, her designation was changed to CVA-40. For a year, starting in September 1953, the ship cruised east through the Mediterranean and into the Far East waters.
Tarawa returned to the east coast in late 1954 where she was converted for anti-submarine aircraft support. This changed her designation to CVS-40 when she came back into service in January 1955. For the next five years, the ship cruised the east coast and Caribbean conducting anti-submarine and helicopter exercises. In May 1960, the ship was decommissioned the second time and sent to the Atlantic Reserve Fleet.
In 1967, the ship was removed from service completely.
CV-40 Deployments - Major Events
Add a CV-40 Shellback Initiation
Add a CV-40 Deployment - Major Event
Month
Year
to
Month
Year
Deployment / Event
MAR
1944
-
Keel Date: 1 MAR 1944
at Norfolk Naval Shipyard Norfolk Virginia
MAY
1945
-
Launch Date: 12 MAY 1945
DEC
1945
-
Commissioned: 8 DEC 1945
JAN
1946
-
DEC
1946
Accident
MAY
1946
-
MAR
1949
Middle Pacific
OCT
1948
-
MAR
1949
World cruise
OCT
1948
-
FEB
1949
world cruise
FEB
1951
-
FEB
1951
Recommisioning
MAY
1951
-
MAY
1951
North Atlantic
DEC
1951
-
JUN
1962
Mediterranean
JUL
1953
-
Shellback Initiation - 14 JUL 1953 - Pacific Ocean
JUL
1953
-
Shellback Initiation - 14 JUL 1953 - Atlantic Ocean
NOV
1953
-
SEP
1954
Circumnavigation around the world
JAN
1954
-
JAN
1955
Mediterranean
JAN
1954
-
JAN
1955
Mediterranean
FEB
1954
-
Shellback Initiation - 7 FEB 1954 - Pacific Ocean
FEB
1954
-
Shellback Initiation - 7 FEB 1954 - Atlantic Ocean
FEB
1954
-
Shellback Initiation - 7 FEB 1954 - Pacific Ocean
FEB
1954
-
Shellback Initiation - 7 FEB 1954 - Indian Ocean
FEB
1954
-
MAR
1954
Korea
APR
1954
-
MAY
1954
First Battle of Midway celebration Sidney Australia and New Zela
MAY
1956
-
JUL
1956
North Atlantic
MAY
1956
-
Shellback Initiation - 31 MAY 1956 - Atlantic Ocean
NOV
1956
-
NOV
1956
North Atlantic
JAN
1957
-
MAR
1957
North Atlantic
JUL
1957
-
JUL
1957
Guantanamo Bay
AUG
1957
-
OCT
1957
Blue Nose - Arctic Circle
AUG
1958
-
Shellback Initiation - 16 AUG 1958 - Atlantic Ocean
MAY
1960
-
Decommissioned: 13 MAY 1960
CV-40 General Specifications
Class: Essex-class aircraft carrier
Named for: Battle of Tarawa
Complement: 3448 Officers and Enlisted
Length: 888 feet
Draft: 28 feet 7 inches
Flank Speed: 33 knots