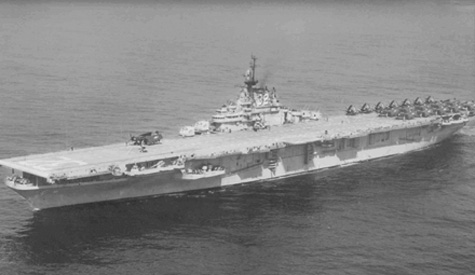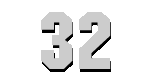 U.S.S. LEYTE
(CV-32)

THE LEADING LEYTE
Click to view crew list
USS Leyte (CV-32)
Leyte was commissioned in 1846, and built in Newport News, Virginia. She was a 27,000-ton Ticonderoga aircraft carrier. She cruised the South Pacific initially, and then was sent to work with the Atlantic Fleet for three years. She deployed four times to the Mediterranean in 1947, 1949, and 1950, and then was sent to help the Navy with the Korean War. She remained off the coast of Korea from 1950 until 1951 and hosted a Medal of Honor recipient and provided 4,000 deployments of aircraft to help ground troops.
In 1951, Leyte returned to the Atlantic, where she spent the rest of her career in service. There were two more deployments to the Mediterranean between 1951 and 1953, and then was converted to an anti-submarine support and reclassified as a CVS-32.
In the Boston Naval Shipyard in 1953, she was in the process of being converted when there was an explosion and fire. This killed 37 men and injured dozens more. However, she still returned to duty in 1954 and worked in the Caribbean and Atlantic for the next five years. She served as an amphibious assault ship for a short period in 1957, replacing her fleet with Marine helicopters.
Leyte was decommissioned in 1959 and then re-designated as an aircraft transport vessel, remaining on reserve for 10 more years before being sold for scrapping in 1970.
CV-32 Deployments - Major Events
Add a CV-32 Shellback Initiation
Add a CV-32 Deployment - Major Event
Month
Year
to
Month
Year
Deployment / Event
FEB
1944
-
Keel Date: 21 FEB 1944
at Newport News Shipbuilding & Drydock Co. Newport News VA
AUG
1945
-
Launch Date: 23 AUG 1945
APR
1946
-
Commissioned: 11 APR 1946
APR
1946
-
MAY
1959
Commission year is 1946, not 1846
OCT
1946
-
NOV
1946
Panama Canal
OCT
1946
-
Shellback Initiation - 27 OCT 1946 - Pacific Ocean
OCT
1946
-
NOV
1946
South America
OCT
1946
-
NOV
1946
South America
APR
1947
-
JUN
1947
Mediterranean
MAY
1950
-
AUG
1950
Mediterranean
SEP
1951
-
DEC
1951
Mediterranean
AUG
1952
-
FEB
1953
Mediterranean
JAN
1956
-
DEC
1957
Mediterranean
JUN
1957
-
NOV
1958
North Atlantic
MAY
1959
-
Decommissioned: 15 MAY 1959
CV-32 General Specifications
Class: Essex-class aircraft carrier
Named for: Battle of Leyte Gulf
Complement: 3448 Officers and Enlisted
Length: 888 feet
Draft: 28 feet 7 inches
Flank Speed: 33 knots