For RATING SHIRTS - Click on your Rating Abbreviation below:
Click on your Rating abbreviation above: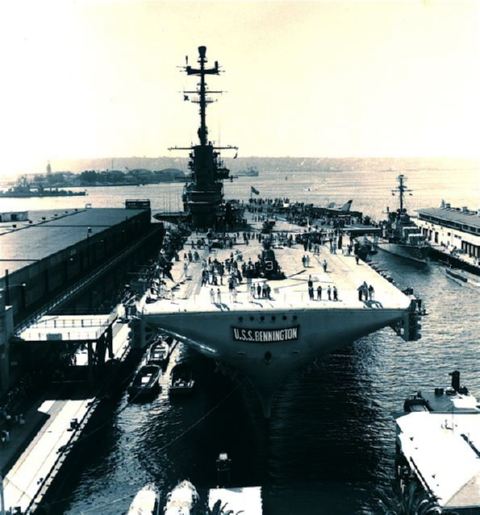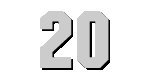 U.S.S. BENNINGTON
(CV-20)

BIG BENN
Click to view crew list
USS Bennington was the last of three Yorktown gunboats that were built at Chester, Pennsylvania. The ship was commissioned in June of 1891 and deployed to the Caribbean and South America with the Squadron of Evolution until mid 1892. Then, she went on brief assignment with the South Atlantic Squadron and was thereafter transferred into European waters until 1893.
The gunboat was deployed a second time to the Mediterranean between 1893 and 1904, when USS Bennington went to the Pacific and worked along the Pacific coastlines of South and North America for over four years. This included several trips to Hawaii.
USS Bennington went to the Far East in 1898, taking possession of Wake, which is a U.S. territory that was an atoll at the time. She also took parts in Philippines suppression and visited China and Japan. Decommissioned shortly after that trip in 1901, the ship was overhauled and re-commissioned in 1903 to work with the Pacific Squadron. In 1905, a boiler explosion that killed more than 60 people and left the ship half sunk and beached. The vessel was towed to San Francisco Bay, and was not repaired. In 1910 the USS Bennington was sold, converted to a barge, moved to Hawaii and employed her use until the mid-1920s when she was scuttled at sea.
CV-20 Deployments - Major Events
Add a CV-20 Shellback Initiation
Add a CV-20 Deployment - Major Event
Month
Year
to
Month
Year
Deployment / Event
DEC
1942
-
Keel Date: 15 DEC 1942
at New York Naval Shipyard
FEB
1944
-
Launch Date: 28 FEB 1944
APR
1944
-
NOV
1946
World War II Pacific Theatr April 1944 Decomissioned Nov. 1946
JUN
1944
-
Shellback Initiation - 10 JUN 1944 - Pacific Ocean
JUL
1944
-
Shellback Initiation - 20 JUL 1944 - Pacific Ocean
AUG
1944
-
Commissioned: 6 AUG 1944
SEP
1956
-
MAY
1957
West Pac
NOV
1956
-
DEC
1957
Suez Canal crisis
JAN
1960
-
SEP
1961
West Pac-Viet Nam
NOV
1960
-
AUG
1961
West Pac
JAN
1961
-
JUL
1961
West Pac-Viet Nam
JAN
1961
-
JAN
1962
West Pac
DEC
1961
-
JUL
1962
West Pac-Viet Nam
JAN
1962
-
JUL
1962
West Pac
JAN
1963
-
JAN
1976
West Pac-Viet Nam
AUG
1963
-
AUG
1963
Alaska
FEB
1964
-
AUG
1964
West Pac-Viet Nam
MAR
1965
-
OCT
1965
West Pac-Viet Nam
MAR
1965
-
SEP
1965
West Pac-Viet Nam
AUG
1966
-
AUG
1966
West Pac-Viet Nam
NOV
1966
-
MAY
1967
West Pac-Viet Nam
APR
1967
-
Shellback Initiation - 20 APR 1967 - Pacific Ocean
APR
1967
-
Shellback Initiation - 23 APR 1967 - Pacific Ocean
APR
1967
-
SEP
1967
Yankee station South China Sea 1967
NOV
1967
-
NOV
1967
Pick up Apollo 4 capsule
MAY
1968
-
NOV
1968
West Pac
JUL
1968
-
Shellback Initiation - 21 JUL 1968 - Pacific Ocean
JUL
1968
-
Shellback Initiation - 21 JUL 1968 - Pacific Ocean
JAN
1970
-
Decommissioned: 15 JAN 1970
CV-20 General Specifications
Class: Essex-class aircraft carrier
Named for: Battle of Bennington
Complement: 2600 Officers and Enlisted
Length: 820 feet
Draft: 28 feet 5 inches
Flank Speed: 33 knots
Final Disposition: Scrapped in 1994
USS BENNINGTON (CV-20)
The second Bennington (CV-20) was launched 28 February 1944 by New York Navy Yard sponsored by Mrs. Melvin J. Maas wife of Congressman Maas of Minnesota; and commissioned 6 August 1944 Captain J. B. Sykes in command.
On 15 December Bennington got underway from New York and transited the Panama Canal on the 21st. The carrier arrived at Pearl Harbor 8 January 1945 and then proceeded to Ulithi Atoll Caroline Islands where she joined TG 58.1 8 February. Operating out of Ulithi she took part in the strikes against the Japanese home islands (16-17 and 25 February) Volcano Islands (18 February-4 March) Okinawa (1 March) and the raids in support of the Okinawa campaign (18 March-11 June). On 7 April Bennington's planes participated in the attacks on the Japanese task force moving through the East China Sea toward Okinawa which resulted in the sinking of the Japanese battleship Yamato light cruiser Yahagi and four destroyers. On 5 June the carrier was damaged by a typhoon off Okinawa and retired to Leyte for repairs arriving 12 June. Her repairs completed Bennington left Leyte 1 July and during 10 July-15 August took part in the anal raids on the Japanese home islands.
She continued operations in the western Pacific supporting the occupation of Japan until 21 October. On 2 September her planes participated in the mass flight over Missouri (BB-63) and Tokyo during the surrender ceremonies. Bennington arrived at San Francisco 7 November 1945 and early in March 1946 transited the Panama Canal enroute to Norfolk. Following pre-inactivation overhaul she went out of commission in reserve at Norfolk 8 November 1946.
The carrier began modernization at New York Naval Shipyard 30 October 1950 and was recommissioned 13 November 1952. Her shakedown lasted until May 1953 when she returned to Norfolk for final fleet preparations. Between 14 May 1953 and 27 May 1954 she operated along the eastern seaboard; made a midshipman cruise to Halifax Nova Scotia; and a cruise in the Mediterranean. At 0811 28 May 1954 while cruising off Narragansett Bay the fluid in one of her catapults exploded setting off a series of secondary explosions which killed 103 crewmen and injured 201 others. Bennington proceeded under her own power to Quonset Point R. I. to land her injured.
Moving to New York Naval Shipyard for repairs she was completely rebuilt during 12 June 1954-19 March 1955. On 22 April 1955 the Secretary of the Navy came aboard and presented medals and letters of commendation to 178 of her crew in recognition of their heroism on 26 May 1954. Bennington returned to operations with the Atlantic Fleet until departing Mayport Fla. 8 September 1955 for the Pacific. She steamed by way of Cape Horn and arrived at San Diego one month later. The carrier has since served with the Pacific Fleet making two Far Eastern cruises.


[Note: The above USS BENNINGTON (CV-20) history may or may not contain text provided by crew members of the USS BENNINGTON (CV-20) or by other non-crew members and text from the Dictionary of American Naval Fighting Ships]