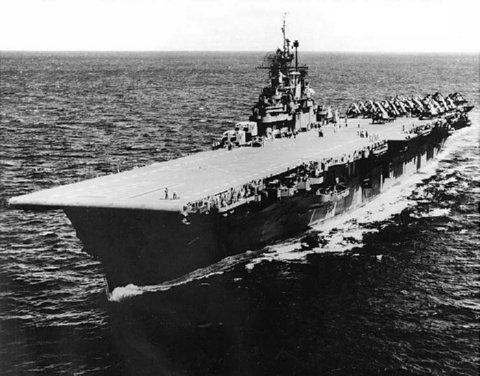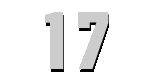 U.S.S. BUNKER HILL
(CV-17)

THE FIGHTING LADY
Click to view crew list
USS Bunker Hill (CV-17)
CV-17 USS Bunker Hill was one of many aircraft carriers of the Essex class built in the early 1940s. Commissioned in 1943, the ship completed training and small missions in the Atlantic before being sent to the Pacific to help during World War II attacks on Japan, Rabaul and the conquest of the Gilberts.
Bunker Hill also supported the invasion of Saipan and the Battle of the Philippine Sea. Two crewmen were killed in the battle with the Philippines due to a bomb that hit nearby, but the damage to the ship was minimal. She remained in the war with Japan through the majority of 1944 before being sent home for repairs and modernization.
She was quickly repaired and returned to the Western Pacific in 1945 to help with the Iwo Jima invasion and raids on the home islands of Japan. She was a flagship of Task Force 58 and was very involved in the Okinawa campaign. In May of that year, the Bunker Hill lost almost 400 crewmembers after two attacks by suicide planes.
She was repaired and used for transport for the rest of the year and then placed out of commission before undergoing three reclassifications through 1959. Bunker Hill was then used for stationary electronics testing through the 1970s until she was sold for scrapping in 1973.
CV-17 Deployments - Major Events
Add a CV-17 Shellback Initiation
Add a CV-17 Deployment - Major Event
Month
Year
to
Month
Year
Deployment / Event
SEP
1941
-
Keel Date: 15 SEP 1941
at Fore River Shipyard
DEC
1942
-
Launch Date: 7 DEC 1942
MAY
1943
-
Commissioned: 24 MAY 1943
JUN
1943
-
AUG
1947
looking for tom rice
OCT
1943
-
MAY
1945
Pacific ship attack-1945
OCT
1943
-
Shellback Initiation - 26 OCT 1943 - Atlantic Ocean
NOV
1943
-
OCT
1944
South Pacific/Island Hopping
MAY
1945
-
MAY
1945
Kamakaze Attack/She took Two within 30 seconds-May 11 1945
JAN
1947
-
Decommissioned: 9 JAN 1947
MAY
2007
-
JUL
2007
West Pac-Indian Ocean-Persian Gulf
CV-17 General Specifications
Class: Essex-class aircraft carrier
Named for: The Battle of Bunker Hill
Complement: 2600 Officers and Enlisted
Length: 820 feet
Draft: 28 feet 5 inches
Flank Speed: 33 knots
Final Disposition: Sold for scrap in 1973