For RATING SHIRTS - Click on your Rating Abbreviation below: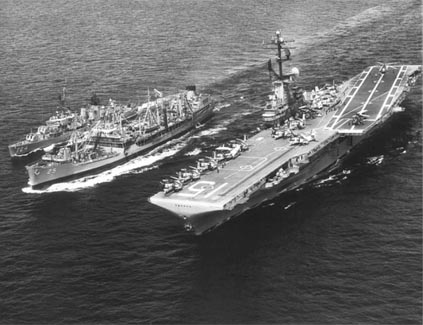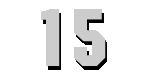 U.S.S. RANDOLPH
(CV-15)

RANDOO-CAN DO
Click to view crew list
USS Randolph (CV-15)
Randolph was commissioned in October of 1944 and was built at Newport News, Virginia. The ship was a 27,000-ton aircraft carrier in the Ticonderoga class. The ship began combat in February of 1945. The mission supported the invasion of Iwo Jima and was to attack targets in Japanese islands and the Bonins.
On March 11, 1944, the ship was hit by a suicide plane and lost 25 crewmembers. The ship was repaired and back on duty by April, and remained active until May of 1945 during the Okinawa campaign. During this time, it served as the Task Force 58 flagship.
During the rest of that summer and the Pacific War, Randolph was responsible for launching attacks against enemy islands. In September, the ship returned and became part of the Atlantic Fleet. For the rest of 1945, she was responsible for two trips to bring servicemen home from the Mediterranean.
During 1946 and 1947, the ship was used for training purposes and was decommissioned in February of 1948. The ship was modernized in 1955-56 and put back into commission for anti-submarine support, training, space shuttle support, and for the Cuban missile crisis. The ship was again decommissioned in 1969, removed from the Naval Vessel Register in 1973, and then sold for scrapping in May of 1975.
CV-15 Deployments - Major Events
Add a CV-15 Shellback Initiation
Add a CV-15 Deployment - Major Event
Month
Year
to
Month
Year
Deployment / Event
MAY
1943
-
Keel Date: 10 MAY 1943
at Newport News Shipbuilding & Drydock Co. Newport News VA
JAN
1944
-
MAY
1946
Guantanamo Bay
FEB
1944
-
JUN
1945
Commisioning
FEB
1944
-
NOV
1945
Panama Canal
MAY
1944
-
MAY
1945
Commisioning
MAY
1944
-
MAY
1945
Middle Pacific
JUN
1944
-
Launch Date: 28 JUN 1944
OCT
1944
-
Commissioned: 9 OCT 1944
OCT
1944
-
Shellback Initiation - 20 OCT 1944 - Pacific Ocean
FEB
1945
-
FEB
1945
Guantanamo Bay
NOV
1945
-
DEC
1945
returning troops from Italy to us
JAN
1952
-
SEP
1955
Mediterranean
JUL
1953
-
AUG
1953
Guantanamo Bay
JUL
1953
-
JUL
1953
Recommisioning
DEC
1953
-
JUN
1954
Mediterranean
NOV
1954
-
MAY
1955
Mediterranean
JAN
1955
-
JAN
1960
Mediterranean-Indian Ocean-Persian Gulf
AUG
1955
-
FEB
1956
Dry Dock
MAR
1956
-
DEC
1957
Mediterranean
JUL
1956
-
FEB
1957
Mediterranean
JUL
1956
-
FEB
1957
Mediterranean-Lebanon
JUL
1957
-
FEB
1958
Mediterranean-Lebanon
SEP
1957
-
MAR
1958
Mediterranean
MAR
1958
-
JUN
1958
Dry Dock
JUN
1958
-
JUL
1958
Guantanamo Bay
JUL
1958
-
MAR
1959
Mediterranean-Lebanon
SEP
1958
-
MAR
1959
Mediterranean-Lebanon
SEP
1958
-
JAN
1959
North Atlantic
MAR
1960
-
OCT
1961
Guantanamo Bay
OCT
1960
-
MAR
1961
Dry dock Portsmouth Va. Installation of bow sonar and CIC upgrad
APR
1961
-
APR
1961
On station off Cuba for the Bay of Pigs Invasion.
MAY
1961
-
MAY
1961
On station during Trujillo (Dominican Republic) assassination
JUL
1961
-
JUL
1961
Recovery of astronaut Gus Grissom
OCT
1961
-
OCT
1961
Collision at Sea
DEC
1961
-
FEB
1962
Caribbean
FEB
1962
-
FEB
1962
Recovery of astronaut John Glenn
JUN
1962
-
AUG
1962
Med Cruise
OCT
1962
-
OCT
1962
Cuban Missle Blockade
OCT
1962
-
OCT
1962
Forced nuclear armed Soviet submarine to surface.
NOV
1962
-
FEB
1965
North Atlantic
JUN
1964
-
AUG
1964
North Atlantic
JUN
1965
-
Shellback Initiation - 6 JUN 1965 - Atlantic Ocean
JUN
1965
-
NOV
1965
Mediterranean
MAY
1966
-
SEP
1966
North Atlantic
MAY
1966
-
SEP
1966
North Atlantic
MAY
1966
-
SEP
1966
North Atlantic
SEP
1967
-
DEC
1967
Mediterranean
SEP
1967
-
DEC
1967
Mediterranean
AUG
1968
-
Shellback Initiation - 7 AUG 1968 - Atlantic Ocean
AUG
1968
-
Shellback Initiation - 7 AUG 1968 - Atlantic Ocean
AUG
1968
-
Shellback Initiation - 10 AUG 1968 - Atlantic Ocean
AUG
1968
-
Shellback Initiation - 7 AUG 1968 - Atlantic Ocean
FEB
1969
-
Decommissioned: 13 FEB 1969
CV-15 General Specifications
Class: Essex-class aircraft carrier
Named for: Peyton Randolph
Complement: 3448 Officers and Enlisted
Length: 888 feet
Draft: 28 feet 7 inches
Flank Speed: 33 knots
USS RANDOLPH (CV-15)
The second Randolph (CV-15) was laid down 10 May 1943 by Newport News Shipbuilding & Dry Dock Co. Newport News Va.; launched 28 June 1944 sponsored by Mrs. Guy M. Gillette and commissioned 9 October 1944 Capt. Felix Baker in command.
Following shakedown off Trinidad Randolph got underway for the Panama Canal and the Pacific. On 31 December she reached San Francisco where Air Group 87 was detached and Air Group 12 reported on board for 4 months duty.
On 20 January Randolph departed San Francisco for Ulithi whence she sortied 10 February with TF 58. She launched attacks 16 and 17 February against Tokyo airfields and the Tachikawa engine plant. The following day she made a strike on the isl and of Chichi Jima. On 20 February she launched three aerial sweeps in support of ground forces invading Iwo Jima and two against Haha Jima. During the next 4 days further strikes hit Iwo Jima and combat air patrols were flown almost continuously. Three sweeps against airfields in the Tokyo area and one against Hachijo Jima followed on 25 February before the carrier returned to Ulithi.
Riding at anchor at Ulithi 11 March a kamikaze "Frances " a twin-engine bomber hit Randolph on the starboard side aft just below the flight deck killing 25 men and wounding 106. Repaired at Ulithi Randolph joined the Okinawa Task Forc e 7 April. Combat air patrols were flown daily until 14 April when strikes were sent against Okinawa Ie Shima and Kakeroma Island. The following day an air support mission of fighters bombers and torpedo planes hit Okinawa and a fighter sweep struck an airfield in southern Kyushu. Under daily air attack from 17 April on Randolph continued to send her aircraft on CAP and support missions throughout the month.
During May planes from the carriers hit the Ryukyus and southern Japan Kikai-Amami Island naval base and airfields and Kyushu airfields. Becoming flagship TF 58 on 15 May Randolph continued her support of the occupation of Okinawa Shima until 2 9 May when she retired via Guam to the Philippines.
On her next war cruise as a part of Admiral Halsey's famed 3d Fleet Randolph made a series of strikes up and down the Japanese home islands. With Air Group 16 replacing Air Group 12 the ship launched eight raids on 10 July against airfields i n the Tokyo area principally those on the peninsula east of Tokyo Bay. On the 14th her planes struck the air-fields and shipping in and near Tsugaru Strait. In this attack two of the important Honshu-Hokkaido train ferries were sunk and three were damag ed. Attacks on the Japanese home islands continued for the next few days and on 18 July Nagato lying camouflaged alongside a pier at the Yokosuka Naval Base was bombed. [29]
Moving southwest Randolph and other carriers were off the coast of Shikoku 24 July for an antishipping sweep of the Inland Sea during which the carrier-battleship Hyuga was heavily damaged and airfields and industrial installations on Kyushu Honshu and Shikoku were hit hard. Randolph's pilots estimated that from 10 to 25 July they had destroyed 25 to 30 ships ranging in size from small luggers to a 6 000-ton freighter and had damaged 35 to 40 others. Randolph's stri kes continued right up to the morning of the 15 August surrender when her planes hit Kisarazu Airfield and surrounding installations.
Following the end of the war Randolph headed home. Transiting the Panama Canal in late September she arrived at Norfolk 15 October where she was rigged for the "Magic Carpet" service. Before the end of the year she completed two trips to th e Mediterranean area to return American servicemen. Then in 1946 she became a training ship for reservists and midshipmen and made a Mediterranean cruise in the latter half of the year. After another voyage to the Caribbean she embarked midshipmen in the early summer of 1947 for a cruise to northern European waters. Randolph was placed out of commission in reserve 25 February 1948 and berthed at Philadelphia.
Reclassified CVA-15 on 1 October 1952 Randolph recommissioned 1 July 1953. After shakedown off Guantanamo Bay with Carrier Air Group 10 she took on Carrier Air Group 14 departed Norfolk for the Mediterranean and joined the 6th Fleet on 3 Feb ruary 1954. Deployed to the Mediterranean for 6 months of Fleet and NATO exercises during 1954 and 1955 Randolph entered the Norfolk Navy Yard 18 June 1955 for installation of an angled deck and other modernization.
Leaving the yard in January 1956 Randolph conducted air operations off the east coast for the next 6 months and was the first Atlantic-Fleet carrier to launch a Regulus guided missile from her flight deck.
On 14 July 1956 Randolph again steamed east for a 7-month tour of duty with the 6th Fleet in the Mediterranean. When Israel Britain and France invaded the United Arab Republic in October of that year Randolph stood ready. Operating ne ar the Suez Canal her aircraft provided air cover and surface and air reconnaissance for the evacuation of U.S. nationals from Alexandria. She returned to the United States 19 February 1957.
After a few months operating off the east coast Randolph deployed to the Mediterranean again 1 July 1957. Between August and December as political turmoil in Syria threatened to further disturb the already turbulent Mideast she patrolled the eastern Mediterranean. Back in the United States on 24 February 1958 the flattop made her 5th Mediterranean deployment 2 September 1958 to 12 March 1959.
Randolph was reclassified CVS-15 on 31 March 1959 and conducted ASW operations off the east coast throughout that year and the next receiving her fourth Battle Efficiency "E" m a row in September 1960. After overhaul at Norfolk Randolph sailed for operations in the Caribbean and served as the recovery ship for Astronaut Virgil Grissom on America's second manned space flight a suborbital shot. In February 1962 Randolph was the primary recovery ship for Astronaut John Glenn on hi s flight the first American orbital voyage in space. After his historic three-orbit flight he landed safely near destroyer Noa from which he was transferred by helicopter to Randolph.
In the summer of 1962 Randolph again steamed to the Mediterranean. Returning to the western Atlantic as the Cuban missile crisis broke she operated in the Caribbean from the end of October through November. After a Norfolk overhaul Randolp h resumed her station in the Atlantic. During the next 5 years she made two Mediterranean cruises and a northern European cruise while spending most of her time off the east coast and in the Caribbean.
On 7 August 1968 the Defense Department announced that it would inactivate Randolph and 49 other ships to reduce fiscal expenditures in 1969. Randolph was placed out of commission in reserve berthed at Philadelphia 13 February 1969 w here she remained until 1 June 1973 when she was stricken from the Navy list.
Randolph earned three battle stars for World War II service.


[Note: The above USS RANDOLPH (CV-15) history may or may not contain text provided by crew members of the USS RANDOLPH (CV-15) or by other non-crew members and text from the Dictionary of American Naval Fighting Ships]