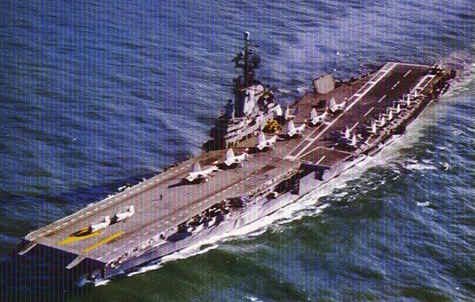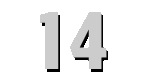 U.S.S. TICONDEROGA
(CV-14)

EN MARE EN CAELESTIS (ON SEA IN AIR
Click to view crew list
The USS TICONDEROGA (CV-14), an Essex-class aircraft carrier, was commissioned on 8 MAY 1944. USS TICONDEROGA served her country for 29 years, 3 months and 24 days, until decommissioned on 1 SEP 1973.

The USS TICONDEROGA (CV-14) deployment history and significant events of her service career follow:
CV-14 Deployments - Major Events
Add a CV-14 Shellback Initiation
Add a CV-14 Deployment - Major Event
Month
Year
to
Month
Year
Deployment / Event
FEB
1943
-
Keel Date: 1 FEB 1943
at Newport News Shipbuilding & Drydock Co. Newport News VA
FEB
1944
-
Launch Date: 7 FEB 1944
MAY
1944
-
Commissioned: 8 MAY 1944
MAY
1945
-
JAN
1946
West Pac
AUG
1953
-
OCT
1955
Recommisioning
AUG
1955
-
JAN
1956
Mediterranean
NOV
1955
-
AUG
1956
Mediterranean
APR
1957
-
Shellback Initiation - 26 APR 1957 - Atlantic Ocean
MAY
1957
-
MAR
1958
West Pac
OCT
1958
-
FEB
1959
West Pac
MAR
1960
-
SEP
1960
West Pac
MAY
1961
-
FEB
1962
West Pac
MAY
1962
-
DEC
1968
West Pac-Viet Nam
JAN
1963
-
JAN
1964
West Pac
MAY
1964
-
DEC
1964
West Pac - Viet Nam
JAN
1965
-
JAN
1966
West Pac-Viet Nam
SEP
1966
-
MAY
1967
West Pac-Viet Nam
OCT
1966
-
MAY
1967
West Pac-Viet Nam
DEC
1967
-
SEP
1968
West Pac-Viet Nam
APR
1968
-
Shellback Initiation - 9 APR 1968 - Pacific Ocean
APR
1968
-
Shellback Initiation - 9 APR 1968 - Pacific Ocean
DEC
1968
-
JAN
1969
West Pac-Viet Nam
JAN
1969
-
SEP
1969
West Pac-Viet Nam
FEB
1969
-
Shellback Initiation - 23 FEB 1969 - Pacific Ocean
JAN
1971
-
JUL
1971
West Pac-Viet Nam
MAR
1971
-
JUL
1971
West Pac-Viet Nam
APR
1971
-
Shellback Initiation - 15 APR 1971 - Pacific Ocean
APR
1971
-
Shellback Initiation - 15 APR 1971 - Pacific Ocean
APR
1971
-
Shellback Initiation - 15 APR 1971 - Pacific Ocean
JUL
1971
-
JAN
1972
West Pac
MAR
1972
-
APR
1972
Apollo 16
APR
1972
-
Shellback Initiation - 16 APR 1972 - Pacific Ocean
APR
1972
-
Shellback Initiation - 15 APR 1972 - Pacific Ocean
MAY
1972
-
DEC
1972
West Pac-Viet Nam
MAY
1972
-
DEC
1972
West Pac-Viet Nam
MAY
1972
-
MAY
1972
West Pac-Viet Nam
NOV
1972
-
DEC
1972
Apollo 17
DEC
1972
-
Shellback Initiation - 12 DEC 1972 - Pacific Ocean
DEC
1972
-
Shellback Initiation - 19 DEC 1972 - Pacific Ocean
FEB
1973
-
JAN
1974
Decommisioning
MAY
1973
-
JUN
1973
SkyLab 2 Recovery
SEP
1973
-
Decommissioned: 1 SEP 1973
CV-14 General Specifications
Class: Essex-class aircraft carrier
Named for: Fort Ticonderoga
Complement: 3448 Officers and Enlisted
Length: 888 feet
Draft: 28 feet 7 inches
Flank Speed: 33 knots
USS TICONDEROGA (CV-14)
The fourth Ticonderoga (CV-14) was laid down as Hancock on 1 February 1943 at Newport News Va. by the Newport News Shipbuilding & Dry Dock Co.; renamed Ticonderoga on 1 May 1943 launched on 7 February 1944 sponsored by Miss Stepha nie Sarah Pell and commissioned at the Norfolk Navy Yard on 8 May 1944 Capt. Dixie Kiefer in command.
Ticonderoga remained at Norfolk for almost two months outfitting and embarking Air Group 89. On 26 June the carrier shaped a course for the British West Indies. She conducted air operations and drills en route and reached Port of Spain Trinida d on the 30th. For the next 15 days Ticonderoga trained intensively to weld her air group and crew into an efficient wartime team. She departed the West Indies on 16 July and headed back to Norfolk where she arrived on the 22d. Eight days later the carrier headed for Panama. She transited the canal on 4 September and steamed up the coast to San Diego the following day. On the 13th the carrier moored at San Diego where she loaded provisions fuel aviation gas and an additional 77 planes as we ll as the Marine Corps aviation and defense units that went with them. On the 19th she sailed for Hawaii where she arrived five days later.
Ticonderoga remained at Pearl Harbor for almost a month. She and Carina (AK-74) conducted experiments in the underway transfer of aviation bombs from cargo ship to aircraft carrier. Following those tests she conducted air operations-day and night landing and antiaircraft defense drills-until 18 October when she exited Pearl Harbor and headed for the western Pacific. After a brief stop at Eniwetok Ticonderoga arrived at Ulithi Atoll in the Western Carolines on the 29th. There she embarked Rear Admiral A. W. Radford Commander Carrier Division 6 and joined Task Force (TF) 38 as a unit of Rear Admiral Frederick C. Sherman's Task Group (TG) 38.3.
The carrier sortied from Ulithi with TF 38 on 2 November. She joined the other carriers as they resumed their extended air cover for the ground forces capturing Leyte. She launched her first air strike on the morning of the 5th. The planes of her air g roup spent the next two days pummeling enemy shipping near Luzon and air installations on that island. Her planes bombed and strafed the airfields at Zablan Mandaluyong and Pasig. They also joined those of other carriers in sending the heavy cruiser Nachi to a watery resting place. In addition Ticonderoga pilots claimed six Japanese aircraft shot down and one destroyed on the ground as well as 23 others damaged.
Around 1600 on the 5th the enemy retaliated by sending up a flock of planes piloted by members of the suicide corps dubbed kamikaze or "Divine Wind " in honor of the typhoon that had destroyed a Chinese invasion fleet four centuries previously. Two o f the suicide planes succeeded in slipping through the American combat air patrol and antiaircraft fire to crash Lexington (CV-16). Ticonderoga emerged from that airborne banzai charge unscathed and claimed a tally of two splashes. On 6 November the warship launched two fighter sweeps and two bombing strikes against the Luzon airfields and enemy shipping in the vicinity. Her airmen returned later that day claiming the destruction of 35 Japanese aircraft and attacks on six enemy ships in Manila Bay. After recovering her planes the carrier retired to the east for a fueling rendezvous.
She refueled and received replacement planes on the 7th and then headed back to continue pounding enemy forces in the Philippines. Early on the morning of 11 November her planes combined with others of TF 38 to attack a Japanese reinforcement convoy just as it was preparing to enter Ormoc Bay from the Camotes Sea. Together the planes accounted for all the enemy transports and four of the seven escorting destroyers. On the 12th and 13th Ticonderoga and her sisters launched strikes at Luzon ai rfields and docks and shipping around Manila. This raid tallied an impressive score: light cruiser Kiso four destroyers and seven merchant ships. At the conclusion of the raid TF 38 retired eastward for a refueling breather. Ticonderoga a nd the rest of TG 38.3 however continued east to Ulithi where they arrived on the 17th to replenish refuel and rearm.
On 22 November the aircraft carrier departed Ulithi once more and steamed back toward the Philippines. Three days later she launched air strikes on central Luzon and adjacent waters. Her pilots finished off the heavy cruiser Kumano damaged in the Battle off Samar. Later they attacked an enemy convoy about 15 miles southwest of Kumano's not-so-safe haven in Dasol Bay. Of this convoy cruiser Yasoshima a merchantman and three landing ships went to the bottom. Ticonder oga's air group rounded out their day of [183 picture of sheet music dedicated to Ticonderoga.] [184] destruction with an aerial rampage which cost the Japanese 15 planes shot down and 11 destroyed on the ground.
While her air group busily pounded the Japanese Ticonderoga's ship's company also made their presence felt. Just after noon a torpedo launched by an enemy plane broached in Langley's (CVL-27) wake to announce the approach of an air raid . Ticonderoga's gunners raced to their battle stations as the raiders made both conventional and suicide attacks on the task group. Her sister ship Essex (CV-9) erupted in flames when one of the kamikazes crashed into her. When a second suic ide plane tried to finish off the stricken carrier Ticonderoga's gunners joined those firing from other ships in cutting his approach abruptly short. That afternoon while damage control parties dressed Essex's wounds Ticonderoga ex tended her hospitality to that damaged carrier's homeless airmen as well as to Intrepid (CV-11) pilots in similar straits. The following day TF 38 retired to the east.
TF 38 stood out of Ulithi again on 11 December and headed for the Philippines. Ticonderoga arrived at the launch point early in the afternoon of the 13th and sent her planes aloft to blanket Japanese airbases on Luzon while Army planes took care of those in the central Philippines. For three days Ticonderoga airmen and their comrades wreaked havoc with a storm of destruction on enemy airfields. She withdrew on the 16th with the rest of TF 38 in search of a fueling rendezvous. While attem pting to find calmer waters in which to refuel TF 38 steamed directly through a violent but unheralded typhoon. Though the storm cost Admiral Halsey's force three destroyers and over 800 lives Ticonderoga and the other carriers managed to ride i t out with a minimum of damage. Having survived the tempest's fury Ticonderoga returned to Ulithi on Christmas Eve.
Repairs occasioned by the typhoon kept TF 38 in the anchorage almost until the end of the month. The carriers did not return to sea until 30 December 1944 when they steamed north to hit Formosa and Luzon in preparation for the landings on the latter is land at Lingayen Gulf. Severe weather limited the Formosa strikes on 3 and 4 January 1945 and in all likelihood obviated the need for them. The warships fueled at sea on the 5th. Despite rough weather on the 6th the strikes on Luzon airfields were carr ied out. That day Ticonderoga's airmen and their colleagues of the other air groups increased their score by another 32 enemy planes. The 7th brought more strikes on Luzon installations. After a fueling rendezvous on the 8th Ticonderoga sp ed north at night to get into position to blanket Japanese airfields in the Ryukyus during the Lingayen assault the following morning. However foul weather the bugaboo of TF 38 during the winter of 1944 and 1945 forced TG 38.3 to abandon the strikes on the Ryukyu airfields and join TG 38.2 in pounding Formosa.
During the night of 9 and 10 January TF 38 steamed boldly through the Luzon Strait and then headed generally southwest diagonally across the South China Sea. Ticonderoga provided combat air patrol coverage on the 11th and helped to bring down four enemy planes which attempted to snoop the formation. Otherwise the carriers and their consorts proceeded unmolested to a point some 150 to 200 miles off the coast of Indochina. There on the 12th they launched their approximately 850 planes and mad e a series of anti-shipping sweeps during which they sank a whopping 44 ships totaling over 130 000 tons. After recovering planes in the late afternoon the carriers moved off to the northeast. Heavy weather hindered fueling operations on the 13th and 14 th and air searches failed to turn up any tempting targets. On the 15th fighters swept Japanese airfields on the Chinese coast while the flattops headed for a position from which to strike Hong Kong. The following morning they launched antishipping bom bing raids and fighter sweeps of air installations. Weather prevented air operations on the 17th and again made fueling difficult. It worsened the next day and stopped replenishment operations altogether so that they were not finally concluded until the 19th. The force then shaped a course generally northward to retransit Luzon Strait via Balintang Channel.
The three task groups of TF 38 completed their transit during the night of 20 and 21 January. The next morning their planes hit airfields on Formosa in the Pescadores and at Sakishima Gunto. The good flying weather brought mixed blessings. While it allowed American flight operations to continue through [185] the day it also brought new gusts of the "Divine Wind." Just after noon a single-engined Japanese plane scored a hit on Langley with a glide-bombing attack. Seconds later a kamikaze sw ooped out of the clouds and plunged toward Ticonderoga. He crashed through her flight deck abreast of the No. 2 5-inch mount and his bomb exploded just above her hangar deck. Several planes stowed nearby erupted into flames. Death and destruction abounded but the ship's company fought valiantly to save the threatened carrier. Capt. Kiefer conned his ship smartly. First he changed course to keep the wind from fanning the blaze. Then he ordered magazines and other compartments flooded to prevent further explosions and to correct a 10-degree starboard list. Finally he instructed the damage control party to continue flooding compartments on Ticonderoga's port side. That operation induced a 10-degree port list which neatly dumped the fire ov erboard! Fire-fighters and plane handlers completed the job by dousing the flames and jettisoning burning aircraft.
Wounded denizens of the deep often attract predators. Ticonderoga was no exception. The other kamikazes pounced on her like a school of sharks in a feeding frenzy. Her antiaircraft gunners struck back with desperate but methodical ferocity and quickly swatted three of her tormentors into the sea. A fourth plane slipped through her barrage and smashed into the carrier's starboard side near the island. His bomb set more planes on fire riddled her flight deck and injured or killed another 100 s ailors-including Capt. Kiefer. Yet Ticonderoga's crew refused to submit. Spared further attacks they brought her fires completely under control not long after 1400; and Ticonderoga retired painfully.
The stricken carrier arrived at Ulithi on 24 January but remained there only long enough to move her wounded to hospital ship Samaritan (AH-10) to transfer her air group to Hancock (CV-19) and to embark passengers bound for home. Tic onderoga cleared the lagoon on 28 January and headed for the United States. The warship stopped briefly at Pearl Harbor en route to the Puget Sound Navy Yard where she arrived on 15 February.
Her repairs were completed on 20 April and she cleared Puget Sound the following day for the Alameda Naval Air Station. After embarking passengers and aircraft bound for Hawaii the carrier headed for Pearl Harbor where she arrived on 1 May. The next day Air Group 87 came on board and for the next week trained in preparation for the carrier's return to combat. Ticonderoga stood out of Pearl Harbor and shaped a course for the western Pacific. En route to Ulithi she launched her planes for wh at amounted to training strikes on Japanese-held Taroa in the Marshalls. On 22 May the warship arrived in Ulithi and rejoined the Fast Carrier Task Force as an element of Rear Admiral Radford's TG 58.4.
Two days after her arrival Ticonderoga sortied from Ulithi with TF 68 and headed north to spend the last weeks of the war in Japanese home waters. Three days out Admiral Halsey relieved Admiral Spruance the 5th Fleet reverted back to 3d Fleet and TF 68 became TF 38 again for the duration. On 2 and 3 June Ticonderoga fighters struck at airfields on Kyushu in an effort to neutralize the remnants of Japanese air power-particularly the Kamikaze Corps-and to relieve the pressure on Americ an forces at Okinawa. During the following two days Ticonderoga rode out her second typhoon in less than six months and emerged relatively unscathed. She provided combat air patrol cover for the 6 June refueling rendezvous and four of her fighter s intercepted and destroyed three Okinawa-bound kamikazes. That evening she steamed off at high speed with TG 38.4 to conduct a fighter sweep of air-fields on southern Kyushu on the 8th. Ticonderoga's planes then joined in the aerial bombardment o f Minami Daito Shima and Kita Daito Shima before the carrier headed for Leyte where she arrived on the 13th.
During the two-week rest and replenishment period she enjoyed at Leyte Ticonderoga changed task organizations from TG 38.4 to Rear Admiral Gerald F. Bogan's TG 38.3. On 1 July she departed Leyte with TF 38 and headed north to resume raids on J apan. Two days later a damaged reduction gear forced her into Apra Harbor Guam for repairs. She remained there until the 19th when she steamed off to rejoin TF 38 and resume her role in the war against Japan. On the 24th her planes joined those of oth er fast carriers in striking ships in the Inland Sea and airfields at Nagoya Osaka and Miko. During those raids TF 38 planes found the sad remnants of the once-mighty Japanese Fleet and bagged battleships Ise Hyuga and Haruna as well as an escort carrier Kaiyo and two heavy cruisers. On 28 July her aircraft directed their efforts toward the Kure Naval Base where they pounded an aircraft carrier three cruisers a destroyer and a submarine. She shifted her attention to the industrial area of central Honshu on the 30th then to northern Honshu and Hokkaido on 9 and 10 August. The latter attacks thoroughly destroyed the marshaling area for a planned airborne suicide raid on the B-29 bases in the Marianas. On the 13th and 14th her planes returned to the Tokyo area and helped to subject the Japanese capital to another severe drubbing.
The two atomic bombs dropped on Hiroshima and Nagasaki on the 6th and 9th respectively convinced the Japanese of the futility of continued resistance. On the morning of 16 August Ticonderoga launched another strike against Tokyo. During or ju st after that attack word reached TF 38 to the effect that Japan had capitulated.
The shock of peace though not so abrupt as that of war almost four years previously took some getting used to. Ticonderoga and her sister ships remained on a full war footing. She continued patrols over Japanese territory and sent reconnaissan ce flights in search of camps containing Allied prisoners of war so that air-dropped supplies could be rushed to them. On 6 September-four days after the formal surrender ceremony on board Missouri (BB-63)-Ticonderoga entered Tokyo Bay.
Her arrival at Tokyo ended one phase of her career and began another. She embarked homeward-bound passengers and put to sea again on the 20th. After a stop in Pearl Harbor the carrier reached Alameda Calif. on 5 October. She disembarked her passenge rs and unloaded cargo before heading out on the 9th to pick up another group of veterans. Ticonderoga delivered over a thousand soldiers and sailors to Tacoma Wash. and remained there through the 28th for the Navy Day celebration. On 29 October the carrier departed Tacoma and headed back to Alameda. En route all of the planes of Air Group 87 were transferred ashore so that the carrier could be altered to accommodate additional passengers in the "Magic-Carpet" voyages to follow. Following the co mpletion of those modifications at the Pearl Harbor Naval Shipyard in November the warship headed for the Philippines and arrived at Samar on 20 November. She returned to Alameda on 6 December and debarked almost 4 000 returning servicemen. The carrier m ade one more "Magic-Carpet" run in December 1946 and January 1946 before entering the Puget Sound Naval Shipyard to prepare for inactivation. Almost a year later on 9 January 1947 Ticonderoga was placed out of commission and berthed with the Breme rton Group of the Pacific Reserve Fleet.
On 31 January 1962 Ticonderoga came out of reserve and went into reduced commission for the transit from Bremerton to New York. She departed Puget Sound on 27 February and reached New York on 1 April. Three days later she was decommissioned at the New York Naval Shipyard to begin an extensive conversion. During the ensuing 29 months the carrier received the numerous modifications-steam catapults to launch jets a new nylon barricade a new deck-edge [186] elevator and the latest electronic an d fire control equipment-necessary for her to become an integral unit of the fleet. On 11 September 1954 Ticonderoga was recommissioned at New York Capt. William A. Schoech in command.
In January 1955 the carrier shifted to her new home port-Norfolk Va.-where she arrived on the 6th. Over the next month she conducted carrier qualifications with Air Group 6 in the Virginia Capes operating area. On 3 February she stood out of Hampto n Roads for shakedown near Cuba after which she returned via Norfolk to New York for additional alterations. During the late summer the warship resumed carrier qualifications in the Virginia capes area. After a visit to Philadelphia early in September she participated in tests of three new planes-the A4D-1 "Skyhawk " the F4D-1 "Skyray " and the F3H-2N "Demon." Ticonderoga then returned to normal operations along the east coast until 4 November when she departed Mayport Fla. and headed for Euro pe. She relieved Intrepid at Gibraltar 10 days later and cruised the length of the Mediterranean during the following eight months. On 2 August 1956 Ticonderoga returned to Norfolk and entered the shipyard to receive an angled flight deck a nd an enclosed hurricane bow.
Those modifications were completed by early 1957 and in April she got underway for her new home port-Alameda Calif. She reached her destination on 30 May underwent repairs and finished out the summer with operations off the California coast. On 16 September she stood out of San Francisco Bay and shaped course for the Far East. En route she stopped at Pearl Harbor before continuing west to Yokosuka Japan where she arrived on 15 October. For six months Ticonderoga cruised Oriental waters from Japan in the north to the Philippines in the south. Upon arriving at Alameda on 25 April 1958 she completed her first deployment to the western Pacific since recommissioning.
Between 1958 and 1963 Ticonderoga made four more peacetime deployments to the western Pacific. During each she conducted training operations with other units of the 7th Fleet and made goodwill and liberty port calls throughout the Far East. Ea rly in 1964 she began preparations for her sixth cruise to the western Pacific and following exercises off the west coast and in the Hawaiian Islands the carrier cleared Pearl Harbor on 4 May for what began as another peaceful tour of duty in the Far E ast. The first three months of that deployment brought normal operations-training and port calls. However on 2 August while operating in international waters in the Gulf of Tonkin Maddox (DD-731) reported being attacked by units of the North Vie tnamese Navy. Within minutes of her receipt of the message Ticonderoga dispatched four rocket-armed F8E "Crusaders" to the destroyer's assistance. Upon arrival the "Crusaders" launched Zuni rockets and strafed the North Vietnamese craft with the ir 20-millimeter cannons. The Ticonderoga airmen teamed up with Maddox gunners to thwart the North Vietnamese attack leaving one boat dead in the water and damaging the other two.
Two days later late in the evening of the 4th Ticonderoga received urgent requests from Turner Joy (DD-951)-by then on patrol with Maddox-for air support in resisting what the destroyer alleged to be another torpedo boat f oray. The carrier again launched planes to aid the American surface ships and Turner Joy directed them. The Navy surface and air team believed it had sunk two boats and damaged another pair. President Johnson responded with a reprisal to wh at he felt at the time to be two unprovoked attacks on American seapower and ordered retaliatory air strikes on selected North Vietnamese motor torpedo boat bases. On 5 August Ticonderoga and Constellation (CV-46) launched 60 sorties agains t four bases and their supporting oil storage facilities. Those attacks reportedly resulted in the destruction of 25 PT-type boats severe damage to the bases and almost complete razing of the oil storage depot. For her quick reaction and successful comb at actions on those three occasions Ticonderoga received the Navy Unit Commendation.
After a return visit to Japan in September the aircraft carrier resumed normal operations in the South China Sea until winding up the deployment late in the year. She returned to the Naval Air Station North Island Calif. on 15 December 1964. Follow ing post-deployment and holiday stand-down Ticonderoga moved to the Hunter's Point Naval Shipyard on 27 January 1965 to begin a five-month overhaul. She completed repairs in June and spent the summer operating along the coast of southern Californi a. On 28 September the aircraft carrier put to sea for another deployment to the Orient. She spent some time in the Hawaiian Islands for an operational readiness exercise then continued on to the Far East. She reached "Dixie Station" on 5 November and im mediately began combat air operations.
Ticonderoga's winter deployment of 1965 and 1960 was her first total combat tour of duty during American involvement in the Vietnam War. During her six months in the Far East the carrier spent a total of 116 days in air operations off the coast of Vietnam dividing her time almost evenly between "Dixie" and "Yankee Stations " the carrier operating areas off South and North Vietnam respectively. Her air group delivered over 8 000 tons of ordnance in more than 10 000 combat sorties with a loss o f 16 planes but only 5 pilots. For the most part her aircraft hit enemy installations in North Vietnam and interdicted supply routes into South Vietnam including river-borne and coastwise junk and sampan traffic as well as roads bridges and trucks on land. Specifically they claimed the destruction of 35 bridges as well as numerous warehouses barracks trucks boats and railroad cars and severe damage to a major North Vietnamese thermal power plant located at Uong Bi north of Haiphong. After a stop at Sasebo Japan from 25 April to 3 May 1966 the warship put to sea to return to the United States. On 13 May she pulled into port at San Diego to end the deployment.
Following repairs she stood out of San Diego on 9 July to begin a normal round of west coast training operations. Those and similar evolutions continued until 15 October when Ticonderoga departed San Diego bound via Hawaii for the western Paci fic. The carrier reached Yokosuka Japan on 30 October and remained there until 5 November when she headed south for an overnight stop at Subic Bay in the Philippines on the 10th and 11th. On the 13th Ticonderoga arrived in the Gulf of Tonkin and began the first of three combat tours during her 1966-67 deployment. She launched 11 650 combat sorties all against enemy targets located in North Vietnam. Again her primary targets were logistics and communications lines and transportation facilities. For their overall efforts in the conduct of day and night strikes on enemy targets Ticonderoga and her air group earned their second Navy Unit Commendation. She completed her final line period on 27 April 1967 and returned to Yokosuka from which she departed again on 19 May to return to the United States. Ten days later the carrier entered San Diego and began a month-long post-deployment stand-down. At the beginning of July the warship shifted to Bremerton Wash. where she entered the Puget Sound Naval Shipyard for two months of repairs. Upon the completion of yard work she departed Bremerton on 6 September and steamed south to training operations off the coast of southern California.
On 28 December Ticonderoga sailed for her fourth combat deployment to the waters off the Indochinese coast. She made Yokosuka on 17 January 1968 and after two days of upkeep continued on to the Gulf of Tonkin where she arrived on station on the 26th and began combat operations. Between January and July Ticonderoga was on the line off the coast of Vietnam [187] for five separate periods totaling 120 days of combat duty. During that time her air wing flew just over 13 000 combat sorties a gainst North Vietnamese and Viet Cong forces most frequently in the continuing attempts to interdict the enemy lines of supply. In mid-April following: her second line period she made a port visit to Singapore and then after upkeep at Subic Bay retur ned to duty off Vietnam. On 9 July during her fifth and final line period Lt. Comdr. J. B. Nichols claimed Ticonderoga's first MiG kill. The carrier completed that line period and entered Subic Bay for upkeep on 25 July.
On the 27th she headed north to Yokosuka where she spent a week for upkeep and briefings before heading back to the United States on 7 August. Ticonderoga reached San Diego on the 17th and disembarked her air group. On the 22d she entered the Long Beach Naval Shipyard for post-deployment repairs. She completed those repairs on 21 October conducted sea trials on the 28th and 29th and began normal operations out of San Diego early in November. For the remainder of the year she conducted refre sher training and carrier qualifications along the coast of southern California.
During the first month of 1969 Ticonderoga made preparations for her fifth consecutive combat deployment to the southeast Asia area. On 1 February she cleared San Diego and headed west. After a brief stop at Pearl Harbor a week later she cont inued her voyage to Yokosuka where she arrived on the 20th. The carrier departed Yokosuka on the 28th for the coast of Vietnam where she arrived on 4 March. Over the next four months Ticonderoga served four periods on the line off Vietnam interdi cting communist supply lines and making strikes against their positions
During her second line period however her tour of duty off Vietnam came to an abrupt end on 16 April when she was shifted north to the Sea of Japan. North Korean aircraft had shot down a Navy reconnaissance plane in the area and Ticonderoga w as called upon to beef up the forces assigned to the vicinity. However the crisis abated and Ticonderoga entered Subic Bay on 27 April for upkeep. On 8 May she departed the Philippines to return to "Yankee Station" and resumed interdiction opera tions. Between her third and fourth line periods the carrier visited Sasebo and Hong Kong.
The aircraft carrier took station off Vietnam for her last line period of the deployment on 26 June and there followed 37 more days of highly successful air sorties against enemy targets. Following that tour she joined TF 71 in the Sea of Japan for th e remainder of the deployment. Ticonderoga concluded the deployment-a highly successful one for she received her third Navy Unit Commendation for her operations during that tour of duty-when she left Subic Bay on 4 September.
Ticonderoga arrived in San Diego on 18 September. After almost a month of post-deployment stand-down she moved to the Long Beach Naval Shipyard in mid-October to begin conversion to an antisubmarine warfare (ASW) aircraft carrier. Overhaul and conversion work began on 20 October and Ticonderoga was redesignated CVS-14 on the 21st. She completed overhaul and conversion on 28 May 1970 and conducted exercises out of Long Beach for most of June. On the 26th the new ASW support carrier ente red her new home port San Diego. During July and August she conducted refresher training refresher air operations and carrier landing qualifications. The warship operated off the California coast for the remainder of the year and participated in two e xercises-HUKASWEX 4-70 late in October and COMPUTEX 23-70 between 30 November and 3 December.
During the remainder of her active career Ticonderoga made two more deployments to the Far East. Because of her change in mission neither tour of duty included combat operations off Vietnam. Both however included training exercises in the Se a of Japan with ships of the Japanese Maritime Self Defense Force. The first of these two cruises also brought operations in the Indian Ocean with units of the Thai Navy and a transit of Sunda Strait during which a ceremony was held to commemorate the los s of Houston (CA-30) and HMAS Perth in 1942.
In between these two last deployments she operated in the eastern Pacific and participated in the recovery of the Apollo 16 moon mission capsule and astronauts near American Samoa during April of 1972. The second deployment came in the summer of 1972 and in addition to the training exercises in the Sea of Japan Ticonderoga also joined ASW training operations in the South China Sea. That fall she returned to the eastern Pacific and in November practiced for the recovery of Apollo 17. The n ext month Ticonderoga recovered her second set of space voyagers near American Samoa. The carrier then headed back to San Diego where she arrived on 28 December.
Ticonderoga remained active for nine more months first operating out of San Diego and then making preparations for inactivation. On 1 September 1973 the aircraft carrier was decommissioned after a board of inspection and survey found her to be unfit for further naval service. Her name was struck from the Navy list on 16 November 1973 and arrangements were begun to sell her for scrap.
Ticonderoga received five battle stars during World War II and three Navy Unit Commendations one Meritorious Unit Commendation and 12 battle stars during the Vietnam War.


[Note: The above USS TICONDEROGA (CV-14) history may or may not contain text provided by crew members of the USS TICONDEROGA (CV-14) or by other non-crew members and text from the Dictionary of American Naval Fighting Ships]