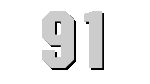 U.S.S. OKLAHOMA CITY
(CL-91)


Click to view crew list
USS OKLAHOMA CITY (CL-91) - a Galveston class guided missile cruiser
In Commission 1944 to 1947
CL-91 Deployments - Major Events
CL-91 General Specifications
Class: Galveston class guided missile cruiser
Complement: 1426 Officers and Enlisted
Displacement: 10000 tons
Length: 610 feet 1 inches
Beam: 66 feet 2 inches
Draft: 24 feet 10 in
Final Disposition: Sunk as a target in 1999
USS OKLAHOMA CITY (CL-91)
Oklahoma City (CL-91) was laid down 8 December 1942 by the Cramp Shipbuilding Co., Philadelphia, Pa.; launched 20 February 1944; sponsored by Mrs. Anton H. Classen; commissioned 22 December 1944, Capt. C. B. Hunt in command.


Following shakedown, Oklahoma City transited the Panama Canal and reported to ComCruPac for duty, arriving Pearl Harbor 2 May 1945. She conducted local operations until 22 May when she sailed for Ulithi, thence to rendezvous 6 June with Carrier Task Group 38.1 for operations in support of the Okinawa campaign. For the rest of June and into July she screened 3d Fleet carriers during their intensified air operations against Japanese forces. On 18 July she formed a bombardment group with other cruisers and destroyers, then rejoined the carrier task group for continued action against the Japanese home islands. At the end of hostilities she continued to patrol off the coast of Japan and it was not until 10 September, after seventy-two days of continuous steaming, that she finally entered Tokyo Bay. Oklahoma City remained on occupation duty until relieved 30 January 1946 when she departed for the United States. She arrived at San Francisco 14 February where she remained until 15 August when she entered the Marc Island Navy Yard for inactivation. She was placed out of commission in reserve 30 June 1947 assigned to the San Francisco Group, U.S. Pacific Reserve Fleet.


On 7 March 1957, Oklahoma City arrived at the Bethlehem Steel Corp. Pacific Coast Yard, San Francisco, where conversion to a guided missile light cruiser commenced 21 May, her hull classification and number being changed two days later to CLG-5. Her conversion completed 31 August 1960, she was towed to Hunter's Point where she recommissioned 7 September, Capt. Ben W. Sarver in command.


During her shakedown training, Oklahoma City became the first combatant unit of the Pacific Fleet to fire a TALOS guided missile successfully. Following shakedown, she participated in several major training exercises while serving as flagship for CruDiv 3 and CruDesFlot 9, then departed 1 December for a six-month deployment in WestPac. She arrived in Yokosuka, Japan 20 December where six days later she became flagship for Commander, U.S. 7th Fleet. The ship participated in SEATO training operations, received two awards for operational excellence, and served as an ambassador of good will to several cities in the Far East. She then returned to Long Beach, California 12 June 1961 and spent the next several months conducting local training operations and upkeep work. On 14 December she entered the Long Beach Naval Shipyard for restricted availability followed by an extensive overhaul.


In early 1964, Oklahoma City began refresher training in Southern California waters to prepare for a lengthy deployment, then departed for Yokosuka where she arrived 7 July to assume her duties again as 7th Fleet flagship. Shortly thereafter, North Vietnamese gunboats attacked U.S. destroyers in the Tonkin Gulf and Oklahoma City quickly began a 25-day alert in the Gulf. Training exercises and operational visits to various ports in the Far East followed, then in June 1965 she began gunfire support missions off Vietnam. When the level of hostilities increased, she began to spend more and more time in the South China Sea and eventually participated in operations Piranha, Double Eagle Deckhouse IV, and Hastings 11. After serving as 7th Fleet flagship for two and one-half years, Oklahoma City returned to San Francisco Bay Naval Shipyard 15 December 1966 for overhaul. Following her yard period, she began refresher training in the Southern California operating area in July, 1967, and continued those exercises and intermittent calls to West Coast ports until she deployed again to WestPac 7 November 1968. She arrived at Yokosuka 20 December and into August, 1969, was again contributing to the strength of the 7th Fleet by participating in the varied assignments its units are called on to perform.


Oklahoma City received two battle stars for service in World War II.


[Note: The above USS OKLAHOMA CITY (CL-91) history may, or may not, contain text provided by crew members of the USS OKLAHOMA CITY (CL-91), or by other non-crew members, and text from the Dictionary of American Naval Fighting Ships]