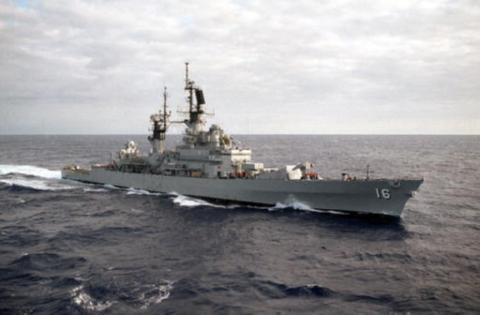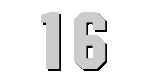 U.S.S. LEAHY
(CG-16)

PROMPTA ET PARATA
Click to view crew list
USS LEAHY (CG-16) - a Leahy class cruiser
In Commission 1962 to 1993
CG-16 Deployments - Major Events
Add a CG-16 Shellback Initiation
Add a CG-16 Deployment - Major Event
Month
Year
to
Month
Year
Deployment / Event
DEC
1959
-
Keel Date: 3 DEC 1959
at Bath Iron Works Bath ME
JUL
1961
-
Launch Date: 1 JUL 1961
AUG
1962
-
Commissioned: 4 AUG 1962
JUL
1964
-
DEC
1964
Mediterranean
AUG
1966
-
DEC
1966
UNITAS
SEP
1966
-
Shellback Initiation - 18 SEP 1966 - Pacific Ocean
SEP
1966
-
Shellback Initiation - 18 SEP 1966 - Atlantic Ocean
JUL
1969
-
DEC
1969
UNITAS
SEP
1970
-
APR
1971
Mediterranean
FEB
1972
-
JUL
1972
Mediterranean
JAN
1974
-
JUN
1974
Mediterranean
APR
1975
-
OCT
1975
Visit to Lenningrad USSR
SEP
1976
-
JUN
1978
West Pac-Indian Ocean-Persian Gulf
JAN
1978
-
Shellback Initiation - 15 JAN 1978 - Indian Ocean
JUL
1978
-
FEB
1979
West Pac
AUG
1978
-
FEB
1979
West Pac
OCT
1979
-
Shellback Initiation - 17 OCT 1979 - Pacific Ocean
MAR
1983
-
SEP
1983
West Pac-Indian Ocean-Persian Gulf
SEP
1984
-
MAR
1985
West Pac-Indian Ocean-Persian Gulf
JAN
1985
-
Shellback Initiation - 10 JAN 1985 - Indian Ocean
AUG
1986
-
FEB
1987
West Pac-Indian Ocean-Persian Gulf
DEC
1986
-
Shellback Initiation - 19 DEC 1986 - Indian Ocean
MAR
1987
-
Shellback Initiation - 30 MAR 1987 - Indian Ocean
SEP
1989
-
Shellback Initiation - 8 SEP 1989 - Pacific Ocean
JAN
1991
-
JUL
1991
Desert Storm
NOV
1992
-
Shellback Initiation - 17 NOV 1992 - Pacific Ocean
NOV
1992
-
MAY
1993
West Pac-Indian Ocean-Persian Gulf
OCT
1993
-
Decommissioned: 1 OCT 1993
CG-16 General Specifications
Class: Leahy class cruiser
Named for: William D. Leahy
Complement: 37 Officers and 408 Enlisted
Displacement: 5912 tons
Length: 533 feet
Beam: 55 feet
Flank Speed: 32 knots
Range: 8 000 Nautical Miles
Final Disposition:Dismantled/Scrapped in Brownsville Texas January 2005 (Completed) by International Shipbreaking Limited
USS LEAHY (CG-16)
Leahy (DLG-16) was laid down by Bath Iron Works Corp. Bath Maine 3 December 1959; launched 1 July 1961; sponsored by Mrs. Michael J. Mansfield wife of Senator Mansfield Mont. Senate Majority Leader; and commissioned 4 August 1962 Capt. Rober t L. Baughan Jr. in command.


After shakedown in the Caribbean Leahy departed Boston 19 September 1963 and reported to Charleston S.C. where Rear Adm. E. E. Grimm Commander CruiserDestroyer Flotilla 6 selected her as his flagship. She then proceeded to the Jacksonville operating areas for type training and briefly put in to home port in November before returning to the Caribbean to participate in AA warfare exercises.


On 2 January 1964 the DLG was again bound for the Caribbean for missile training which ended 26 February. From 1 to 10 April she joined in an amphibious exercise "Quick Kick V " and on 1 June was permanently assigned to Destroyer Squadron 6.


Leahy departed for duty with the 6th Fleet 17 July as part of a Fast Carrier Task Group which included Forrestal (CVA-59) and participated in a coordinated fleet exercise. "MEDLANDEX-64 " between the Balearic Islands and Sardinia. She then carried out independent training in the eastern Mediterranean before departing Naples Italy 22 September to join in NATO exercise "FALLEX-64." She returned to Naples 26 October and in November participated in another fleetwide exercise "POOPDECK-IV " which brought some 40 ships of T.F. 60 together off the coast of Spain.


Leahy departed Barcelona Spain 2 December for replenishment and on 14 December drew the curtain on 32 750 miles of steaming while deployed with the 6th Fleet. She arrived Charleston 22 December and began a period of restricted availability in preparation for extensive tests to evaluate the Terrier Guidance Missile System. During these tests which were completed in September Leahy was briefly deployed in the Dominican Republic Operation. ; from 28 April to 7 May 1965 as a unit of th e Strike and Covering Force. She departed Charleston 31 November for the Mediterranean and relieved TVilliant V. Pratt (DLG-13) at Polensa Majorca 9 December. During this second deployment with the 6th Fleet she operated throughout the Mediterranean participating In ASW gunnery and AA warfare exercises as well as major fleet tactical operations supporting our NATO Allies.


Leahy returned home to Charleston on 8 April 1966. During June and July she gave some 60 midshipmen from Annapolis valuable at-sea training and visited ports along the Atlantic coast and in the Caribbean. Following this Leahy conducted exercises with the navies of many South American countries as part of operation UNITAS I'll. She sailed through the Panama Canal in early September thence south and through the Straits of Magellan at the end of October.


The operation was completed on 6 December and the DLG returned to Charleston on the 15th. Leahy then prepared for massive modernization at Philadelphia Naval Shipyard arriving there 27 January 1967 and decommissioning 18 February. For over a year she received new AAW and ASW equipment allowing her to utilize the most recent developments in the technology of naval warfare. She was placed in commission special on 4 May 1968 for the extensive period of testing her updated weapons systems. Leaving Philadelphia on 18 August she arrived at her new home port Norfolk 3 days later and continued the process of sharpening her expanded capabilities into 1 969. She is scheduled to return to a full commission status in mid-1969.
[Note: The above USS LEAHY (CG-16) history may or may not contain text provided by crew members of the USS LEAHY (CG-16) or by other non-crew members and text from the Dictionary of American Naval Fighting Ships]