For RATING SHIRTS - Click on your Rating Abbreviation below: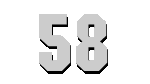 U.S.S. INDIANA
(BB-58)

WE NEVER LET A JAP PLANE
CROSS OUR BOW
Click to view crew list
BB-58 USS INDIANA
The United States Navy brought USS Indiana into service with her commission in April 1942. After initial operations, the ship reported to the Pacific to help with the war efforts against Japan. The later months of 1942 saw her patrolling the waters of the South Pacific where she remained for almost the next year. As action began to heat up in the Central Pacific, the Navy moved her operating area to that region. USS Indiana participated in the invasion bombardment for the Gilbert Islands and the Marshall Islands. On February 1, 1944, the ship received damage during the Marshalls campaign due to a nighttime collision with USS Washington.
After repairs, USS Indiana participated in the raids of the Carolines. In June 1944, she aided with bombardment during the Marianas campaign with action at Saipan and during the Battle of the Philippine Sea. She assisted with action in the Palaus and the Philippines. A quick overhaul in early 1945 sent her back into action to help with the invasion of Iwo Jima. As the Second World War closed, she participated in bombardments at the Ryukyus and the Japanese home islands. The Navy decommissioned her in 1947 and sold her for scrap in 1963.
BB-58 Deployments - Major Events
Add a BB-58 Shellback Initiation
Add a BB-58 Deployment - Major Event
Month
Year
to
Month
Year
Deployment / Event
NOV
1939
-
Keel Date: 20 NOV 1939
at Newport News Shipbuilding & Drydock Co. Newport News VA
NOV
1941
-
Launch Date: 21 NOV 1941
APR
1942
-
Commissioned: 30 APR 1942
AUG
1944
-
DEC
1944
Decommisioning
AUG
1945
-
Shellback Initiation - 7 AUG 1945 - Pacific Ocean
SEP
1947
-
Decommissioned: 11 SEP 1947
BB-58 General Specifications
Class: South Dakota-class (1939) battleship
Complement: 115 Officers and 1678 Enlisted
Displacement: 35000 tons
Length: 680 feet
Beam: 107.8 feet
Draft: 29.3 feet
Final Disposition: Sold for scrap