For RATING SHIRTS - Click on your Rating Abbreviation below:
Click on your Rating abbreviation above: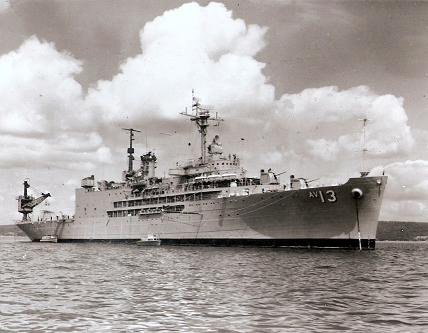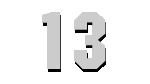 U.S.S. SALISBURY SOUND
(AV-13)

FORTES FORTUNA JAVAT
FORTUNE FAVORS THE BRAVE
Click to view crew list
USS SALISBURY SOUND (AV-13) - a Currituck-class seaplane tender
In Commission 1945 to 1967
AV-13 Deployments - Major Events
Add a AV-13 Shellback Initiation
Add a AV-13 Deployment - Major Event
Month
Year
to
Month
Year
Deployment / Event
APR
1943
-
Keel Date: 10 APR 1943
at Todd Pacific Shipyards
JUN
1944
-
Launch Date: 18 JUN 1944
NOV
1945
-
Commissioned: 26 NOV 1945
JAN
1959
-
JAN
1960
West Pac-Viet Nam
JAN
1961
-
JUL
1961
West Pac
JAN
1961
-
DEC
1961
West Pac-Viet Nam
JAN
1962
-
DEC
1962
West Pac
NOV
1963
-
Shellback Initiation - 26 NOV 1963 - Pacific Ocean
NOV
1963
-
Shellback Initiation - 26 NOV 1963 - Pacific Ocean
MAR
1964
-
APR
1964
Alaska
AUG
1964
-
MAR
1965
West Pac-Viet Nam
JAN
1966
-
NOV
1966
West Pac-Viet Nam
FEB
1967
-
Shellback Initiation - 2 FEB 1967 - Pacific Ocean
MAR
1967
-
Decommissioned: 31 MAR 1967
AV-13 General Specifications
Class: Currituck-class seaplane tender
Named for: Salisbury Sound
Complement: 684 Officers and Enlisted
Displacement: 14000 tons
Length: 540 feet 5 inches
Beam: 69 feet 3 inches
Flank Speed: 18 knots
Final Disposition: Sold 7 February 1972
USS SALISBURY SOUND (AV-13)
Puget Sound (AV-13) was laid down on 10 April 1943 by Todd Shipyards Corp. San Pedro Calif.; renamed Salisbury Sound On 5 June 1944 launched on 18 June 1944; sponsored by Mrs. John D. Price and commissioned on 26 November 1945 Capt. Doyle G. Donaho in command.
After shakedown Salisbury Sound departed San Diego on 12 February 1946 and commenced her first of 19 deployments to the western Pacific where she served during a portion of every year from 1946 through 1966. The seaplane tender operated at Okina wa Shanghai and Tsingtao from March through October 1946. From April into September 1947 she voyaged Okinawa Tsingtao and Guam; and later from May into September 1948 she sailed to Yokosuka Tsingtao and Shanghai. Upon completion of several west co ast operations in 1949 she steamed to Hong Kong later that year and returned to San Diego on 13 June 1950.
On 26 July 1950 soon after Communist forces invaded South Korea Salisbury Sound sailed from San Diego. After delivering cargo to Yokosuka and Okinawa she tended planes at Iwakuni Japan and at Okinawa from September into December. Her planes p erformed reconnaissance work in the Korean area and in the Taiwan Strait. After returning to San Diego on 31 March 1951 she sailed on 1 August and served at Boko Ko in the Pescadores Islands at Okinawa and at Iwakuni before returning to San Diego on 16 April 1952. Departing Long Beach on 15 August she again tended planes at Okinawa before arriving at Alameda Calif. on 25 March 1953.
From 1954 through 1966 Salisbury Sound operated frequently at Okinawa and also at Taiwan and Luzon. She served as flagship of the Formosa Patrol Force during the evacuation of the Tachen Islands in February 1955. Effective 1 August 1963 her hom eport was changed from San Francisco Calif. to Whidbey Island Wash. Voyaging to Vietnam she visited Saigon from 1 to 4 June 1964 [sic; former crewmember reports she was in the USA at that time] . She steamed to Danang Con Son Island and Cu Lao Cham Island in 1965 and to Cam Ranh Bay in 1966. Decommissioned on 31 M arch 1967 she was transferred to the Maritime Administration on 3 July 1968 and entered the National Defense Reserve Fleet Olympia Wash. where she remained until sold to Ziddell Explorations Inc. of Portland Oreg. on 7 February 1972.
Salisbury Sound received four campaign stars for Vietnam service.


[Note: The above USS SALISBURY SOUND (AV-13) history may or may not contain text provided by crew members of the USS SALISBURY SOUND (AV-13) or by other non-crew members and text from the Dictionary of American Naval Fighting Ships]