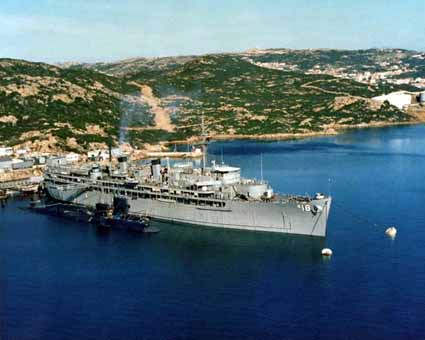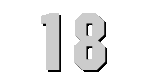 U.S.S. ORION
(AS-18)

CAN DO
Click to view crew list
The USS Orion (AS-18) keel was laid down in Oakland , CA at the Moore Dry Dock company on 31 July 1941. Two years, one month and thirty days later, on 30 September 1943, USS Orion (AS-18) was commissioned on 30 September 1943 with Capt. C. S. Isgrig, commanding.


USS Orion was named for a constellation commonly known as The Hunter.


After fit out and shake down training, USS Orion departed for the Western Pacific at the height ot of World War II. First stationed at Fremantle, Australia, then Mios Woendi, Indonesia , Orion supported the Western Pacific Submarines pressing the war in Japanese held territory. Deployed from December 1943, she returned to Pearl Harbor for maintenance and upkeep in December 1944.


The last year of the War had Orion returning to duty at Saipan in April, 1945.


The end of the war had USS Orion stationed in the Atlantic for a short period then spending more than three years in the Panama Canal zone. In 1949 she changed home ports to Norfolk, Virginia.


Subsequent years brought the routine, but essential work of supporting the US Atlantic submarine force. As the years progressed, USS Orion progressed with them, gaining the capability to support nuclear submarines.


While spending most of her time in Norfolk supporting submarines and destroyers, Orion rarely ventured far. In the 1980's Orion changed her home port to La Maddalena, Italy returning to Norfolk in 1993.


USS Orion (AS-18) was decommissioned on 3 SEP 1993. In 2006 she was sold to American Ship Recyclers of Baltimore for scrapping.


The USS ORION (AS-18) operational history and significant events of her service career follow:
AS-18 Deployments - Major Events
Add a AS-18 Shellback Initiation
Add a AS-18 Deployment - Major Event
Month
Year
to
Month
Year
Deployment / Event
JUL
1941
-
Keel Date: 31 JUL 1941
at Moore Dry Dock Company Oakland CA
JUN
1942
-
Launch Date: 24 JUN 1942
AUG
1943
-
Shellback Initiation - 18 AUG 1943 - Pacific Ocean
SEP
1943
-
Commissioned: 30 SEP 1943
JAN
1961
-
JAN
1964
Cuban Missle Blockade
OCT
1961
-
OCT
1961
Cuban Missle Blockade
MAR
1962
-
MAY
1962
Cuban Missle Blockade
MAY
1962
-
MAY
1962
Cuban Missle Blockade
NOV
1962
-
NOV
1962
Guantanamo Bay
JUL
1966
-
AUG
1966
North Atlantic
JUN
1970
-
Shellback Initiation - 10 JUN 1970 - Atlantic Ocean
OCT
1970
-
JUN
1980
Changed Home Port from Norfolk Va to Charleston S.C
JAN
1973
-
FEB
1973
Guantanamo Bay
FEB
1973
-
MAR
1973
Caribbean
APR
1980
-
MAY
1980
Guantanamo Bay
JUL
1980
-
JUL
1993
Relieved USS Gilmore AS-16 in Sardinia Italy
SEP
1982
-
Shellback Initiation - 12 SEP 1982 - Indian Ocean
SEP
1984
-
APR
1987
Mediterranean
NOV
1984
-
Shellback Initiation - 24 NOV 1984 - Atlantic Ocean
NOV
1984
-
Shellback Initiation - 24 NOV 1984 - Atlantic Ocean
JUL
1986
-
JAN
1987
Blue Nose - Arctic Circle
AUG
1988
-
NOV
1988
Charleston South Carolina
AUG
1990
-
OCT
1991
Desert Shield
JAN
1991
-
FEB
1991
Desert Storm
SEP
1993
-
Decommissioned: 3 SEP 1993
AS-18 General Specifications
Class: Fulton-class submarine tender
Complement: 1307 Officers and Enlisted
Displacement: 9250 tons
Length: 530 feet 7 inches
Beam: 73 feet 4 inches
Draft: 22 feet 5 in
Final Disposition: Dismantled by North American Ship Recycling Baltimore Maryland 27 July 2006
USS ORION (AS-18)
The second Orion (AS-18) was laid down 31 July 1941 at the Moore Dry Dock Co. Oakland Calif.; launched 24 June 1942; sponsored by Mrs. Robert A. White; and commissioned 30 September 1943 Capt. C. S. Isgrig in command.
Following shakedown off southern California Orion got underway for Pearl Harbor 23 November 1943. Arriving there on the 28th she received her first submarine Gar (SS-206) alongside for repairs two days later. On 10 December she sailed for Australia arriving at Fremantle 5 January 1944 to begin her mission of maintaining the material readiness of and an adequate stock of supplies for submarines operating in the southwest Pacific. She remained in Western Australia until 6 August when she proceeded to Mios Woendi to establish Advanced Submarine Base Able. Arriving 26 August she serviced 24 submarines and 466 surface vessels before beinge relieved 9 December by Griffin (AS-13).
The next day Orion headed back to Hawaii for overhaul. On 8 April 1945 she sailed west again. At Saipan between 23 April and 1 September she served as CTG 17.7 and as SOPA (Admin) for Tanapag Harbor in addition to her tender and repair activi ties which were performed for over 300 ships. As the formal surrender documents were being signed in Tokyo Bay Orion was en route to the United States. Assigned to the Atlantic Fleet she operated off the east coast for four months then sailed south to Balboa C. Z. Taking up duties with SubRon 6 24 January 1946 she remained in the Canal Zone with one interruption for overhaul until 11 May 1949. Then with SubRon 6 she steamed to Norfolk her new homeport.
After that change of homeport Orion continued to service SubRon 6 at Norfolk and during fleet exercises in the Caribbean. A FRAM II overhaul and conversion to nuclear support 6 September 1960-25 February 1961 was followed by refresher training off Cuba. In June her first nuclear submarine job came alongside in the form of Shark (SSN-591). Three years later she added foreign nuclear submarines to her long list of services performed after completing work on HMS Dreadnought. Support of SubRon 6 however has continued to be Orion's primary mission. Into 1970 she services the conventional and nuclear powered ships of that squadron from the Destroyer/Submarine Piers at Norfolk.


[Note: The above USS ORION (AS-18) history may or may not contain text provided by crew members of the USS ORION (AS-18) or by other non-crew members and text from the Dictionary of American Naval Fighting Ships]