For RATING SHIRTS - Click on your Rating Abbreviation below: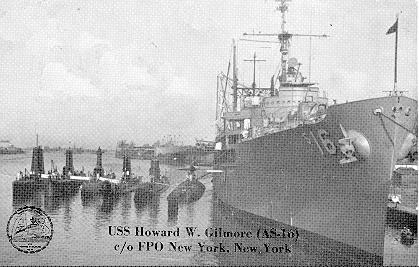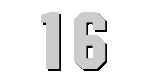 U.S.S. HOWARD W. GILMORE
(AS-16)

HAPPY HOWIE
Click to view crew list
The USS Howard W. Gilmore (AS-16) keel was laid on 21 December 1942 at Mare Island Navy Yard in California. She was launched on 16 September 1943, sponsored by Mrs. H. W. Gilmore, widow of Howard W. Gilmore and was commissioned 24 May 1944.
AS-16 was named for Howard W. Gilmore, the Commander of the USS Growler (SS-215), who under enemy fire in 1943 ordered his sub to dive while he remained on the brigde. Growler was saved and Commander Gilmore received the Medal of Honor posthumously.
After shake down Gilmore sailed for Pearl Harbor in August 1944 and then on to Majuro Atoll in September 1944. There, for four months, she supported the US Submarine froce that were fighting the Japanese. After picking up personnel and supplies in Pearl Harbor she departed for Brisbane, Australia, arriving in February 1945. Howard W. Gilmore next sailed to Subic Bay, PI. arriving in March 1945. She remained at Subic Bay through the end of the War.
Departing for the United States on 31 August 1945, Gilmore touched at Pearl Harbor, transited the Panama Canal and arrived in New York City on 17 October 1945.
Beginning in January 1946, Howard W. Gilmore was homeported in Key West, Florida. Until 1959, she never ventured beyond Norfolk to the north and the Caribbean to the south.
The Howard W. Gilmore changed homeport to Charleston SC in July 1959. She spent nearly two years tending Atlantic Fleet submarines then was overhauled in Charleston NSY from November 1961 to May 1962. This Fleet Rehabilitation and Modernization Overhaul (FRAM) provided Gilmore with the ability to support nuclear submarines. After post overhaul fleet Refresher Training in Guantanamo Bay, Cuba, she returned to sub tending at Charleston SC.
The Cuban Missle Crisis October 1962 push Howard W. Gilmore to full capacity as several sqaudrons of US submarines surged in to the Atlantic off of Florida and the Caribbean. As the Crisis receded, Gilmore resumed a normal tempo of material and technical support of US Atlantic Submarine Force. The 1960s passed with her homeported in Charleston with short cruises in support of various training operations. servicing two squadrons of submarines for Caribbean operations.
USS Howard W. Gilmore replaced USS Bushnell (AS 15) at Key West in 1970. From 1973 until 1980 Gilmore was homeported in La Maddalena, Sardinia, Italy.
USS Howard W. Gilmore was decommissioned on 30 September 1980. Gilmore was laid up at the NISMF at James River Virginia, then scrapped in 2006.
The USS Howard W. Gilmore (AS-16) operational history and significant events of her service career follow:
AS-16 Deployments - Major Events
Add a AS-16 Shellback Initiation
Add a AS-16 Deployment - Major Event
Month
Year
to
Month
Year
Deployment / Event
AUG
1943
-
Shellback Initiation - 15 AUG 1943 - Pacific Ocean
SEP
1943
-
Launch Date: 16 SEP 1943
MAY
1944
-
Commissioned: 24 MAY 1944
MAY
1944
-
DEC
1947
West Pac
AUG
1944
-
AUG
1945
Central Pacific WW II cruise
AUG
1944
-
Shellback Initiation - 5 AUG 1944 - Pacific Ocean
FEB
1945
-
Shellback Initiation - 15 FEB 1945 - Atlantic Ocean
FEB
1945
-
Shellback Initiation - 15 FEB 1945 - Pacific Ocean
OCT
1945
-
Panama Canal
JAN
1946
-
Homeported in Key West Florida
OCT
1946
-
Shellback Initiation - 24 OCT 1946 - Pacific Ocean
JAN
1951
-
MAR
1951
Dry dock and gunnery refit Charlestown Ship Yard, Boston, Mass.
SEP
1953
-
DEC
1953
Dry Dock
JUL
1955
-
OCT
1955
trinity bay newfoundland
NOV
1955
-
NOV
1955
New Orleans for the week end
JAN
1956
-
JUN
1956
KEYwest Florda
AUG
1956
-
NOV
1956
DRY DOCK-NYC-HOBOKEN NJ CIVILIAN YARD
JAN
1959
-
JAN
1960
Dry Dock
APR
1959
-
JUN
1959
Dry Dock
JUL
1959
-
Homeport - Charleston SC
JUN
1960
-
SEP
1960
Guantanamo Bay
NOV
1961
-
MAY
1962
Overhaul at Charleston Naval Shipyard
JUL
1965
-
OCT
1965
Dry Dock
OCT
1965
-
NOV
1965
Guantanamo Bay
OCT
1969
-
NOV
1969
Dry Dock
JUN
1970
-
JUN
1972
Key West FL
JAN
1972
-
JUN
1973
Guantanamo Bay
JUN
1972
-
JUL
1973
Dry Dock in Mobile AL and Pascagoula MS
JAN
1973
-
DEC
1975
Mediterranean
JUL
1973
-
DEC
1975
Mediterannean - Homeport La Maddelena Sardinia
JAN
1974
-
MAR
1975
Mediterranean
SEP
1974
-
Shellback Initiation - 17 SEP 1974 - Atlantic Ocean
SEP
1974
-
Shellback Initiation - 9 SEP 1974 - Atlantic Ocean
NOV
1975
-
MAR
1977
Mediterranean - La Maddalena Sardinia
JAN
1976
-
JAN
1977
Mediterranean - La Maddalena Sardinia
JAN
1977
-
JAN
1978
Alaska
NOV
1977
-
AUG
1978
Mediterranean
MAY
1978
-
AUG
1978
Mediterranean
MAY
1978
-
AUG
1978
Mediterranean
MAY
1978
-
AUG
1978
Mediterranean
MAY
1978
-
AUG
1978
Mediterranean
JAN
1979
-
JAN
1981
Mediterranean
JAN
1979
-
JAN
1980
Somalia
APR
1979
-
Shellback Initiation - 17 APR 1979 - Atlantic Ocean
JAN
1980
-
JAN
1980
Mediterranean
JAN
1980
-
JAN
1997
North Pole
JAN
1980
-
JAN
1997
North Pole
SEP
1980
-
Decommissioned: 30 SEP 1980
AS-16 General Specifications
Class: Fulton-class submarine tender
Named for: Howard W. Gilmore
Complement: 1303 Officers and Enlisted
Displacement: 9250 tons
Length: 529 feet 6 inches
Beam: 73 feet 4 inches
Flank Speed: 18 knots
Final Disposition: Scrapped March 2006
USS HOWARD W. GILMORE (AS-16)
Howard W. Gilmore (AS-16) originally Neptune but renamed before launching was launched by Mare Island Navy Yard Mare Island Calif. 16 September 1943; Sponsored by Mrs. H. W. Gilmore widow of Commander Gilmore and commissioned 24 May 1944 Captain D. N. Cone in command.
For her first 2 months Howard W. Gilmore conducted shakedown training out of San Diego. After loading parts and supplies she sailed 12 August for Pearl Harbor arriving 18 August.
Howard W. Gilmore arrived Majuro Atoll 19 September 1944 and began her vital tending duties. In the 4 months that followed she made voyage repairs on submarines replenished them and helped in training both crewmen and repairmen She thus did much to maintain the high intensity attack on Japanese shipping which hastened the end of the war. The ship also provided repairs and parts for surface ships when necessary. Returning to Pearl Harbor 29 January 1945 she took on replacement crews for Australia-based submarines and sailed for Brisbane arriving 23 February. But the busy tender was soon underway again this time sailing via Humbolt Bay to Subic Bay Philippines with supplies for an advanced base. Howard W. Gilmore arrived 13 March and immediately started refitting 7th Fleet subs and setting up a recuperation area for their crews. She continued this duty through the climactic days of the Pacific war sailing for the East Coast via Pearl Harbor and Panama 31 August 1945. Arriving New York 17 October Howard W. Gilmore took part in the joyous Navy Day celebrations in New York Harbor where the fleet was reviewed by President Truman.
After a short stay in New London Conn. Howard W. Gilmore steamed to Portsmouth N.H. to load torpedoes and then sailed to her new home port Key West where she arrived 25 January 1946. Serving Submarine Squadron 4 the ship was to stay in Florida for the greater part of the next 13 years serving submarines on their far-flung training and readiness duties. The ship occasionally tended submarines at Norfolk and deployed to the Caribbean twice during this period notably for Operation Springboard a giant fleet exercise in the Caribbean in 1958.
Howard W. Gilmore sailed into storied Charleston harbor 30 July 1959 to take up her tending duties from this new base. In addition to servicing submarines during the next 18 months the ship rode out Hurricane Donna in September 1960 off Charleston. During 1961 she operated off the Florida coast before entering Charleston Naval Shipyard in November for a major overhaul. During this repair period Howard W. Gilmore was fitted with facilities for servicing nuclear submarines increasing her versatility and usefulness for today's nuclear Navy. With this important Fleet Rehabilitation and Modernization overhaul ( FRAM ) completed the ship returned to the Caribbean for refresher training before resuming tender duties at Charleston.
In October 1962 the introduction of offensive missiles into Cuba brought strong response from the American President and people; a naval quarantine of the island. Howard W. Gilmore's crew worked around the clock servicing two squadrons of submarines for Caribbean operations. American naval power forced the removal of the Communist threat to the Western Hemisphere.
From 1963 into 1967 the veteran tender continued to serve submarines from her home port Charleston making short cruises for training off the South Carolina coast and in the Caribbean. Howard W. Gilmore and her sister tenders fulfill the goal expressed in the slogan: "Service for the silent service".


[Note: The above USS HOWARD W. GILMORE (AS-16) history may or may not contain text provided by crew members of the USS HOWARD W. GILMORE (AS-16) or by other non-crew members and text from the Dictionary of American Naval Fighting Ships]