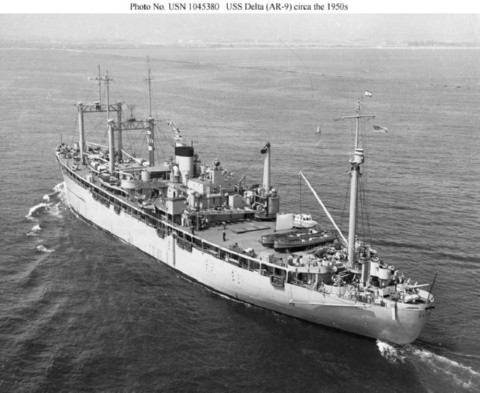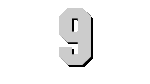 U.S.S. DELTA
(AR-9)

CAN DO
Click to view crew list
USS DELTA (AR-9) - an Aristaeus-class battle damage repair ship
In Commission 1941 to 1970
AR-9 Deployments - Major Events
Add a AR-9 Shellback Initiation
Add a AR-9 Deployment - Major Event
Month
Year
to
Month
Year
Deployment / Event
JUN
1941
-
Commissioned: 16 JUN 1941
FEB
1942
-
DEC
1944
West Pac
MAR
1942
-
JUL
1944
Mediterranean
MAR
1944
-
JUN
1945
Mediterranean
MAR
1944
-
JUN
1945
Mediterranean
MAR
1944
-
JUN
1945
Mediterranean
MAR
1944
-
JUN
1945
Mediterranean
NOV
1947
-
DEC
1949
West Pac
JAN
1950
-
JAN
1956
Middle Pacific
NOV
1950
-
NOV
1950
Recommisioned
JAN
1952
-
DEC
1952
Middle Pacific
JUN
1952
-
DEC
1953
Middle Pacific
JUN
1952
-
DEC
1953
Koria
JAN
1954
-
JUN
1955
West Pac
AUG
1955
-
Shellback Initiation - 1 AUG 1955 - Pacific Ocean
APR
1960
-
Shellback Initiation - 12 APR 1960 - Pacific Ocean
APR
1960
-
DEC
1960
West Pac
MAY
1960
-
Shellback Initiation - 11 MAY 1960 - Pacific Ocean
MAY
1960
-
Shellback Initiation - 12 MAY 1960 - Pacific Ocean
OCT
1960
-
MAR
1961
West Pac
JAN
1961
-
APR
1961
West Pac
FEB
1962
-
AUG
1962
West Pac
MAY
1962
-
SEP
1962
West Pac
DEC
1963
-
JUL
1964
West Pac
APR
1965
-
DEC
1965
West Pac-Viet Nam
APR
1965
-
FEB
1966
West Pac
JAN
1967
-
SEP
1967
West Pac-Indian Ocean
JAN
1967
-
AUG
1967
West Pac
JAN
1969
-
OCT
1969
West Pac-Viet Nam
JAN
1969
-
OCT
1969
West Pac-Viet Nam
MAR
1969
-
Shellback Initiation - 10 MAR 1969 - Pacific Ocean
MAY
1969
-
DEC
1969
West Pac-Viet Nam
JUL
1969
-
AUG
1969
West Pac-Viet Nam
AUG
1969
-
OCT
1969
West Pac-Viet Nam
SEP
1969
-
Shellback Initiation - 22 SEP 1969 - Pacific Ocean
JUN
1970
-
Decommissioned: 20 JUN 1970
AR-9 General Specifications
Displacement: 8975 tons
Length: 490 feet 6 inches
Beam: 69 feet 6 inches
Draft: 23 feet 6 in
Flank Speed: 18 kts
Final Disposition: Sold for scrapping 1983
USS DELTA (AR-9)
The second Delta (AK-29), named for the star, was built in 1941 as Hawaiian Packer by Newport News Shipbuilding, Newport News, Va.; acquired by the Navy 4 June 1941; and commissioned 16 June 1941, Commander C. D. Headee in command.


From 8 July 1941 to May 1942 Delta carried cargo from east coast ports to Guantanamo Bay, Cuba; Puerto Rico; Bermuda; Argentina, Newfoundland; Halifax, Nova Scotia; and Reykjavik, Iceland. On 1 July 1942 she was reclassified AR-9, and was placed in reserve commission for conversion to a fleet repair ship by Cramp Shipyard, Philadelphia, Pa.


Delta sailed from Philadelphia 3 March 1943, and between March and June repaired amphibious ships and craft at Oran, Algeria. She served similarly at Bizerte, Tunisia, from June to March 1944, then at Palermo, and on 8 July sailed for Pozzuouli, Italy, to prepare landing craft for their return to the United States. Her final Mediterranean duty, from November to April 1945, was to tend destroyers at Oran.


She returned to Norfolk for overhaul 27 April 1945, and on 15 June sailed for Pearl Harbor for a month of repair duty. On 26 August, she arrived at Yokosuka Naval Base for general fleet repair work, including the assignment of preparing Nagato, the former Japanese battleship,' for the atomic weapons tests of 1946 at Bikini. Delta served the Fleet at Shanghai from March through June 1946, and on 17 July arrived at Philadelphia, where she was decommissioned and placed in reserve 5 March 1947.


Recommissioned 1 November 1950, Delta arrived at San Diego 8 March 1951 to provide repair services to ships of the Pacific Fleet there and at Long Beach as well as on periodic deployments to the Far East. Her first such, during the Korean War, was from 25 June 1952 until 14 February 1953. On her second, in 1953 and 1954, she joined in Operation "Passage to Freedom," the evacuation of Vietnamese to South Vietnam upon the partition of Indochina. During her last FarEastern service, in 1955, she served as flagship for the Blockading and Escort Force off Korea. She returned from this cruise to Tacoma, Wash., where she was decommissioned and placed in reserve 1 December 1955.


Delta received three battle stars for World War II service, and one for Korean War service.


[Note: The above USS DELTA (AR-9) history may, or may not, contain text provided by crew members of the USS DELTA (AR-9), or by other non-crew members, and text from the Dictionary of American Naval Fighting Ships]