For RATING SHIRTS - Click on your Rating Abbreviation below:
Click on your Rating abbreviation above: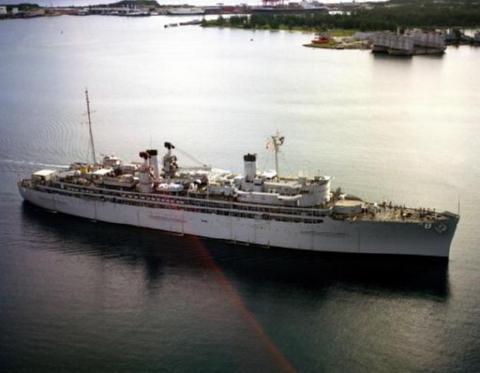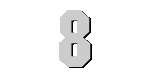 U.S.S. JASON
(AR-8)

READY WILLING ABLE
Click to view crew list
The USS Jason (AR-8) keel was laid on 9 MAR 1942, at the Los Angeles Shipbuilding and Drydock Co. Two years, three months and 10 days later, on 19 JUN 1944, USS Jason was commissioned with Capt. A.O.R. Bergesen, commanding.


After fit out and shake down training, Jason went west to the Solomon Islands briefly, then on to Ulithi Atoll in the Caroline Islands. Stationed at Ulithi from AUG 1944 to MAY 1945, USS Jason served and repaired any vessel of the Pacific fleet as required. In the last months of the war, Jason moved forward to the Philippines.


At the war's end, she convoyed occupation troops to needed destinations then stationed in Jinsen, Korea, then Tsingtao, China, before returning to the West Coast of the U.S. in March 1946.


After overhaul USS Jason returned to Pacific duty, deploying regularly to the Far East during the late 1940s.


The North korean invasion of the south in 1950, USS Jason advanced from the west coast to Japan in late summer 1950 to support the United Nations effort in Korea. She spent the majority of the next three years in Sasebo, Japan, tending the fleet.


With the armistice in Korea, Jason resumed her inter war cycle. Home ported in San Diego, she spent the remainder of the 1950s and into the early 1960s with routine deployments to the Western Pacific.


In 1963, with units of the US Feet beginning to mass off the shores of Viet Nam, USS Jason deployed to the Far East from January to July.


From 1967 to 1972 USS Jason deployed to the Western Pacific three times in support of the US Fleet operating off of Viet Nam.


The the latter 1970s brought a return of the cycle of West Pacs and state side duty based in San Diego. The Iranian hostage crisis changed the tempo and Jason moved forward to Diego Garcia to support the fleet. With the crisis resolved Jason, moved to her new home port of Pearl Harbor.


Again an interlude of peace brought routine deployment and time near home port supporting the fleet through the 1980s.


Iraq's invasion of Kuwait in July 1990, had USS Jason steaming to the Arabian Sea and the Persian Gulf. Supporting the massed US Naval presence through out operation Desert Shield and Desert Storm, Jason returned to Pearl Harbor in May 1991.


June 1995 brought USS Jason's decommisioning. She was subsequently laid up at the Naval Inactive ship Facilty in Suisun Bay, California until June, 2007 when she was towed for dismantling.


The USS Jason (AR-8) operational history and significant events of her service career follow:
AR-8 Deployments - Major Events
Add a AR-8 Shellback Initiation
Add a AR-8 Deployment - Major Event
Month
Year
to
Month
Year
Deployment / Event
MAR
1942
-
Keel Date: 9 MAR 1942
at Los Angeles Shipbuilding and Drydock Co. CA
APR
1943
-
Launch Date: 3 APR 1943
JUN
1944
-
Commissioned: 19 JUN 1944
JAN
1956
-
FEB
1958
West Pac
JAN
1961
-
MAR
1961
West Pac
JAN
1963
-
Shellback Initiation - 29 JAN 1963 - Pacific Ocean
JAN
1963
-
JUL
1963
West Pac
JAN
1965
-
Shellback Initiation - 14 JAN 1965 - Pacific Ocean
JAN
1965
-
AUG
1965
West Pac
JAN
1965
-
Shellback Initiation - 14 JAN 1965 - Pacific Ocean
MAR
1966
-
JUN
1966
Dry Dock
JAN
1967
-
SEP
1967
West Pac
JAN
1967
-
JAN
1967
West Pac-Viet Nam
JAN
1968
-
JAN
1969
West Pac-Viet Nam
JUL
1968
-
AUG
1968
West Pac-Viet Nam
JAN
1969
-
JUL
1971
West Pac-Viet Nam
DEC
1969
-
JAN
1970
West Pac-Viet Nam
JAN
1971
-
JUL
1971
West Pac-Viet Nam
OCT
1972
-
JUN
1973
West Pac
JUN
1973
-
JUN
1973
Ammunition Offload Seal Beach CA
DEC
1973
-
JUL
1974
West Pac
JAN
1975
-
JAN
1976
West Pac
SEP
1975
-
SEP
1975
Seattle Washington
SEP
1975
-
OCT
1975
Seattle Washington
NOV
1975
-
JUL
1976
West Pac
OCT
1976
-
JUN
1977
Regular Overhaul
JAN
1979
-
MAY
1981
west pac
JAN
1979
-
DEC
1979
West Pac
OCT
1980
-
Shellback Initiation - 18 OCT 1980 - Pacific Ocean
OCT
1980
-
MAR
1981
West Pac - Indian Ocean - Diego Garcia
MAR
1981
-
MAR
1981
Mediterranean-Indian Ocean
AUG
1983
-
NOV
1983
West Pac
JAN
1985
-
AUG
1985
RIMPAC
JAN
1985
-
AUG
1985
West Pac-Indian Ocean
FEB
1985
-
Shellback Initiation - 26 FEB 1985 - Pacific Ocean
FEB
1985
-
Shellback Initiation - 25 FEB 1985 - Pacific Ocean
FEB
1985
-
Shellback Initiation - 26 FEB 1985 - Indian Ocean
FEB
1985
-
Shellback Initiation - 26 FEB 1985 - Indian Ocean
JAN
1986
-
JAN
1987
West Pac-Indian Ocean-Persian Gulf
MAY
1989
-
NOV
1989
West Pac-Indian Ocean-Persian Gulf
NOV
1989
-
Shellback Initiation - 5 NOV 1989 - Pacific Ocean
NOV
1989
-
Shellback Initiation - 5 NOV 1989 - Pacific Ocean
JAN
1990
-
JAN
1990
UFO SIGHTING/ Red Orb/ 1990 off the coast of Deigo Garcia/event
DEC
1990
-
MAY
1991
West Pac-Indian Ocean-Persian Gulf
SEP
1991
-
DEC
1991
West Pac-Indian Ocean-Persian Gulf
DEC
1991
-
Shellback Initiation - 31 DEC 1991 - Pacific Ocean
OCT
1992
-
APR
1993
West Pac
JUL
1994
-
Shellback Initiation - 24 JUL 1994 - Pacific Ocean
JUN
1995
-
Decommissioned: 24 JUN 1995
AR-8 General Specifications
Class: Vulcan class repair ship
Named for: Jason
Complement: 1297 Officers and Enlisted
Displacement: 9430 tons
Length: 530 feet
Beam: 530 feet 4 inches
Flank Speed: 19 Knots
Final Disposition: Scrapped 2007
USS JASON (AR-8)
The second Jason (ARH-1) was launched 3 April 1943 by Los Angeles Shipbuilding and Drydock Co., Los Angeles, Calif.; sponsored by Mrs. Aubrey W. Fitch; commissioned 19 June 1944, Captain A. O. R. Bergesen in command.


Jason was commissioned as the United States accelerated its drive to push the Japanese back to their home islands. After brief shakedown and fitting out, the repair ship arrived Pearl Harbor 6 July 1944 on the first leg of her journey to the Pacific battle area. She arrived Purvis Bay in the Solomon Islands 17 August to commence operations with Service Squadron 10. Two months later she arrived Ulithi, where she was to spend the greater part of the war, performing the vital task of keeping the Navy's ships at peak strength and operating efficiency.


For 7 months at Ulithi, as American forces captured island after island from the Japanese, Jason, many times under enemy attack, repaired broken hulls, buckled decks and twisted bulkheads of every type of ship in the Navy. This floating shipyard turned seemingly hopeless battle wrecks into rejuvenated fighting ships again able to stand out gallantly in the final victorious months. As the action crept closer to Japan, Jason sailed for Leyte arriving there 28 May 1945. She remained there for the duration of the war continuing to service ships of the Pacific Fleet.


After the Japanese surrender, she joined a convoy of units from the 7th Fleet and arrived Jinsen, Korea, 8 September with the first occupation troops. She operated out of Jinsen, Korea, and Tsingtao, China until mid-February 1946, performing repair services and assisting in the evacuation of Japanese nationals. Jason returned Terminal Island, Calif., 9 March for overhaul. Her rest was a brief one, however, as she sailed once again in May for the Far East. For the next 4 years she serviced the Pacific fleet, alternating between Japan and California.


As the Communist menace grew bolder, and their puppet regime in North Korea staged an overt act of aggression on South Korea, the United States responded to the challenge. American forces were dispatched to the area, and naval power played an important role in the conflict. With an increased number of ships in the Far East, Jason departed Oakland, Calif., 22 July 1950 for Sasebo and immediately began service duties upon her arrival in August. Throughout the war she remained at Sasebo for extended periods performing the vital repair tasks at hand, with only brief overhaul periods in the United States.


Following the cessation of hostilities in Korea, Jason returned San Diego 6 November 1953. Six months later she sailed for another WestPac deployment which included a goodwill tour to Chin Hae, Korea. It was during this cruise, that the Chinese Communists began to harrass the Nationalist-held Tachen Island. The powerful 7th Fleet, which Jason helped maintain, sent units into the area to make certain the peace was not violated. She returned to San Diego 13 February 1955 and commenced repair services off the West Coast.


Her next Far Eastern tour began January 1956, and she operated, in Japan, Okinawa, and Formosa before returning to' San Diego late October. While on still another deployment to Sasebo she was redesignated AR-8 on 9 September 1957. As Jason was about to return home, a near crisis flared in Indonesia, and the 7th Fleet kept watch on the potential trouble spot. Following her return to San Diego 14 February 1958, she operated there throughout the year, giving valuable service to the Pacific Fleet


Jason was dispatched to the Far East 6 January 1959 and operated there until returning to San Diego 18 August. Her departure occurred prior to the deployment of a carrier task group in the area of Laos, as Communist insurgency once again threatened the peace. During Jason's 1960 deployment, the Communists renewed their drive to undermine the neutral government of Laos, and the mighty 7th Fleet was again called to peace-keeping duties.


Following her return to San Diego 7 March 1961, Jason operated along the West Coast providing repair services through 1962. Another deployment with Westpac began 3 January 1963, as the Communists turned their attention on Vietnam. The 7th Fleet became a main cog in our determination to prevent Southeast Asia from falling into the hands of Communist-inspired despots. In the years since World War II, Jason was an important factor in keeping this force at maximum operating condition. She returned to San Diego 7 July 1963 and serviced the Pacific Fleet along the West Coast through 1964.


Jason departed San Diego 4 January 1965 and arrived Yokosuka on the 25th. After operations in Japan and at Okinawa, she reached Subic Bay 6 March and served ships of the 7th Fleet until heading home 31 August. The repair ship operated in ports of southern California until entering the Naval Shipyard at Bremerton, Wash., for overhaul 4 March 1966.


Back in top trim 6 June, Jason resumed West Coast operations until sailing for the Orient 9 January 1967. She served the ships of the 7th Fleet at Sasebo, Japan, and in Subic Bay until returning to San Diego 19 August.


Jason received a Korean Service Medal for Korean


[Note: The above USS JASON (AR-8) history may, or may not, contain text provided by crew members of the USS JASON (AR-8), or by other non-crew members, and text from the Dictionary of American Naval Fighting Ships]