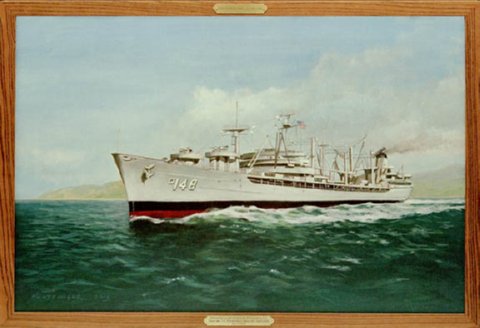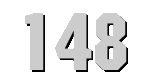 U.S.S. PONCHATOULA
(AO-148)

THE GREEN WAVE
Click to view crew list
USS PONCHATOULA (AO-148) - a Neosho-class oiler
In Commission 1956 to 1980
AO-148 Deployments - Major Events
Add a AO-148 Shellback Initiation
Add a AO-148 Deployment - Major Event
Month
Year
to
Month
Year
Deployment / Event
MAR
1954
-
Keel Date: 1 MAR 1954
at New York Shipbuilding Camden NJ
JUL
1955
-
Launch Date: 9 JUL 1955
JAN
1956
-
Commissioned: 12 JAN 1956
AUG
1956
-
FEB
1957
West Pac
OCT
1958
-
OCT
1958
West Pac
APR
1959
-
JAN
1960
West Pac
JUL
1960
-
FEB
1961
West Pac
JAN
1962
-
JAN
1963
West Pac
FEB
1962
-
JAN
1965
West Pac-Viet Nam
APR
1962
-
Shellback Initiation - 11 APR 1962 - Pacific Ocean
AUG
1963
-
JUN
1964
West Pac-Viet Nam
AUG
1964
-
JAN
1965
West Pac-Viet Nam
JAN
1965
-
OCT
1966
West Pac
AUG
1965
-
Shellback Initiation - 8 AUG 1965 - Pacific Ocean
AUG
1965
-
Shellback Initiation - 8 AUG 1965 - Pacific Ocean
OCT
1965
-
Shellback Initiation - 23 OCT 1965 - Pacific Ocean
SEP
1966
-
APR
1967
West Pac-Viet Nam
SEP
1966
-
JUN
1967
West Pac
JAN
1967
-
JAN
1968
West Pac-Viet Nam
MAR
1967
-
Shellback Initiation - 14 MAR 1967 - Pacific Ocean
MAR
1967
-
Shellback Initiation - 14 MAR 1967 - Pacific Ocean
JAN
1968
-
SEP
1969
West Pac-Viet Nam
JAN
1971
-
JAN
1973
West Pac-Viet Nam
NOV
1971
-
JAN
1972
Mediterranean-Indian Ocean
DEC
1971
-
DEC
1973
West Pac-Viet Nam
DEC
1971
-
DEC
1973
West Pac-Viet Nam
MAR
1972
-
JUN
1975
West Pac-Viet Nam
APR
1972
-
Shellback Initiation - 25 APR 1972 - Pacific Ocean
APR
1972
-
DEC
1972
West Pac-Viet Nam
JAN
1973
-
SEP
1973
Dry Dock
JUN
1973
-
Shellback Initiation - 23 JUN 1973 - Pacific Ocean
JUN
1973
-
Shellback Initiation - 20 JUN 1973 - Pacific Ocean
JUL
1975
-
OCT
1976
RIMPAC
JAN
1976
-
JAN
1976
West Pac
SEP
1977
-
Shellback Initiation - 18 SEP 1977 - Pacific Ocean
AO-148 General Specifications
Class: Neosho-class oiler
Complement: 324 USNS
Displacement: 11600 tons
Length: 655 feet
Beam: 86 feet
Draft: 35 feet
USS PONCHATOULA (AO-148)
The second Ponchatoula (AO-148) was laid down by the New York Shipbuilding Corp., Camden, N.J., 1 March 1954 launched 9 July 1955; sponsored by Mrs. I. N. Kiland; and commissioned 12 January 1956, Capt. William R. Wilson in command.


After fitting out at Philadelphia, Ponchatoula, the sixth of a class designed to combine speed and large cargo capacity for rapid underway replenishment over extended operational periods, got underway for the Pacific. Arriving at Long Beach 10 March, she underwent shakedown and training exercises off the California coast and in September deployed to the Far East. Enroute she assisted SS Venus, a Panamanian merchantman lying helpless on the fringes of two typhoons. Taking Venus in tow on the 26th, Ponchatoula was relieved of her tow on the 28th, and continued on to Sasebo to join the 7th Fleet.


Rotated regularly to the western Pacific since that time, Ponchatoula was homeported at Pearl Harbor in early 1958 and received her introduction to support under hostile conditions while operating with 7th Fleet units during the Quemoy-Matsu Crisis in the fall of that year. Support for experimental operations highlighted 1962 as she provided POL services to Joint Task Force 8 engaged in operation Dominic the Christmas Island nuclear test series, then operated Project Mercury recovery ships during the Sigma splashdown. Repeating that support with Faith Seven 1963, she shifted to combat operations in October 1964 deployed to the South China Sea to refuel ships employ the coast of Viet Nam. 279 refuelings later, she returned to Hawaiian waters. In June 1965 she participated in recovery operations for Gemini Four, then deployed again to Viet Nam. In December she interrupted operations there to support the recovery ships for Gemini Six and Seven and in April 1966 returned to Hawaii having set a new record in the Pacific Fleet by bringing 503 ships alongside, 464 of which she refueled. Deployed to WestPac again in November 1967, she pumped over 74 million gallons of fuel through her hoses before returning home in June 1968. In October she again joined ships in the Pacific splashdown area, this time to recover Apollo 7, the first U.S. three-man flight.


By 8 December, Ponchatoula was back in the Philippines, whence she got underway for Yankee Station in Tonkin Gulf on the 15th to again replenish ships operating in support of Allied operations in Viet Nam. In July 1969, she returned home and into 1970 remains in Hawaiian waters.


[Note: The above USS PONCHATOULA (AO-148) history may, or may not, contain text provided by crew members of the USS PONCHATOULA (AO-148), or by other non-crew members, and text from the Dictionary of American Naval Fighting Ships]