For RATING SHIRTS - Click on your Rating Abbreviation below: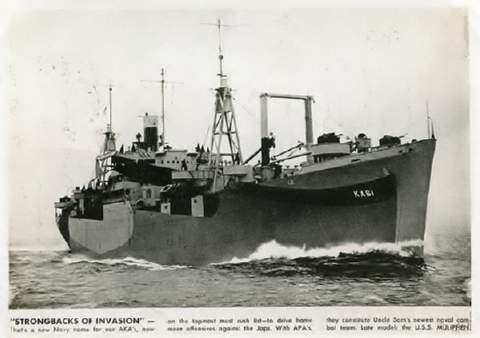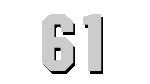 U.S.S. MULIPHEN
(AKA-61)

MANY LANDS - MANY LANDINGS
Click to view crew list
USS MULIPHEN (AKA-61 ) - an Andromeda-class attack cargo ship
In Commission 1944 to 1955
AKA-61 Deployments - Major Events
Add a AKA-61 Shellback Initiation
Add a AKA-61 Deployment - Major Event
Month
Year
to
Month
Year
Deployment / Event
MAY
1944
-
Keel Date: 13 MAY 1944
at Federal Shipbuilding and Drydock Company Kearny NJ
AUG
1944
-
Launch Date: 26 AUG 1944
OCT
1944
-
Commissioned: 23 OCT 1944
NOV
1944
-
DEC
1945
North Atlantic
FEB
1945
-
MAR
1945
Iwo Jima
APR
1945
-
APR
1945
Okinawa (Gunto Operations)
JUL
1948
-
Shellback Initiation - 15 JUL 1948 - Pacific Ocean
JAN
1958
-
JAN
1958
Bierut Crisis
JAN
1958
-
SEP
1958
Mediterranean-Lebanon
APR
1961
-
OCT
1961
Mediterranean
MAY
1961
-
JAN
1964
Mediterranean
JAN
1964
-
JUN
1964
Mediterranean
SEP
1964
-
JAN
1965
Caribbean
JUN
1966
-
SEP
1966
Caribbean
DEC
1967
-
MAR
1968
Caribbean
OCT
1968
-
MAR
1969
Mediterranean
NOV
1968
-
APR
1969
Mediterranean
OCT
1969
-
DEC
1969
Caribbean
AUG
1970
-
Decommissioned: 28 AUG 1970
JAN
1989
-
JAN
1989
Sunk as a reef off Florida coast near Ft. Pierce
AKA-61 General Specifications
Class: Andromeda-class attack cargo ship
Named for: Muliphen
Complement: 246 Officers and Enlisted
Displacement: 7360 tons
Length: 459 feet 2 inches
Beam: 63 feet
Flank Speed: 16 Knots
Final Disposition: Sunk as an artificial reef off Port St. Lucie Florida 21 January 1989
USS MULIPHEN (AKA-61)
Muliphen (AKA-61) was laid down under Maritime Commission contract 13 May 1944 by Federal Shipbuilding & Dry Dock Oo. Kearny N.J. ; launched 26 August 1944 ; sponsored by Mrs. John Hancock ; acquired by the Navy 21 October 1944 ; and commissioned 23 October 1944 Lt. Comdr. Walter W. Wliliamson in command.
Following shakedown in Chesapeake Bay Muliphen sailed 1 December 194.4 to operate with the Key West Fla. Sound School. On 14 December she steamed for the Pacific where she joined Transport Division 43 off Pearl Harbor and sailed to prepare for the invasion of Iwo Jima at Eniwetok arriving 5 February 1945. Muliphen arrived off Iwo Jima 19 February unloaded until 4 March then retired to Saipan.
She departed 27 March for the invasion of Okinawa took part in a feint landing 1 April and repeated the feint the following day. Held in reserve off Okinawa until 10 April she sailed then for Saipan and cargo duty between the Marianas and Solomons. She arrived Manila 18 September with a cargo of underwater demolition gear and spent the next 3 months carrying occupation troops to Japan from the Philippines until sailing for Seattle 24 November.
Serving with the Naval Transportation Service for the next 4 years she carried men and supplies to Asiatic and Pacific ports and supplied Point Barrow Alaska in 1946 and 1947.
In 1950 Muliphen transferred to the Atlantic Fleet Amphibious Fleet Amphibious Force based at Norfolk The following decade she rotated in a steady schedule of Caribbean and Mediterranean deployments. She participated in the amphibious landings at Beirut Lebanon when a
prompt response by the 6th Fleet prevented Communist subversion of Lebanon's government. Continuing similar duty in the 1960's she also took part in NATO exercises and the training of Naval Academy midshipmen. Muliphen continues into 1969 to perform a vital role In the Nation's peacekeeping efforts.
Muliphen received two battle stars for World War II service.


[Note: The above USS MULIPHEN (AKA-61) history may or may not contain text provided by crew members of the USS MULIPHEN (AKA-61) or by other non-crew members and text from the Dictionary of American Naval Fighting Ships]