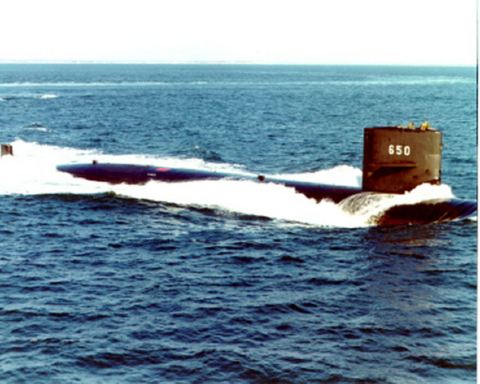 U.S.S. PARGO
(SSN-650)

UNDERWATER THOROUGHBRED
Click to view crew list
USS PARGO (SSN-650) - a Sturgeon-class attack submarine
In Commission 1968 to 1995
SSN-650 Deployments - Major Events
Add a SSN-650 Shellback Initiation
Add a SSN-650 Deployment - Major Event
Month
Year
to
Month
Year
Deployment / Event
JUN
1964
-
Keel Date: 3 JUN 1964
at General Dynamics Electric Boat Groton CT
SEP
1966
-
Launch Date: 17 SEP 1966
JAN
1968
-
Commissioned: 5 JAN 1968
FEB
1969
-
FEB
1969
Blue Nose - Arctic Circle
FEB
1969
-
FEB
1969
North Pole
JUL
1970
-
MAR
1971
Mark 48 torpedo
OCT
1972
-
MAR
1973
Mediterranean
APR
1973
-
Shellback Initiation - 7 APR 1973 - Atlantic Ocean
SEP
1973
-
NOV
1973
Blue Nose - Arctic Circle
MAY
1979
-
OCT
1979
Mediterranean
JAN
1980
-
DEC
1980
Awarded Battle
JAN
1980
-
DEC
1980
Battle E Engineering E and ASW A
FEB
1980
-
APR
1980
Restricted Availability(SRA) Portsmouth Naval Shipyard
SEP
1980
-
NOV
1980
Speical Operations
JAN
1981
-
MAR
1981
Speical Operations
APR
1981
-
APR
1981
Meritorious Unit Commendation
APR
1982
-
AUG
1982
Mediterranean
APR
1984
-
OCT
1984
Mediterranean
JAN
1985
-
JAN
1987
Dry Dock
JAN
1985
-
JAN
1985
Panama Canal
JAN
1986
-
FEB
1986
Panama Canal
MAY
1988
-
OCT
1988
Mediterranean-West Africa
JAN
1989
-
JAN
1990
North Atlantic
JAN
1990
-
MAR
1990
Special Operations - Barents Sea
SEP
1990
-
NOV
1990
Faroe Islands
SEP
1990
-
SEP
1990
Battle E award
MAR
1991
-
JUL
1991
North Pole
MAY
1991
-
Shellback Initiation - 22 MAY 1991 - Pacific Ocean
AUG
1994
-
DEC
1994
ICE-EX
APR
1995
-
Decommissioned: 14 APR 1995
SSN-650 General Specifications
Class: Sturgeon-class attack submarine
Named for: The pargo
Complement: 107 Officers and Enlisted
Displacement: 4600 tons
Length: 292 feet
Beam: 31 feet
Flank Speed: Over 20 knots
Final Disposition: Scrapping via Ship and Submarine Recycling Program begun 1 October 1994 completed 15 October 1996
USS PARGO (SSN-650)
The second Pargo (SSN-650) was laid down 3 June 1964 by General Dynamics Corp. Electric Boat Division, Groton, Conn.; launched 17 September 1966; sponsored by Mrs. James L. Holloway, Jr.; and commissioned 5 January 1968, Comdr. Steven A. White in command.


Assigned to Submarine Development Group 2, with a homeport of New London, Conn., her primary wartime mission is to detect, track and destroy enemy submarines. She combines the endurance and environmental independence of nuclear power with deep submergence, high speed, quietness, and the most advanced weapons and electronics capabilities. These characteristics make her one of the Navy's most effective anti-submarine warfare weapons.


After acoustic trials and a restricted availability at Groton, Conn., Pargo participated in the search for Scorpion (SSN-589) 27 May to 7 June 1968, and spent the rest of the year conducting various trials in the Caribbean and off New London. As of 1970 the second Pargo is still operating with the U.S. Atlantic Fleet.


[Note: The above USS PARGO (SSN-650) history may, or may not, contain text provided by crew members of the USS PARGO (SSN-650), or by other non-crew members, and text from the Dictionary of American Naval Fighting Ships]