For RATING SHIRTS - Click on your Rating Abbreviation below: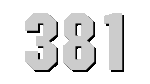 U.S.S. SOMERS
(DD-381)


Click to view crew list
DD-381 USS Somers
USS Somers was the name ship for a class of five destroyers, and was built at Kearny, New Jersey. The vessel was commissioned in December 1937 and immediately headed for a shakedown cruise in the Gulf of Mexico in February 1938. Her entire career was conducted in the Atlantic, where she was involved in normal peacetime exercises and tasks until September of 1939. With the outbreak of WWII in Europe, she was immediately put on neutrality patrols. In late 1941, before the U.S. was formally involved in the war effort, she aided in the capture of Odenwald, a German blockade runner.
USS Somers was involved in many other operations and invasions in the South Atlantic after the formal entrance into the war by the U.S. in December 1941. She performed escort patrols, invasions, and other support roles as needed through 1944. In May, she was reassigned to convoy escorts in the North Atlantic, and then transferred to the Mediterranean. USS Somers went back to the Atlantic during late 1944, where she remained until May 1945. At that time, she was involved in training for a few months. In October 1945, she was decommissioned, and then sold for scrapping in May 1947.
DD-381 Deployments - Major Events
DD-381 General Specifications
Class: Somers-class destroyer
Named for: Richard Somers
Complement: 294 Officers and Enlisted
Displacement: 1850 tons
Length: 381 feet
Beam: 36 feet 11 inches
Flank Speed: 39 knots
Range: 6500 Nautical Miles
Final Disposition:Sold to Boston Metals Baltimore