For RATING SHIRTS - Click on your Rating Abbreviation below: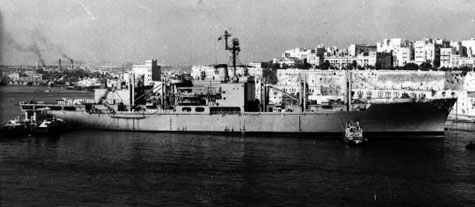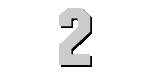 U.S.S. SYLVANIA
(AFS-2)

THE VIGILENT PROVIDER
Click to view crew list
The USS SYLVANIA (AFS-2), a Mars class combat stores ship, was commissioned on 11 JUL 1964. USS SYLVANIA was built at National Steel and Shipbuilding in San Diego, CA and after commissioning transited the Panama Canal in August 1964 and took up her duty with the Atlantic Fleet. April 1965 SYLVANIA began her "ship's work", a series of Mediterranean deployments that extended in to the Indian Ocean as needed. USS SYLVANIA served her country for 29 years, 10 months and 15 days, until decommissioned on 26 MAY 1994. The hulk of the SYLVANIA was scrapped in July 2001.

The USS SYLVANIA (AFS-2) deployment history and significant events of her service career follow:
AFS-2 Deployments - Major Events
Add a AFS-2 Shellback Initiation
Add a AFS-2 Deployment - Major Event
Month
Year
to
Month
Year
Deployment / Event
AUG
1962
-
Keel Date: 18 AUG 1962
at National Steel and Shipbuilding Company San Diego CA
AUG
1963
-
Launch Date: 15 AUG 1963
JUL
1964
-
Commissioned: 11 JUL 1964
JUN
1967
-
JUN
1967
Mediterranean
JUN
1967
-
JUN
1967
support of rescue attempt-USS Liberty during Arab Israeli war
AUG
1967
-
Shellback Initiation - 9 AUG 1967 - Indian Ocean
JAN
1968
-
JUL
1970
Mediterranean
AUG
1970
-
JAN
1971
Mediterranean
NOV
1970
-
MAY
1971
Mediterranean
FEB
1972
-
AUG
1972
Mediterranean
MAY
1973
-
DEC
1973
Mediterranean
AUG
1974
-
MAR
1975
Mediterranean
JUN
1975
-
DEC
1975
Portsmouth Naval Yard / Newport News Ship Yard Ship OverHaul
JAN
1976
-
JAN
1977
Mediterranean
OCT
1976
-
JAN
1977
North Atlantic
SEP
1978
-
FEB
1979
Mediterranean
OCT
1978
-
MAY
1979
Mediterranean
MAY
1980
-
SEP
1980
Mediterranean
SEP
1980
-
FEB
1981
Mediterranean-Indian Ocean-Persian Gulf
APR
1981
-
OCT
1981
Mediterranean
APR
1982
-
MAY
1982
Guantanamo Bay
JUL
1982
-
DEC
1982
Mediterranean
JUL
1982
-
DEC
1982
Mediterranean-Lebanon
JAN
1983
-
AUG
1984
Mediterranean
JUN
1983
-
JUL
1983
Guantanamo Bay
JUN
1983
-
JUL
1983
Guantanamo Bay
OCT
1983
-
APR
1984
Mediterranean-Lebanon
NOV
1983
-
APR
1984
Mediterranean
APR
1985
-
OCT
1985
Mediterranean
SEP
1986
-
FEB
1987
Mediterranean
JUL
1987
-
OCT
1987
Mediterranean-Indian Ocean
JAN
1988
-
JUN
1988
Mediterranean
JAN
1989
-
JAN
1990
Mediterranean
JAN
1990
-
AUG
1990
Operation Desert Storm
OCT
1990
-
DEC
1991
Desert Storm
OCT
1991
-
JUN
1992
Mediterranean-Indian Ocean-Persian Gulf
AUG
1992
-
SEP
1992
Hurricane Andrew Support
MAY
1994
-
Decommissioned: 26 MAY 1994
AFS-2 General Specifications
Class: Mars-class combat stores ship
Named for: Sylvania an asteroid
Complement: 486 Officers and Enlisted
Displacement: 17500 tons
Length: 581 feet
Beam: 79 feet
Flank Speed: 20 knots
Final Disposition: Sold for scrapping 28 July 2001
USS SYLVANIA (AFS-2)
The second Sylvania (AFS-2) was laid down on 18 August 1962 by the National Steel and Shipbuilding Co., San Diego, Calif.; launched on 10 August 1963; sponsored by Mrs. Cyrus R. Vance; and commissioned on 11 July 1964, Capt. Bernard A. Lienhard in command.


At the time of commissioning Sylvania was the second of a new class of combat store ship designed to combine the functions of the AF (store ship), AK.S (stores issue ship), and AVS (aviation issue ship). She completed fitting out and, after sea trials, departed California for duty with the Atlantic Fleet. The Panama Canal was transited on 11 August, and the ship arrived at Norfolk on 16 October 1964 for post-shakedown availability. Upon completion thereof, the ship operated in the Norfolk area until the spring of 1965.


Sylvania stood out of Norfolk on 14 April 1965, en route to the Mediterranean and her first tour of duty with the 6th Fleet. She called at Rota, Spain, and arrived at her new home port, Naples, on 29 April. Two days later, she began her first underway replenishment operation with the 6th Fleet. On 31 July, Sylvania completed the first vertical replenishment of an aircraft carrier using UH-46A helicopters. In early October the store ship logged her 1,000th accident-free helicopter landing. She served as flagship for the Service Force, 6th Fleet, from 5 December 1966 to 17 April 1967. During the night of 8 January 1968, the cargo ship suffered her only material loss of the year. She experienced a roll of 38 degrees and took water over the flight deck. The roll, wind, and water parted the tie-downs on cargo staged on the flight deck for the next day's replenishment. Consequently, 52 pallets of provisions were lost. On 1 July 1968, Sylvania was awarded the Battle Efficiency "E" for her class and the Supply E for Supply Efficiency.


Sylvania was honored on 19 October by a visit from the Assistant Secretary of the Navy, Charles A. Bowser, and a party of eight who came aboard for a briefing and tour and to observe an underway replenishment exercise. The ship was in drydock at Malta from 29 November until 10 December 1968 when she returned to normal 6th Fleet operations. On 16 June 1969 the ship lost a UH-46D helicopter when it crashed during vertical replenishment operations in the harbor of Palma de Mallorca, but the crew was rescued. On 30 September, the ship outchopped from the 6th Fleet and returned to Norfolk on 24 October after an absence of four and one-half years.


Sylvania deployed to the 6th Fleet again from 28 December 1969 to 15 February 1970. She then began preparations for her first overhaul since commissioning. The ship was in drydock from 11 April to 13 May when she moored at the shipyard, and was ready for sea on 13 July. On 20 July the ship was awarded the Meritorius Unit Commedation for service to the 6th Fleet during the period 25 April 1965 to 30 September 1969. The next day, Admiral Elmo R. Zumwalt, Jr., Chief of Naval Operations, visited Sylvania. The period from 13 August to 11 September was spent in refresher training at Guantanamo Bay.


Sylvania stood out of Norfolk on 18 November 1970 to begin a six-month deployment in logistic support of the 6th Fleet and returned to Norfolk on 17 May 1971. In June, the ship entered the Norfolk Naval Shipyard for a four-month restricted availability period.


Sylvania left the yard on 4 October and, from 23 to 27 October, conducted a four-day port call at Fort Lauderdale, Fla. After two weeks of refresher training at Guantanamo Bay, she returned to Norfolk for another two-month availability period. The ship then commenced predeployment loadout and underway training in the Virginia Capes area until mid-February. Sylvania deployed to the Mediterranean in support of the 6th Fleet from 24 February to 26 August. After five weeks of reloading supplies at Norfolk, the cargo ship returned to the Mediterranean, from 2 October to 10 November, to replenish the AFS that was on station there. The remainder of the year 1972 and until 5 March 1973 was spent at Norfolk in upkeep and underway training.


Sylvania, sailed to Guantanamo Bay and held refresher training from 6 to 16 March and then paid a three-day visit to Cape Kennedy before returning to her home port on the 23d. She stood out of Norfolk on 25 May for another tour with the 6th Fleet and relieved Concord (AFS-5) as the on-station AFS on 16 June. She, in turn, was relieved by San Diego (AFS-6) on 12 November and returned to Norfolk on 3 December 1973.


Sylvania operated out of Norfolk until early September 1974 when she again deployed to the Mediterranean for duty with the 6th Fleet. As of 1 March 1975, she was still serving with that fleet.


[Note: The above USS SYLVANIA (AFS-2) history may, or may not, contain text provided by crew members of the USS SYLVANIA (AFS-2), or by other non-crew members, and text from the Dictionary of American Naval Fighting Ships]