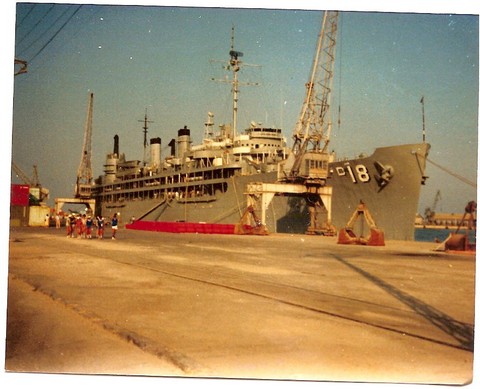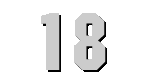 U.S.S. SIERRA
(AD-18)

THE SHIP WITH THE HELPING HANDS
Click to view crew list
USS Sierra (AD-18) was built by the Tampa Shipbuilding Company of Tampa, Florida. She was launched on 23 February 1943 and after fitting out was commissioned on 20 March 1944.
AD-18 was the second USS Sierra. The first USS Sierra as commerical passenger ship built in 1900. In 1918, she was aquired by the US Navy and named Sierra. She first carried troops to France and then returned them after the November 11, 1918 end of the war. She was returned to her pre-war service in 1919.
USS Sierra (AD-18) completed fitting out at Tampa and, on 13 April, sailed for Hampton Roads, Virginia, arriving there on 18 April. After a 10-day shakedown cruise in the Chesapeake Bay area and yard period, on 18 MAY 1944 USS Sierra sailed for the Panama Canal and began her service in the Pacific War against the Japanese. Sierra followed and supported the fleet as it adavnced across the Pacific. She was stationed at various times in Pearl Harbor, Manus Island in the Admiralties, Purvis Bay in the Solomon Islands, Ulithi Island in the Carolines, and Pedro Bay in the Philippines.
After the Japanese surrender in August 1945, USS Sierra called on Okinawa; Incheon, Korea; and Shanghai, China. She was on station in Shanghai from October 1945 to February 1946, then returned to San Francisco.
Post war USS Sierra remained attached to the Pacific Fleet, aternating State-side support of the fleet with deployment to the Far East. In June 1949 she left the Pacific by transiting the Panama Canal and taking up station in Norfolk, Virginia. From Norfolk she deployed twice to the Mediterranean, January 1950 to June 1950, then June to November 1951. The balance of the 1950s were spent in Norfolk and Hampton Roads area supporting the Atlantic Fleets destroyers. In June 1959 USS Sierra deployed to the Mediterranean returning to Norfolk in December 1959.
USS Sierra spent four months in Guantanamo Bay at the end of 1961, then in March 1962 started her FRAM II overhaul at Norfolk Naval Shipyard. Exiting NNSY in September 1961, she resumed her normal duties as THE SHIP WITH THE HELPING HANDS.
In January 1974, USS Sierras homeport was shifted to Charleston, South Carolina. From Chraleston she deployed twice to the Mediterranean. During late 1979, while undergoing overhaul in Mobile, Alabama, USS Sierras crew, commanded by CAPT. Stephen Kingsley, assisted in the cleanup of Mobile after Hurricane Frederick. After overhaul, in 1981, Sierra worked up at Guantanamo Bay, Cuba.
On October 15, 1993 USS Sierra was decommissioned. She was eventually scrapped.
The USS Sierra (AD-18) operational history and significant events of her service career follow:
AD-18 Deployments - Major Events
Add a AD-18 Shellback Initiation
Add a AD-18 Deployment - Major Event
Month
Year
to
Month
Year
Deployment / Event
DEC
1941
-
Keel Date: 31 DEC 1941
at Tampa Shipbuilding
JAN
1942
-
DEC
1960
Panama Canal
FEB
1943
-
Launch Date: 23 FEB 1943
MAR
1944
-
Commissioned: 20 MAR 1944
SEP
1944
-
Shellback Initiation - 13 SEP 1944 - Atlantic Ocean
SEP
1944
-
Shellback Initiation - 13 SEP 1944 - Pacific Ocean
DEC
1945
-
FEB
1946
Shanghai China
JUN
1948
-
JUN
1949
West Pac
JUN
1951
-
NOV
1951
Mediterranean
JUN
1959
-
DEC
1959
Mediterranean
JUL
1959
-
DEC
1959
Mediterranean
JAN
1961
-
JAN
1961
Guantanamo Bay
SEP
1961
-
DEC
1961
Guantanamo Bay
OCT
1962
-
OCT
1962
Cuban Missle Blockade
AUG
1965
-
NOV
1965
Dry Dock
AUG
1965
-
NOV
1965
Regular Overhaul
NOV
1965
-
DEC
1965
Sea Trials
NOV
1965
-
DEC
1965
Guantanamo Bay
SEP
1966
-
NOV
1966
San Juan Puerto Rico
FEB
1967
-
APR
1967
San Jaun Puerto Rico
FEB
1968
-
APR
1968
Caribbean
JAN
1970
-
JAN
1970
Guantanamo Bay
JAN
1971
-
FEB
1973
Guantanamo Bay
JUN
1971
-
JUL
1971
Sea Trials
JUN
1971
-
JUL
1971
North Atlantic
JAN
1974
-
SEP
1974
Dry Dock
APR
1977
-
OCT
1977
Mediterranean
MAY
1978
-
Shellback Initiation - 15 MAY 1978 - Indian Ocean
JUL
1978
-
Shellback Initiation - 12 JUL 1978 - Indian Ocean
NOV
1978
-
JUL
1979
Mediterranean
JAN
1981
-
JAN
1981
kerry d. mcfarland raped female sailor got life at hard labor
JUL
1982
-
Shellback Initiation - 12 JUL 1982 - Indian Ocean
JUL
1982
-
DEC
1982
Mediterranean-Indian Ocean
AUG
1982
-
Shellback Initiation - 25 AUG 1982 - Indian Ocean
JUL
1983
-
Shellback Initiation - 6 JUL 1983 - Indian Ocean
JUN
1985
-
Shellback Initiation - 6 JUN 1985 - Indian Ocean
JUN
1985
-
Shellback Initiation - 6 JUN 1985 - Atlantic Ocean
JUN
1985
-
NOV
1985
Mediterranean-Indian Ocean
FEB
1986
-
MAY
1986
Dry Dock
APR
1986
-
AUG
1986
Mediterranean
OCT
1987
-
MAR
1988
Mediterranean
JUL
1989
-
APR
1993
Desert Storm
JAN
1990
-
JAN
1992
Desert Shield
MAR
1990
-
SEP
1990
Mediterranean
NOV
1991
-
APR
1992
Mediterranean
AUG
1992
-
SEP
1992
Hurricane Andrew relief effort
OCT
1993
-
Decommissioned: 15 OCT 1993
AD-18 General Specifications
Named for: Sierra mountains
Complement: 1050 Officers and Enlisted
Displacement: 14037 tons
Length: 530 feet 6 inches
Beam: 73 feet 4 inches
Draft: 25 feet 6 in
Final Disposition: Scrapped 25 August 1995
USS SIERRA (AD-18)
The second Sierra (AD-18) was laid down on 31 December 1941 by the Tampa Shipbuilding Co., Tampa, Fla.; launched on 23 February 1943; sponsored by Mrs. F. M. Earle; and commissioned on 20 March 1944, Capt. P. B. Koonce in command.


Sierra completed fitting out at Tampa and, on 13 April, sailed for Hampton Roads, Va., via Key West, arriving there on 18 April. The next day, she began a 10-day shakedown cruise in the Chesapeake Bay area and a subsequent yard availability period in the Norfolk Navy Yard from 28 April to 17 May.


On 18 May, Sierra stood out of Norfolk en route to San Diego, via the Panama Canal Zone. She was in San Diego for five days and, on 7 June, departed for Pearl Harbor, T.H. The destroyer tender rendered services to destroyers and destroyer escorts at Pearl Harbor from 13 June to 3 September 1944.


With the need for fleet repair units at advance bases to support the forthcoming invasion of the Philippine Islands, Sierra proceeded to Seeadler Harbor, Manus Island, Admiralty Islands. She was attached to the 3d Fleet and serviced its ships until February 1945. Her most outstanding accomplishments were the replacement of a complete 5-inch gun mount on California (BB-44) and rebuilding the starboard stern of Claxton (DD-571) which had been severely damaged by a kamikaze in Leyte Gulf.


Sierra was underway from Seadler Harbor on 18 February en route to Purvis Bay, Solomon Islands. She repaired a fleet of LST's in preparation for the assault on Iwo Jima and then proceeded, on 15 March, to Ulithi, Caroline Islands. She serviced units of the 5th Fleet there until 25 May when she departed for San Pedro Bay, Leyte Gulf, P.I.


Sierra repaired landing craft support ships and destroyers for the anticipated strikes against the Japanese mainland, but the end of hostilities with Japan ended the assignment. The ship sailed from the Philippine Islands on 6 September for Buckner Bay, Okinawa; Jinsen, Korea; and Shanghai, China. She arrived at Shangai on 12 October 1945 and remained there until 6 February 1946 when she sailed to San Francisco for yard availability.


Sierra was deployed to the Western Pacific two more times in the next three years. Her last assignment terminated at San Diego on 8 April 1949; and, two months later, she sailed for Norfolk, Va., which was her new homeport, arriving there on 29 July 1949. She servicedships there until 6 January 1950 when she was deployed to the 6th Fleet in the Mediterranean as relief of Shenandoah (AD-26) ; returning to Norfolk on 24 June. The tender was deployed to the 6th Fleet again from 12 June to 6 November 1951.


Upon her return to Norfolk, Sierra moored at Pier 21, Convoy Escort Piers. On 7 November, she was designated the flagship of Commander, Destroyer Flotilla 4 and retained this honor until 1 July 1962 when she was assigned flagship for Commander, Cruiser Destroyer Flotilla 4. Sierra remained at Norfolk until 1959, aptly coping with the heavy demand by destroyers for repairs, which was her primary duty. For other than local operations, the longest period of time that she was away from the Convoy Escort Piers was when her services were required for Operation "Springboard" from 6 January to 2 March and again from 9 November to 4 December 1953.


Sierra sailed for the Mediterranean on 30 June 1959 for her third deployment with the 6th Fleet and returned to Norfolk on 13 December to continue her work as destroyer tender. She was deployed to Guantanamo Bay from 23 October to 14 December 1961 to tend the reserve training ships recalled to active duty during the Lebanon Crisis. She entered the Norfolk Naval Shipyard on 27 March 1962 for conversion under the FRAM II program. Sierra was out of the yard and able to resume her normal work routine on 15 September. From 1963 through December 1973, Sierra serviced ships of the fleet at ports along the east coast of the United States but, primarily at Norfolk. On 5 January 1974, she moved to Charleston, S.C., and into September is still operating from that port.


[Note: The above USS SIERRA (AD-18) history may, or may not, contain text provided by crew members of the USS SIERRA (AD-18), or by other non-crew members, and text from the Dictionary of American Naval Fighting Ships]