Click on your Rating abbreviation above: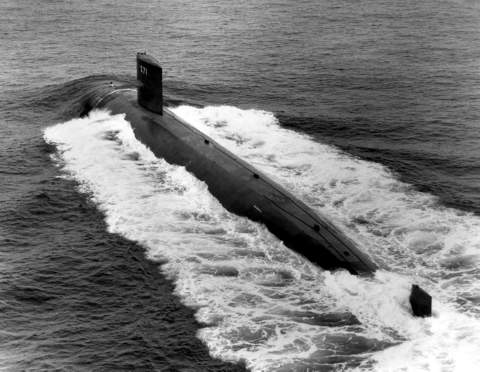 U.S.S. NARWHAL
(SSN-671)

When Experience Counts . . . SSN 671
Click to view crew list
USS NARWHAL (SSN-671) - a Narwhal-class submarine
In Commission 1969 to 1999
SSN-671 Deployments - Major Events
Add a SSN-671 Shellback Initiation
Add a SSN-671 Deployment - Major Event
Month
Year
to
Month
Year
Deployment / Event
JAN
1966
Keel Date: 17 JAN 1966
at General Dynamics Electric Boat Groton CT
SEP
1967
Launch Date: 9 SEP 1967
JUL
1969
Commissioned: 12 JUL 1969
APR
1971
-
JUN
1971
Blue Nose - Artic Circle
JAN
1975
-
Shellback Initiation - 13 JAN 1975 - Atlantic Ocean
JAN
1994
-
JUN
1996
Mediterranean
FEB
1994
-
AUG
1994
Mediterranean
JUL
1999
Decommissioned: 1 JUL 1999
SSN-671 General Specifications
Named for: Narwhal
Complement: 12 Officers and 95 Enlisted
Displacement: 4948 tons
Length: 314 feet
Beam: 33 feet
Draft: 31 feet
USS NARWHAL (SSN-671)
The third Narwhal was laid down 17 January 1966 by General Dynamics Corp., Groton, Conn.; launched 9 September 1967; sponsored by Mrs. Glynn R. Donaho; and commissioned 12 July 1969, with Comdr. W. A. Matson, in command.


The Narwhal is the largest straight nuclear-powered attack submarine yet built by the U.S. Navy. She has a new type of reactor that will enable her to steam longer, and further than any other submarine in existence. This new reactor considerably reduces the noise level of a submarine and makes the Narwhal, at the time of commissioning, the quietest submarine in the U.S. Naval service.


[Note: The above USS NARWHAL (SSN-671) history may, or may not, contain text provided by crew members of the USS NARWHAL (SSN-671), or by other non-crew members, and text from the Dictionary of American Naval Fighting Ships]