For RATING SHIRTS - Click on your Rating Abbreviation below:
Click on your Rating abbreviation above: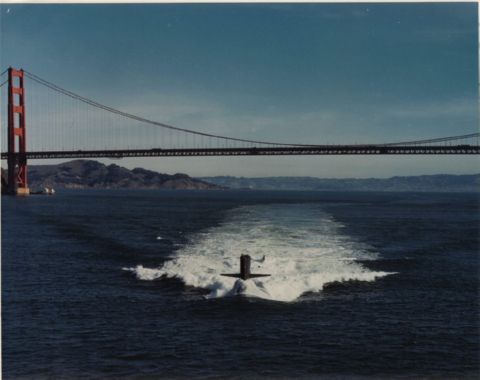 U.S.S. GURNARD
(SSN-662)

DE PROFUNDIS
Click to view crew list
USS GURNARD (SSN-662) - a Sturgeon-class attack submarine
In Commission 1968 to 1995
SSN-662 Deployments - Major Events
Add a SSN-662 Shellback Initiation
Add a SSN-662 Deployment - Major Event
Month
Year
to
Month
Year
Deployment / Event
DEC
1964
-
Keel Date: 22 DEC 1964
at Mare Island Naval Shipyard Vallejo CA
JAN
1967
-
JAN
1973
Sea Trials
MAY
1967
-
Launch Date: 20 MAY 1967
DEC
1968
-
Commissioned: 6 DEC 1968
JAN
1971
-
JAN
1972
West Pac-Viet Nam
MAR
1976
-
MAY
1976
North Pole
APR
1976
-
APR
1976
North Pole
APR
1981
-
Shellback Initiation - 10 APR 1981 - Pacific Ocean
MAR
1990
-
MAY
1990
Blue Nose - Arctic Circle
AUG
1991
-
Shellback Initiation - 22 AUG 1991 - Pacific Ocean
JAN
1993
-
JUL
1993
West Pac
APR
1995
-
Decommissioned: 28 APR 1995
SSN-662 General Specifications
Class: Sturgeon-class attack submarine
Named for: The gurnard
Complement: 14 Officers and 95 Enlisted
Displacement: 4010 tons
Length: 292 feet
Beam: 32 feet
Flank Speed: Over 20 knots
Final Disposition: Scrapping via Ship and Submarine Recycling Program completed 15 October 1997
USS GURNARD (SSN-662)
The second Gurnard (SS(N)-662) a Sturgeon-Class nuclear submarine was laid down 22 December 1964 by the San Francisco Bay Naval Shipyard Vallejo, Calif.; launched 20 May 1967; sponsored by Mrs. George P. Miller, and commissioned on 6 December 1968 with Commander William S. Cole, Jr., in command.
Once commissioned she will become a key element in the underwater deterrent force of the Navy and will contribute vitally to the continuing task of "keeping the peace" over the vast reaches of global waters. Designed to attack and destroy all types of enemy ships her ability to operate for long periods at great depths and at high submerged speed will make her a potent and effective challenge to enemy submarines. Operating under nuclear power she will be able to conduct long-range reconnaissance patrols and surveillance missions without risking detection by surface ships. Moreover she will be able to carry out extensive ASW operations either alone or with other fleet submarines or with destroyer-type surface ships.


[Note: The above USS GURNARD (SSN-662) history may or may not contain text provided by crew members of the USS GURNARD (SSN-662) or by other non-crew members and text from the Dictionary of American Naval Fighting Ships]