For RATING SHIRTS - Click on your Rating Abbreviation below:
Click on your Rating abbreviation above: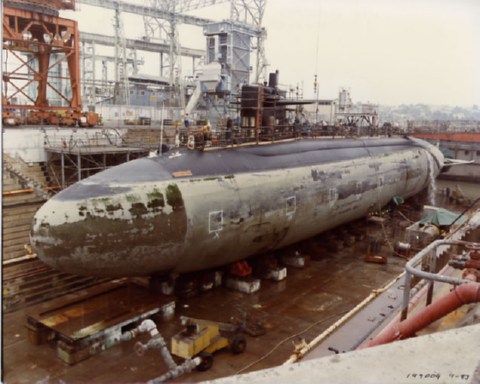 U.S.S. GUARDFISH
(SSN-612)

VIGILATE IN PACE ET BELLO
Click to view crew list
USS GUARDFISH (SSN-612) - a Thresher/Permit-class submarine
In Commission 1966 to 1992
SSN-612 Deployments - Major Events
Add a SSN-612 Shellback Initiation
Add a SSN-612 Deployment - Major Event
Month
Year
to
Month
Year
Deployment / Event
FEB
1961
-
Keel Date: 28 FEB 1961
at New York Shipbuilding Camden NJ
MAY
1965
-
Launch Date: 15 MAY 1965
DEC
1966
-
Commissioned: 20 DEC 1966
MAR
1970
-
MAR
1970
Panama Canal
MAR
1970
-
MAR
1971
Overhaul, Pascagoula, Mississippi
FEB
1971
-
FEB
1971
Panama Canal
MAY
1971
-
OCT
1971
West Pac
JAN
1973
-
MAR
1974
West Pac
NOV
1973
-
Shellback Initiation - 8 NOV 1973 - Pacific Ocean
JUL
1978
-
JAN
1979
West Pac
NOV
1981
-
JUN
1982
West Pac
AUG
1986
-
Shellback Initiation - 20 AUG 1986 - Pacific Ocean
AUG
1987
-
FEB
1988
West Pac
FEB
1992
-
Decommissioned: 4 FEB 1992
SSN-612 General Specifications
Class: Thresher/Permit-class submarine
Complement: 99 Officers and Enlisted
Displacement: 3700 tons
Length: 279 feet
Beam: 32 feet
Draft: 29 feet
Final Disposition: Entered Ship-Submarine Recycling Program 1992
USS GUARDFISH (SSN-612)
The second Guardfish (SS(N)-612) was laid down by New York Shipbuilding Corp. Camden N.J. 28 February 1961; launched 15 May 1965; sponsored by Mrs. Kenneth E. Belieu wife of Assistant Secretary of Navy; and commissioned 20 December 1966 Comdr. G. H. Hines in command.
At present Guardfish is undergoing tests and shakedown. Once completed she will join the Pacific Fleet to become yet another link in the Navy's ever expanding underwater deterrent force. In addition to her primary mission of seeking out attacking and destroying all types of enemy ships she can conduct long-range reconnaissance and surveillance patrols and can carry out extensive ASW operations. Her high-speed deep-running far-ranging mobility and her deadly array of modern armament and ASW equipment make her an important part of the Navy's continuing task of "keeping the peace" over the vast reaches of global waters.


[Note: The above USS GUARDFISH (SSN-612) history may or may not contain text provided by crew members of the USS GUARDFISH (SSN-612) or by other non-crew members and text from the Dictionary of American Naval Fighting Ships]