For RATING SHIRTS - Click on your Rating Abbreviation below:
Click on your Rating abbreviation above: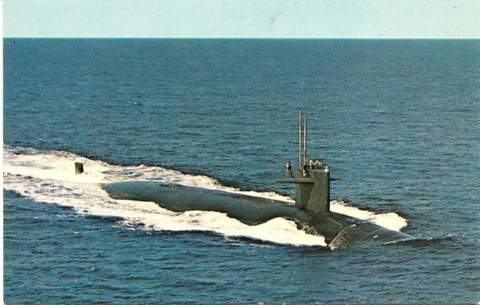 U.S.S. POLLACK
(SSN-603)

SILENT DEFENSE
Click to view crew list
USS POLLACK (SSN-603) - a Thresher/Permit-class submarine
In Commission 1964 to 1989
SSN-603 Deployments - Major Events
Add a SSN-603 Shellback Initiation
Add a SSN-603 Deployment - Major Event
Month
Year
to
Month
Year
Deployment / Event
MAR
1960
-
Keel Date: 14 MAR 1960
at New York Shipbuilding Camden NJ
MAR
1962
-
Launch Date: 17 MAR 1962
MAY
1964
-
Commissioned: 26 MAY 1964
JUN
1966
-
AUG
1966
North Atlantic
AUG
1971
-
NOV
1971
Mediterranean
MAR
1975
-
MAR
1975
Panama Canal
FEB
1978
-
JUL
1978
West Pac
MAY
1979
-
JUL
1981
Regular Overhaul
JUN
1982
-
DEC
1982
West Pac
AUG
1987
-
OCT
1987
NorPac
MAR
1989
-
Decommissioned: 1 MAR 1989
SSN-603 General Specifications
Class: Thresher/Permit-class submarine
Complement: 107 Officers and Enlisted
Displacement: 3750 tons
Length: 278 feet 5 inches
Beam: 31 feet 7 inches
Draft: 25 feet 2 in
Final Disposition: Entered Ship-Submarine Recycling Program 9 February 1993
USS POLLACK (SSN-603)
The second Pollack (SSN-603) was laid down by the New York Shipbuilding Corp., Camden, N.J., 14 March 1960; launched 17 March 1962; sponsored by Mrs. John O. Pastore; and commissioned 26 May 1964, Comdr. Harvey E. Lyon in command.


Pollack reported to Commander in Chief, U.S. Atlantic Fleet for duty, and became a unit of Submarine Squadron 4, homeported in Charleston, S.C. After shakedown in the Caribbean, she underwent a six-month evaluation as an antisubmarine warfare weapon.


Most of 1965 was spent at sea evaluating new ASW tactics, participating in a destroyer versus submarine evaluation, and practicing an anti-shipping mission.


During 1966 Pollack was evaluated in coordinated ASW operations. She spent most of 1967 at sea, making various weapons tests. On 1 March 1968, Pollack's homeport was changed to Norfolk and she became a unit of Submarine Squadron 10, the first all nuclear attack submarine squadron in the Navy. Pollack remains with the Atlantic Fleet into 1970.


[Note: The above USS POLLACK (SSN-603) history may, or may not, contain text provided by crew members of the USS POLLACK (SSN-603), or by other non-crew members, and text from the Dictionary of American Naval Fighting Ships]