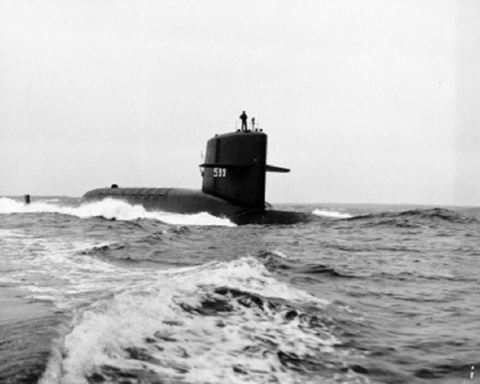 U.S.S. PATRICK HENRY
(SSBN-599)

LIBERTY OR DEATH
Click to view crew list
USS PATRICK HENRY (SSBN-599) - a George Washington-class submarine
In Commission 1960 to 1984
SSBN-599 Deployments - Major Events
Add a SSBN-599 Shellback Initiation
Add a SSBN-599 Deployment - Major Event
Month
Year
to
Month
Year
Deployment / Event
MAY
1958
-
Keel Date: 27 MAY 1958
at General Dynamics Electric Boat Groton CT
SEP
1959
-
Launch Date: 22 SEP 1959
JAN
1960
-
JAN
1969
West Pac-Viet Nam
APR
1960
-
Commissioned: 11 APR 1960
APR
1972
-
JUN
1972
Mediterranean-Indian Ocean
OCT
1972
-
JAN
1973
Mediterranean
JUN
1973
-
Shellback Initiation - 6 JUN 1973 - Atlantic Ocean
JUN
1973
-
Shellback Initiation - 6 JUN 1973 - Atlantic Ocean
JUL
1976
-
JAN
1977
Middle Pacific
JUL
1976
-
JAN
1977
Recommisioning
JAN
1980
-
JAN
1984
West Pac
MAY
1984
-
Decommissioned: 25 MAY 1984
SSBN-599 General Specifications
Class: George Washington-class submarine
Named for: Patrick Henry (1736-1799)
Complement: 100 Officers and Enlisted
Displacement: 5400 tons
Length: 381.6 feet
Beam: 33 feet
Flank Speed: 20 kn
Range: Unlimited distance
Final Disposition:Recycling via Ship-Submarine Recycling Program completed 21 August 1997
USS PATRICK HENRY (SSBN-599)
Patrick Henry (SSBN-599) was laid down by the Electric Boat Division, General Dynamics Corp., Groton, Conn. 27 May 1958; launched 22 September 1959; sponsored by Mrs. Leslie C. Arends; and commissioned 9 April 1960, Comdr. Harold E. Shear (blue crew) and Comdr. Robert L. J. Long (gold crew) in command.


Manned alternately by two crews, blue and gold, to maximize her submerged operation, Patrick Henry underwent shakedown with the blue crew until 16 September, when the gold crew took over. This second Fleet Ballistic Missile Submarine commenced her first deterrent patrol in December 1960, still manned by the gold crew. Between December 1960 and December 1964, Patrick Henry conducted 17 deterrent patrols while remaining continuously deployed overseas, operating out of Holy Loch, Scotland. When she surfaced at Holy Loch 8 March 1961 she had set a record for her type, cruising submerged 66 days and 22 hours.


In December 1964, Patrick Henry returned to Electric Boat Division of General Dynamics, Groton, Conn., where she remained for 18 months to complete extensive overhaul and repair operations, including refueling of the reactor plant and modifications to permit the handling of the Polaris A-3 missiles. After shakedown in mid-1966 off Puerto Rico and Cape Kennedy, Fla., Patrick Henry departed Charleston in December for patrol No. 18, equipped with A-3 Polaris missiles and assigned to Submarine Squadron 14. On 1 March 1968 Patrick Henry completed her 22nd patrol at Holy Loch. She remains with the Atlantic Fleet into 1970.


[Note: The above USS PATRICK HENRY (SSBN-599) history may, or may not, contain text provided by crew members of the USS PATRICK HENRY (SSBN-599), or by other non-crew members, and text from the Dictionary of American Naval Fighting Ships]